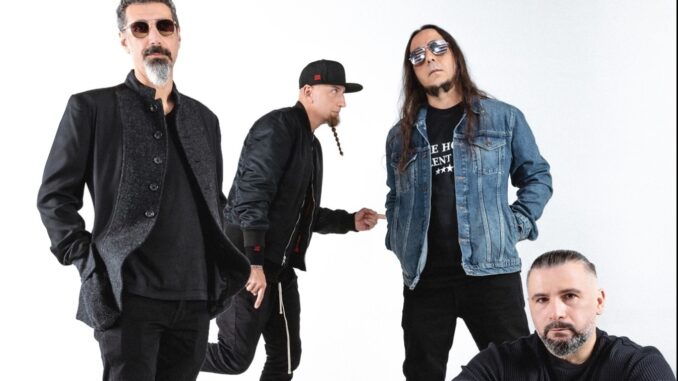 By DAN MACINTOSH
LOS ANGELES, CA – System Of A Down headlined the 22,000 capacity Banc of California Stadium on a chilly Saturday night, supported by three very different opening acts. Although the Glendale-originated act draws a large and loyal fanbase, its popularity can be a tad confusing to outsiders. Led by vocalist-sometimes keyboardist Serj Tankian and, to a lesser extent, guitarist Daron Malakian, this SoCal group performed a healthy selection of songs from its nearly 20-year career.
Some of these songs, such as "Soldier Side," included pointed social commentary. Musically, the band's songs incorporate metal and progressive rock elements, as well as rap and what sounded like ethnic folk music. Tankian inserted keyboard notes now and again but spent most of his time roaming the stage or singing from atop a riser. These players all performed with enthusiasm and physicality, and the large crowd appeared to love every minute of it.
As one who is outside the SOAD clan, however, it was difficult to find something to hang onto as a newbie. Nothing felt universal, in that everyone — fan or non-fan — could relate to it. Therefore, if you've already bought into SOAD's unique presentation, this was probably a great night for you. If not, well, it was at least unusual and sincere.
In contrast, Korn's nu metal set was engaging, from start to finish.Leader Jonathan Davis went out of his way to speak to the crowd often, Whether it was introducing a new song, "Start the Healing," or calling "Blind" the song that started it all, Korn had even non-metal-heads bobbing their heads along to hits like "Got the Life" and "Freak on a Leash."
Helmet preceded Korn with its enjoyable, progressive take on metal. Led by band mainstay Page Hamilton, this act, which even predates SOAD, played a set of complicated, yet memorable, songs, like "Just Another Victim." This was thinking man's metal at its best.
Those of us unfamiliar with opener Russian Circles, kept waiting for the vocals to start. They never did, though, because this Chicago trio is an instrumental metal band. Although only given a half-hour of stage time, the act gave the early arriving audience members a nice taste of mesmerizing hard rock.
Even if you're not a diehard loyalist in the SOAD tribe, this four-band lineup proved how there is far more variety within the hard rock genre than you might initially imagine. And that's admirable, indeed.