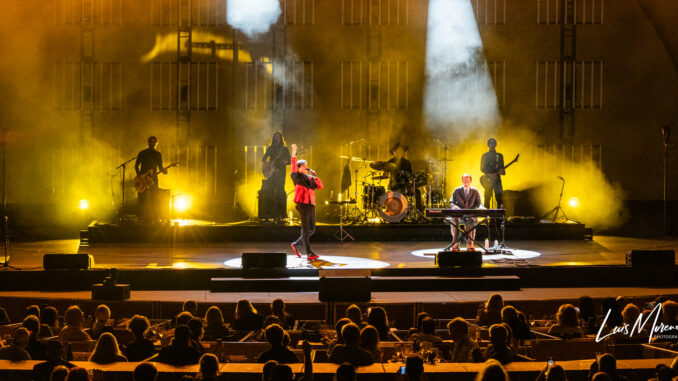 Sparks
Hollywood Bowl
July 16, 2023
Review by DAN MACINTOSH
Photos by LUIS MORENO
HOLLYWOOD — Eventually, most every important Los Angeles band plays the Hollywood Bowl. It's sort of a regional rite of passage. However, there must have been some kind of universal disconnect that prevented Sparks (brothers Russell and Ron Mael) from taking this meaningful career step — until now. That wrong was righted on a lovely Sunday evening as these siblings ended their tour with a triumphant hometown performance.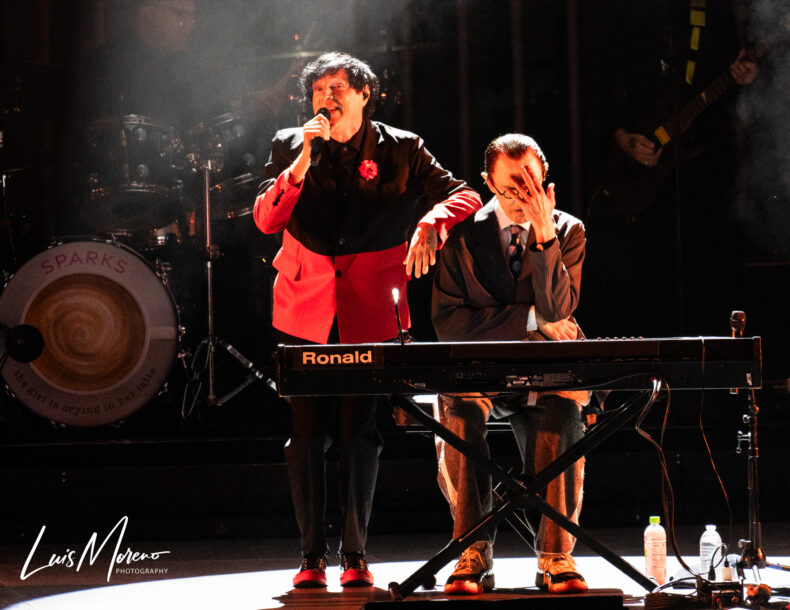 The night started, quite naturally, with "So May We Start," which comes from the act's recent musical movie Annette. It's a lovely song and the perfect number for beginning a concert. It found Russell bopping around the stage while Ron sat stone-faced at his keyboard – as usual. Next came "The Girl Is Crying in Her Latte," the title track from band's most recent album, which was one of a few newer songs in the set. Other fresh tracks included "We Go Dancing," which imagines North Korea's dictator Kim Jon Un trying his hand at becoming a westernized DJ, as well as "Nothing is as Good as They Say It Is," sung from the perspective of a baby that's already bored with human life.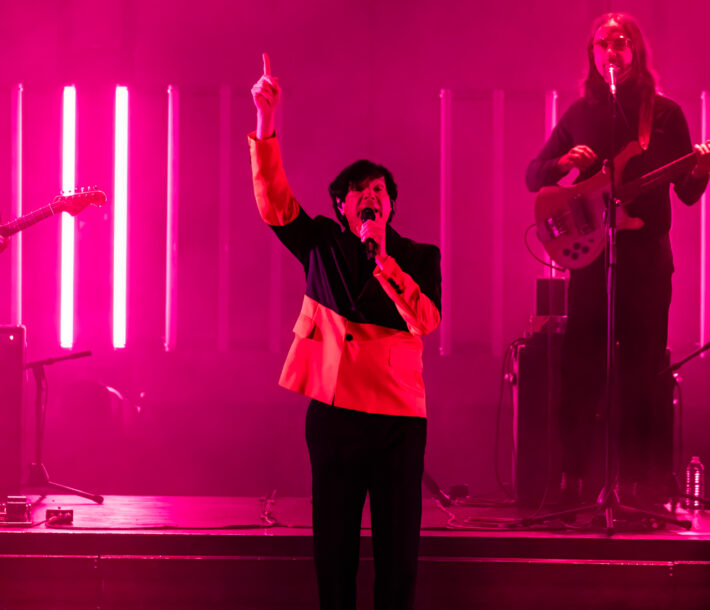 The older "When Do I Get to Sing "My Way" took on new significance tonight, as this ballad expresses longing for a little more respect,which Sparks received in spades by finally doing a Bowl show. The set fully took fire with the Giorgio Moroder-ised disco groove of "The Number One Song In Heaven," followed by the rocker "This Town Ain't Big Enough for Both of Us." Sparks smartly utilized the Bowl's size and shell shape to accentuate its music with spectacular lighting.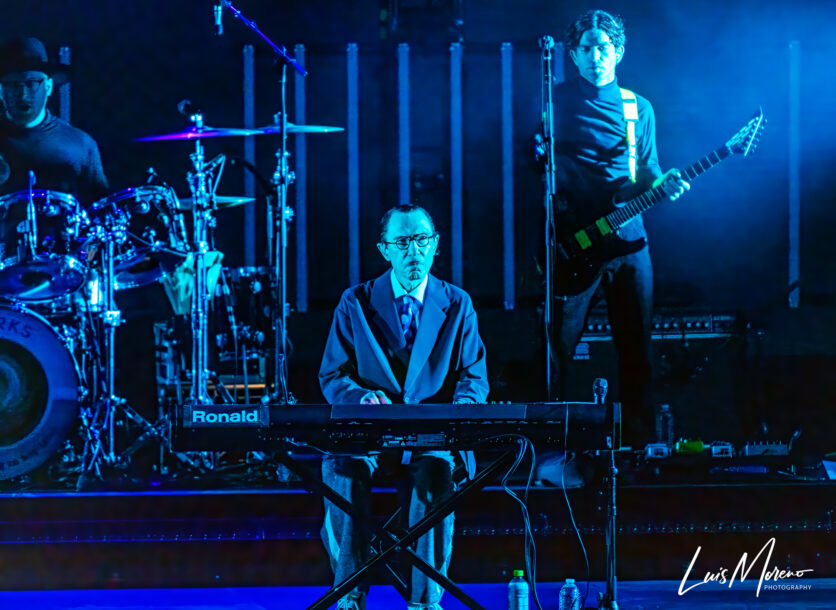 After closing the evening with "All That," Russell and Ron walked to the foot of the stage, and each spoke to the audience about how thankful they were for this opportunity. The crowd didn't want to let them go,but these longtime collaborators finally returned backstage after about five minutes of audience adoration. Russell mentioned early how their mom brought these two boys to see the Beatles at The Bowl way back in 1964, so it's taken them a mighty long time to sing their "My Way," if you will, at this storied venue. Ah, but it was so worth the wait.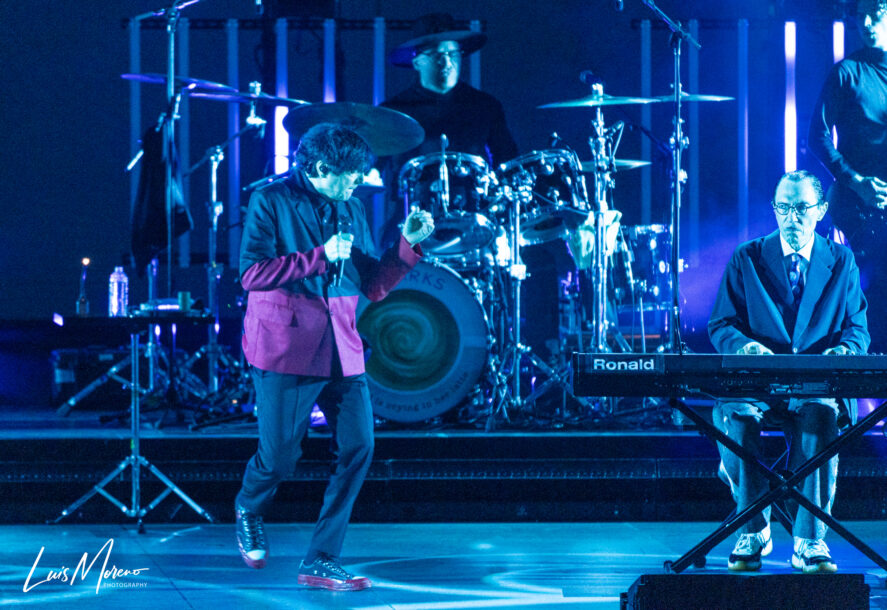 Opener They Might Be Giants is a quirky band, too, and benefited from performing before Sparks' audience. Sparks is equally quirky,which made this double bill a good fit.  Some of its songs were likely still obscure for many, but folks readily sang and danced along with "Birdhouse in Your Soul" and "Don't Let's Start." The act was many times supported live by a robust three-man horn section. Like Sparks, this group is one of the smartest and most musically advanced acts out there, making it a wonderful lead in to Sparks' big night.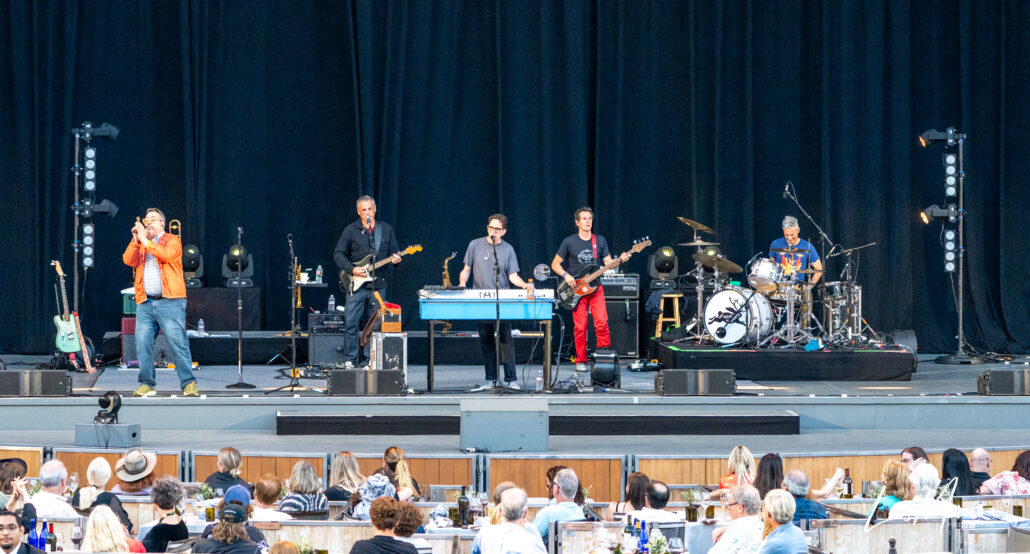 For a group that first gained fame during the glam movement in England, Sparks sure made the best of its established Los Angeles roots during its enthralling Hollywood Bowl debut. Maybe there's artistic justice, after all.