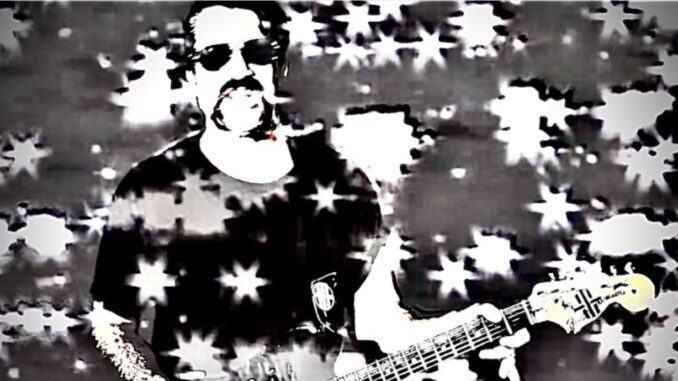 By JOHN DALY
Lord Sonny The Unifier shows his eclectic and anti-establishment attitude with his latest album America's Newest Hitmaker. The respected musician makes his truth known with a 12-track release that conveys important words with catchy tunes.
America's Newest Hitmaker (Interstellar Smoke Records) gets people moving to the beat with tracks like album opener "Howl," which brings to mind the rocker style of Eagles of Death Metal, "Final Notice," which lays it on the line with cool power, and "While We Were Dozing," a tune that wakes up the public.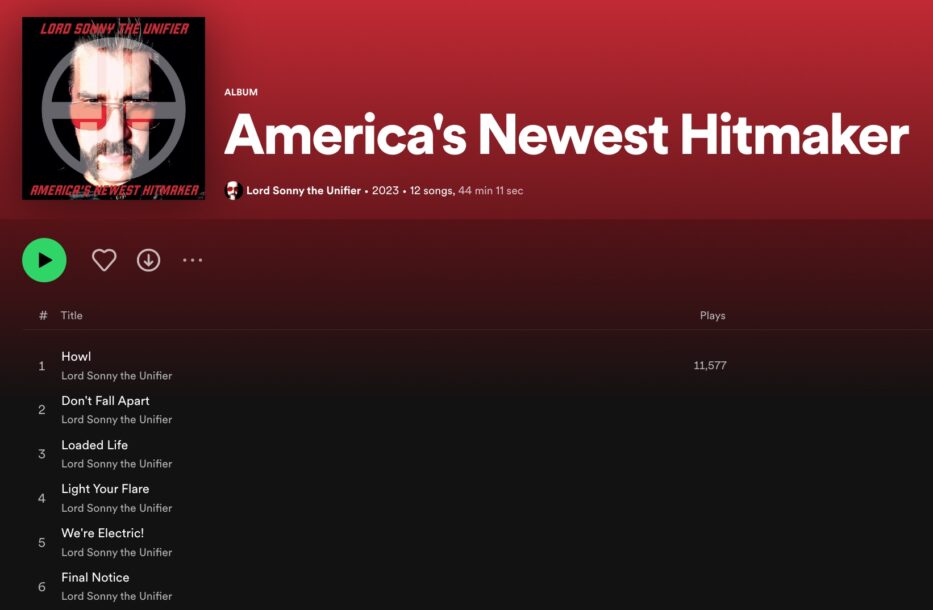 "Don't Fall Apart" has an extremely creative video (check it out here) that accompanies and the music hints that perhaps we are not truly in control of our own lives. Lord Sonny The Unifier has assembled an impressive team of artists to contribute to his work and it must be a blast to be a part of his team.
If the saying is true about honey vs. vinegar, America's Newest Hitmaker succeeds on several levels. Lord Sonny The Unifier has important messages to deliver to a sleeping public and proves that style and appeal is key to getting heard. In addition, the new record is a high-quality production in which the team uses a range of new and vintage recording techniques.
Truly independent musician Lord Sonny, AKA Greg Jiritano, blends his Brooklyn boldness with emotive lyrics. His alternative-style tracks get the listener's attention on several levels. More musicians should take a lesson in rebellion and bravery from Lord Sonny The Unifier.
Check out 'Don't Fall Apart' here:
Websites:
Official Website: www.lordsonnytheunifier.com
Facebook:https://www.facebook.com/lordsonnytheunifier/
Twitter:https://twitter.com/LUnifier
Instagram: www.instagram.com/lordsonnytheunifier ;
Spotify: https://open.spotify.com/artist/0I5qqw6NvKZ1MernPkbvmJ
Apple: https://music.apple.com/us/artist/lord-sonny-the-unifier/1440287498 ;
Bandcamp:  https://lordsonnytheunifier.bandcamp.com/releases ;
Soundcloud:https://soundcloud.com/gregory-jiritano ;
Youtube Channel: https://www.youtube.com/@lordsonnytheunifier3928/videos
Artist Contact Email: lordsonnytheunifier@gmail.com
Label: Interstellar Smoke Records (vinyl/physical release), Independent (digital)
Musician Names/Instruments: Greg Jiritano: Vocals, Guitar, Keyboards.  Gary Atturio: Bass, Keyboards.  Josh Bailey: Drums, percussion.  Amy Gordon: Backing Vocals
Producer: Greg Jiritano
"Don't Fall Apart" video credits: Directed by Dead Phone 13; Art Direction and Wardrobe by Kendra Morris and Julia Haltigan; Director of Photography Nick Sgaglione; Puppeteering By Kendra Morris, Julia Haltigan and Amy Gordon; Make up by Amy Gordon
America's Newest Hitmaker: Side A: 1)  Howl   2) Don't Fall Apart    3) Loaded Life  4) Light Your Flare  5) We're Electric  6)  Final Notice   Side B:   1) Don't Be An A**hole  2) Busy Making Love   3) What You Gonna Bring   4)  This High   5)  Black Eye Blues  6) While We Were Dozing