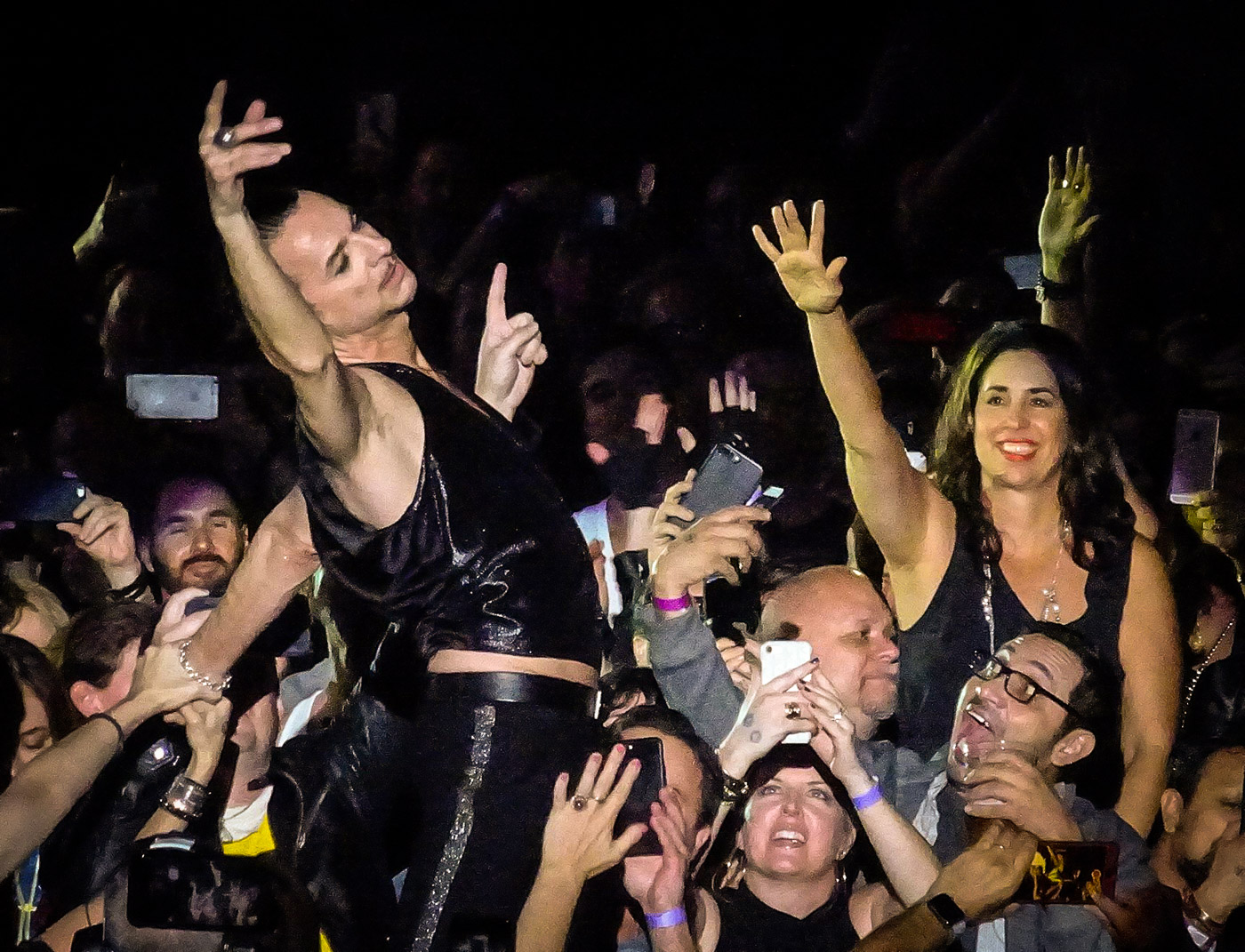 Good Memories and New Songs
By CRAIG HAMMONS
The mighty and majestic Depeche Mode were in town for four mind-blowing sold out shows at the Hollywood Bowl in support of their brilliant new album Spirit.  This stunning run of shows was a first for any act that has ever played the Bowl. Ever since they sold out 75,000 seats at the Rose Bowl on their "Concert for the Masses" tour in 1988 America has loved them.  Why? Because they deliver the goods every time.  I can honestly say that they are better than ever, bringing perfection with every show.
The opening act on this run of shows was the local all-girl band Warpaint.  They were a good fit to open for Depeche Mode as they cast a moody and atmospheric sound with a strong driving rhythm section.  They said they just live around the corner and were in awe to be opening for their favorite band of all time.  It is hard to open for such as big band as Depeche Mode as everybody just wants to get to the main attraction but they held the attention of the audience with their infectious grooves and strong four part vocal harmony.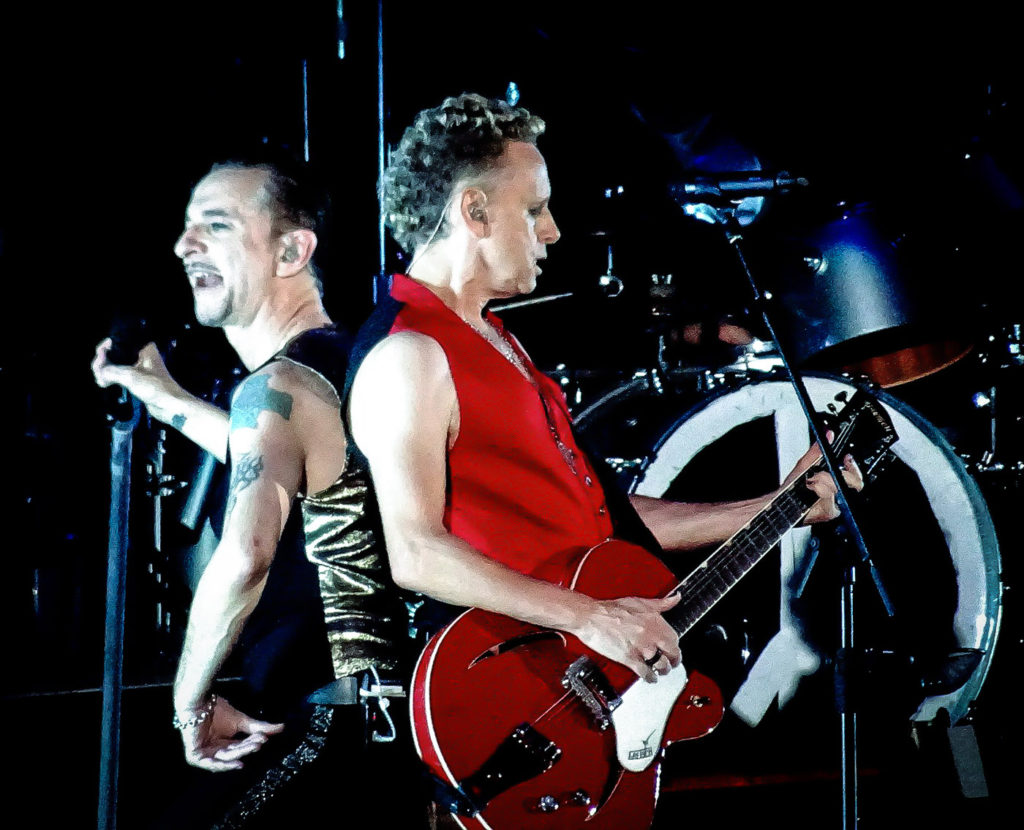 It was now 8:45 p.m., and the stage was cleared for the grand entrance of the Depeche Mode.  The lights went down and the sound of the Beatles "Revolution" starts blasting out of the PA system.  The crowd was already on their feet in anticipation of the band that has been the soundtrack their lives.  As the band slowly entered a giant abstract back drop full of color comes to life and there is Dave Gahan way up high behind the stage on a catwalk singing "Going Backwards" the opening track off the new album Spirit.
I was able to attend opening and closing night and the set changed each night. They went right into "It's No Good."  This song was not in the set list earlier in the tour and Dave started singing early for the second verse.  Next up was revved up gritty version of "Barrel of a Gun" and  a sexy take on "A Pain That I'm Used To."  On closing night they included a tour debut of "Useless" from the 1997 Ultra album.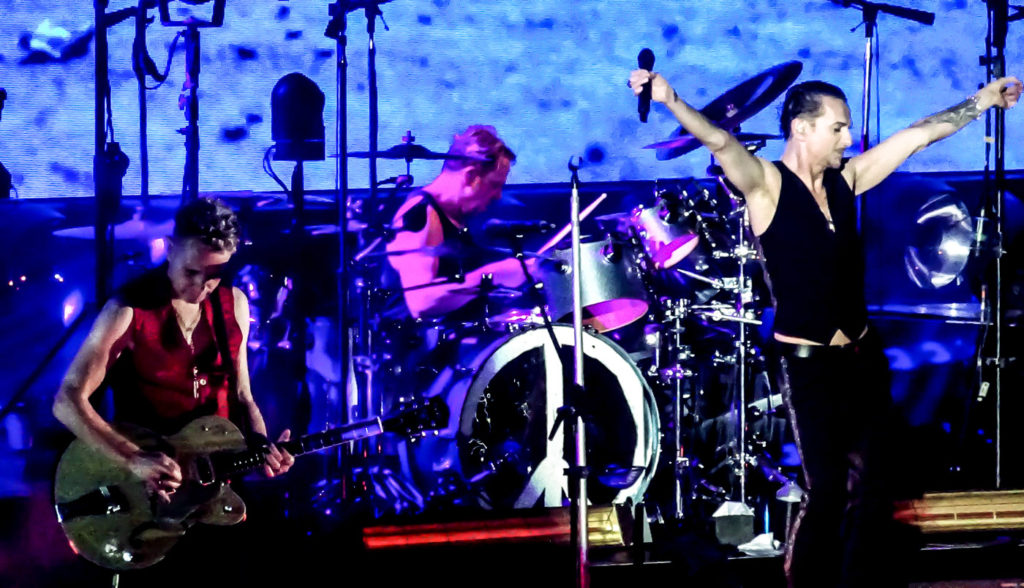 The opening of "In Your Room" with Dave's hypnotic baritone vocals cast a spell over the audience.  But once they went into "World in My Eyes" the energy level doubled.  I looked back at the mass of fans behind me and all I could see was smiles.
It was time for Mr. Martin L. Gore to take center stage while the hip shaking dancing machine Dave Gahan disappeared for a moment.  Martin has been singing "Strangelove" each night but closing night he came out and did another tour debut an acoustic version of "Sister of Night" not played live since 2009.  Next Martin made all the girls cry when he sang a heartfelt version of "Home" also from the Ultra album.
It was now time for another tour debut as the captivating Dave Gahan comes back on stage to sing "Precious."   He dances with the grace of a gothic ballerina with the swagger of a bull fighter.  He has all his moves down pat.  He gives the people what they want as he shook his suit case and grabbed his crouch to delight of the fans watching on the high definition screens way up on the hill.   He has got the charm and utter confidence to control the crowd with just a wink of an eye.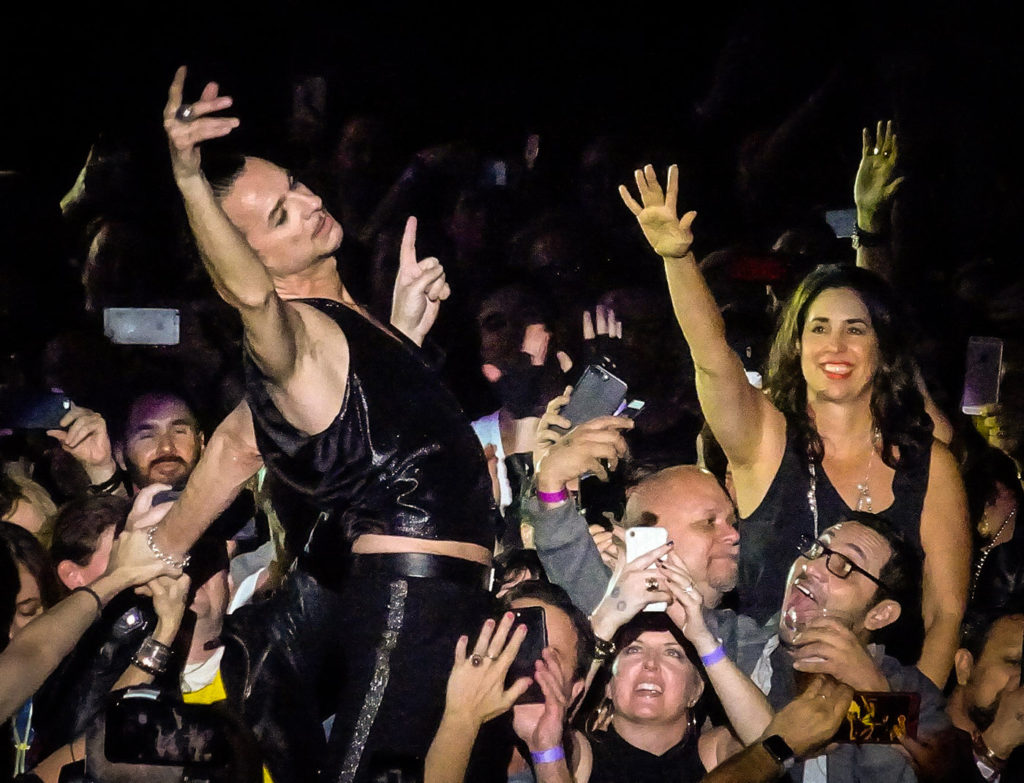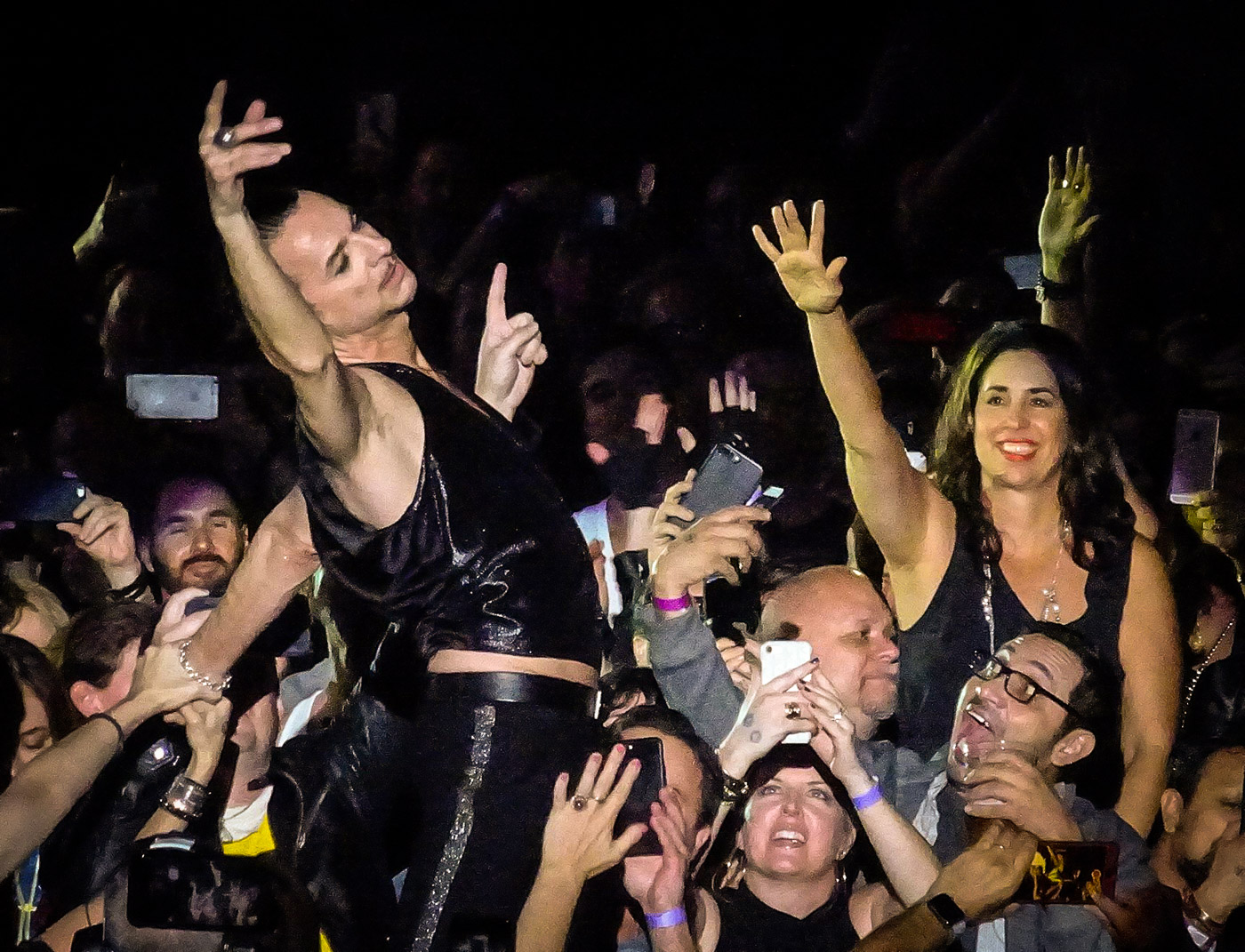 Tonight's show was now becoming intense, loud and rocking.   Right after a remixed powerful version of "Wrong," the audience sang along with "Everything Counts" with the band stopping and letting the audience sing.  When the audience would not stop singing "everything counts in large amounts" Dave took over said "You really are the best."
Once the opening of "Enjoy the Silence" started it became an all-out Depeche Mode rock and roll party.
Dave immediately came out to dance on the circular ramp in front of the stage.  It was now time to reach out and touch Dave as many fans did.  He worked the audience into a frenzy as he climbed along the seats singing and taunting his fans with delight.  There is no better front man in business.  The girl next to me was crying tears of joy and said she has loved Depeche Mode since she was a little girl when she stole her mom's "Violator" album.   Ending with the classic "Never Let Me Down Again" Depeche Mode proved why they are so loved in America and around the world.  They left the stage to thunderous applause with Dave flashing the peace sign as he disappeared into darkness.
Video courtesy of Sythetik Films
The applause never let up and soon Martin appeared back on stage with the ever dependable third member of Depeche Mode Andy Fletcher to sing another tour debut "But Not Tonight."  Previous shows he came back out and sang "Judas."   They also covered David Bowies "Heroes" in the previous shows but closing night they went right into "Walking in My Shoes" which immediately brought the energy level back up to maximum.  "Policy of Truth" and "I Feel You" kept the audience in total awe as the band knew this is what we wanted to make us feel like we are all a family enjoying our favorite band under the stars in Hollywood.  As curfew was approaching they wasted no time in getting to the finale song of the night "Personal Jesus."
Dave had everyone swinging their hands in the air singing and dancing along.  Even in the cool night air we were all working up a sweat.  A perfect ending to a flawless and powerful epic show.
It was a night of coming together to unite in the spirit of rock and roll.   Depeche Mode ruled these four sold out nights at Hollywood Bowl.  They gave us a reason to feel, to enjoy our life and forget about the troubled world we live in as only Depeche Mode can.