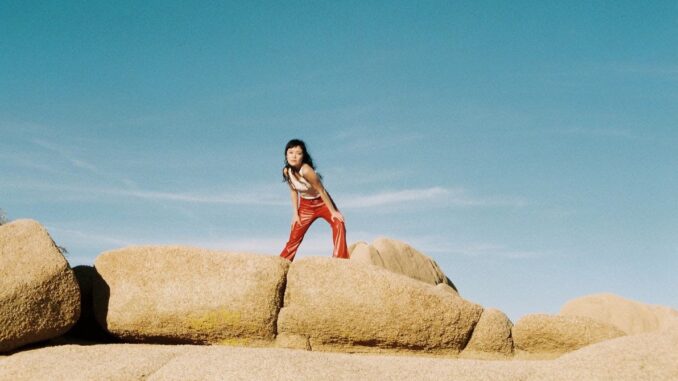 By AVA LIVERSIDGE
Frontwoman Leah Lavigne's OK Cowgirl makes their ethereal indie-rock debut with single "Get Gone." As reflected upon in OK Cowgirl's exclusive American Songwriter interview, the band pays tribute to their Detroit, now Brooklynite, roots with all the experimentalism these cities are known for.
As a multi-instrumentalist, lo-fi production ensemble, OK Cowgirl is not limited in their wide-scope of ability and musical resource.
Described by songwriter and multi-instrumentalist Leah Levigne, OK Cowgirl is a destination for her long musical journey, in which she finally has allowed herself to whole-heartedly embrace the angst she has felt for a long time. As she now sits comfortably and willingly in her jadedness and celestial mellow, Lavigne has been able to greatly expand her songwriting and message past her earlier projects like Leah and the Lowkeys, a fitting premonition for what was to come Lavigne's sound, and Fair Visions.
Though Lavigne now sheds this emotional barricade that she explains has hindered her ability to unapologetically express her truest form, this embrace was no sudden occurrence. In fact, this artistic awakening has been a steady progression of vulnerability that began when Lavigne's music career started, at fourteen.
Though Lavigne is young, it is safe to say she is a seasoned musician and, with every consecutive project, displays increasing comfortability and experimentalism within her craft.
However, in regards to artistic expression and finesse, if her former projects strung together were a gradual transformation, OK Cowgirl is shaping up to be a radical growth spurt for Lavigne.
With one single out, "Get Gone", and a second correlating single, "Don't Go", scheduled to be released this November, Lavigne and her bandmates, percussionist Matt Birkenholz, bassist Jase Hottenroth, and lead guitarist Jake Sabinsky, have hit the ground running. "Get Gone" has a lyrical maturity that incites high expectations for their future work.
OK Cowgirl blends a wide range of themes encompassing everything from the rejection of imposing beauty standards to a rebellion against a capitalist culture- all over a soundtrack of hard-hitting percussion, airy, yet impeding vocals, and overall flossy sonics.
Lavigne's dainty vocals juxtaposed with noisy, guitar-driven electrics reflect the very societal norms she rejects in "Get Gone," a sweetly deceitful appearance with insidious truth. She sings a testament to the everyday existence in an unforgiving world with a ghostly quality that draws an already enraptured listener into a state of self-reflectance. In other words, "Get Gone" is not your typical indie-rocker that conforms well into a narrow range of flimsy love letters and self-loathing.
In Lavigne's words, a cowboy figure is, "an individual who doesn't take shit from anybody." OK Cowgirl is in the process of becoming the best cowboy embodiment as possible, and in this journey, they share with us the trials and tribulations of profound self-acceptance and the liberations of fearless vulnerability in the paralyzing light of an often grim world.
Check out 'Get Gone' on Soundcloud: