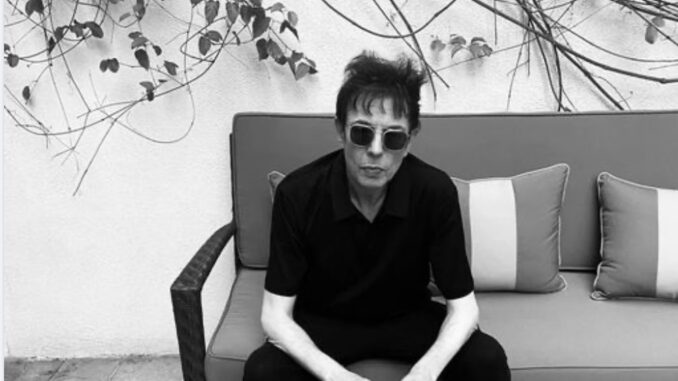 Echo & the Bunnymen
The Theatre at Ace Hotel
August 26, 2022
By DAN MACINTOSH
LOS ANGELES, CA – There was reason for concern that Echo & the Bunnymen lead singer Ian McCulloch might not be "100 percent" for the first of the English act's two L.A. shows, especially after a few recent show cancellations on this 2022 tour.
Although McCulloch only stood for the set's first two songs, he nevertheless sounded in fine voice and appeared to be in good spirits. He may have had some rough tour dates beforehand, presumably due to back pain problems, but thankfully this show wasn't one of them.
McCulloch was also very talkative, which was great for those in the audience that could actually comprehend words spoken in the man's strong Liverpool-ian accent. Oddly, though, it's never been difficult to understand what the man sings, and he looked and sounded fully engaged in the band's music throughout. This tour is billed as Celebrating 40 Years of Magical Songs, even though the group – which began in 1978 – has been going longer than four decades. The 'magical' part of that moniker, however, couldn't be truer.
The act's hour-and-a-half set featured the big hits, some deep cuts and one new track ("Brussels Is Haunted"). Guitarist Will Sergeant is also a big part of the act's magic, as he has created so many memorable guitar licks for the band over the years. Whether Middle Eastern sounding ("The Cutter"), or twangy, as with "Lips Like Sugar," Sergeant consistently adds musicality to McCulloch's distinctive vocal pouting.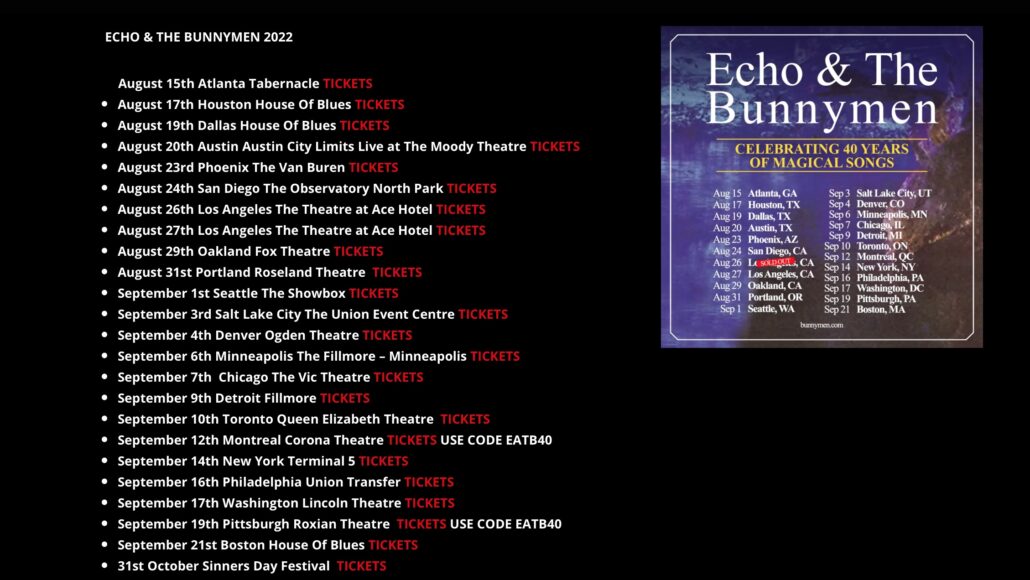 Of course, and audience would riot it the band didn't play "The Killing Moon," which they performed wonderfully for this adoring audience. It all added up to a whole lot of musical magic.
Los Angeles band, Cayucas, opened the show with a set of retro-sounding soul-rock. The act did one titled "Yeah Yeah Yeah" about midway through and said this is the one the Bunnymen like best. The fourpiece brought a touch of SoCal sunshine, just before Echo & the Bunnymen's London fog rolled in.
Echo & the Bunnymen had to drop out of Pasadena's recent Cruel World festival, we were told
because of visa issues, but the act would have clearly fit right in with all the 1980s music lovers and Goths.
Finally making it to SoCal before summer's end, though, this iconic act was certainly worth the wait.