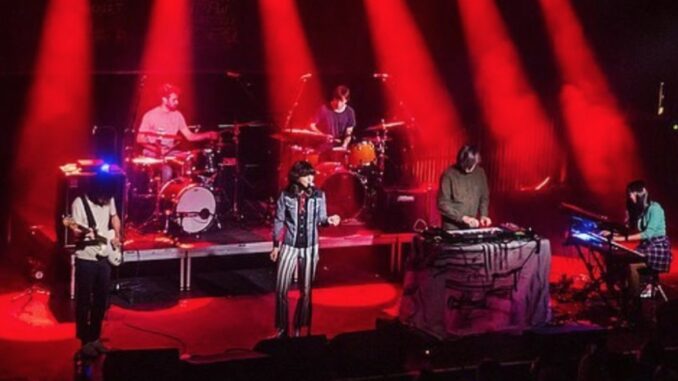 By DAN MACINTOSH
LOS ANGELES, CA – Sadly, the Fiery Furnaces drew a relatively small audience to its midweek El Rey Theatre show. Granted, it was a Wednesday night, and not a weekend. Nevertheless, this veteran indie rock act deserved a much larger gathering. Even so, front person Eleanor Friedberger was in good spirits. She co-leads the act with her brother, Matthew. The group's enthusiastic set spanned the act's 20+ year career.
The Fiery Furnaces' configuration is unusual, to say the least.
While Matthew Friedberger anchors the instrumentation with his various synthesizer and keyboard effects, he's backed by two drummers, a left-handed bassist and an additional keyboardist. That's right: no guitars. Usually, drumming pairs are most often found in jam bands. The Fiery Furnaces are no jam band, though, that's for sure.
These coupled percussionists did give the music plenty of rhythmic punch, however. Fiery Furnaces music is best described as post-punk art rock. While some of their songs incorporate dance elements, it's sometimes difficult to let go and just dance to these various selections. These performances were, for lack of a better term, a little quirky and off-kilter. For instance, early on the band played one called "Benton Harbour Blues," which tamped down some of the harsher elements in the act's overall sonic. It wasn't exactly soft-rock, but it was distinctly soft – at least compared to most everything else performed this evening. It came off a little like Talking Heads attempting to do yacht rock.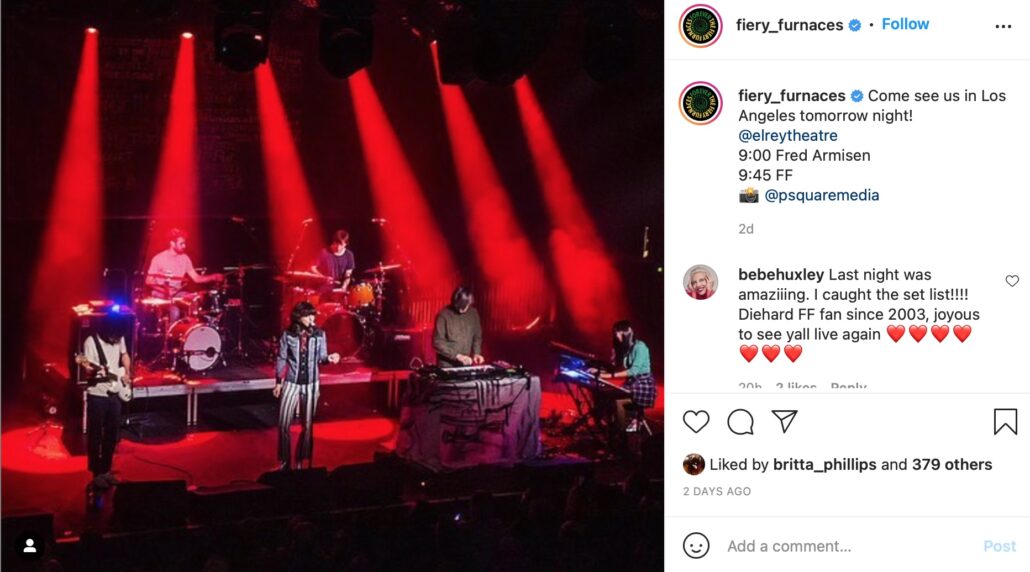 Eleanor Friedberger doesn't play an instrument but sings all the songs. She has a pleasant singing voice, and she many times sounds like she's part singer, part poet. Many of the act's songs come off like stream of consciousness lyrics put to music. One titled "My Dog Was Lost But Now He's Found" is a play on words, possibly referencing the hymn "Amazing Grace" lyrically. It even ends in a house of worship. "I went to the church that Wednesday night," Friedberger sings, "The guest preacher said I bark but I don't bite/I saw my dog, but he'd seen the light/My dog was lost but now he's found." She dedicated this one to Fred Armisen, who opened the show.
Speaking of Armisen, the comedian/actor performed a short set of music-related comedy. He brought along a tablet, which he used to play various musical clips. He also sometimes accompanied himself on drums or electric guitar. All of his bits were inspired by going to concerts or listening to music, and everyone in the audience at this rock concert could relate to that.
One of the best moments imagined a new band guitarist playing Kansas' "Carry On My Wayward Son." This song changes direction so many times, one can well imagine how difficult it might be for a first timer. Then there was a drummer looking confused about when he comes in on Diana Ross' "I'm Coming Out." That intro seems to go on forever without a drum part. Armisen was right when he told the audience they'd never listen to this song the same way again.
For the few that attended, this was a fulfilling show, filled with humor and crazy rhythms.