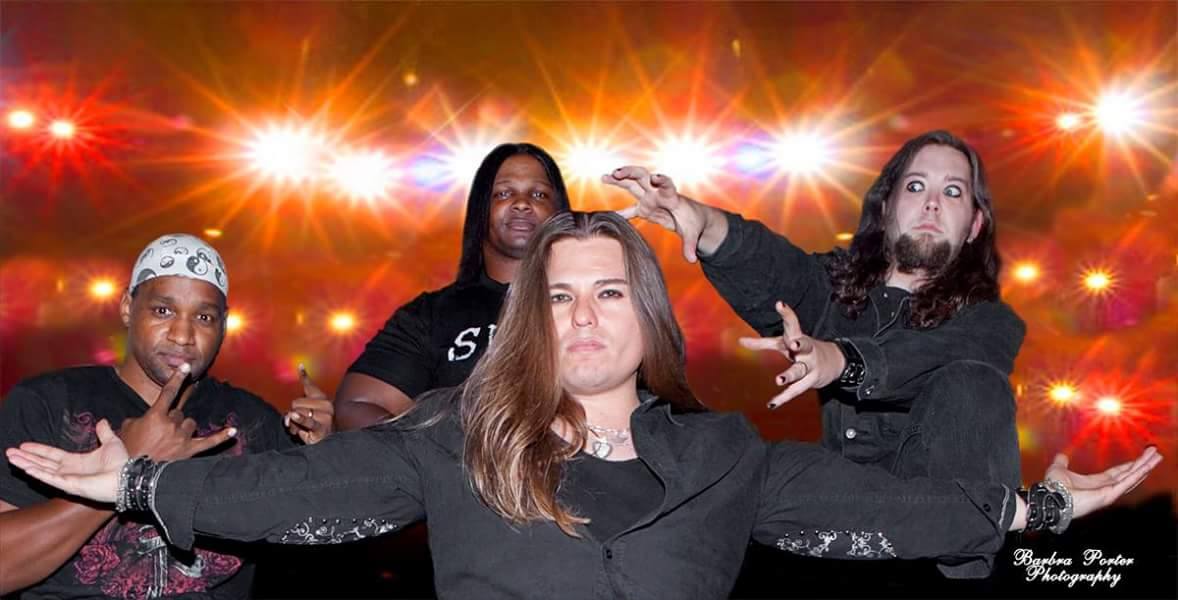 By PATRICK O'HEFFERNAN 
The band SWIRL has tight music and a clear message: Choose your path, stand up for it, don't let negative voices deter you.
The music from SWIRL is powerful – hooks that don't let you go, achingly crisp guitar licks, percussion so sophisticated it sounds simple, and an unerring sense of how it all should come together. The band's journey has been a long and winding road that has gone through Los Angeles, Japan, the U.S., various recording studios, a film score and support gigs with for top of the pile hard rockers.
With the release of their new self-titled album, SWIRL, they are headed for the top of the hard rock pile themselves. SWIRL founder Duane "DT" Jones stopped by for a chat about their new album.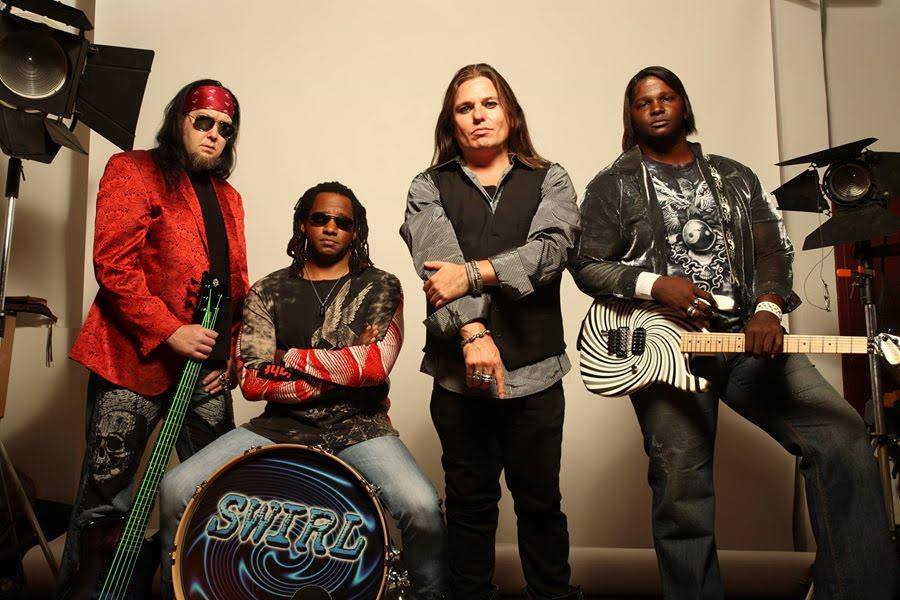 PO: I have been listening to your music all week. I love the sophistication of your arrangements and your playing chops. I want to get into the lyrics in a bit – because they are in many ways the heart of your music, but first – how did this band get formed?
DT. The easiest way is to start with the drummer. After years and years of walking around the house I finally ask my mom, who is this person? She said, well, that's your brother. My brother is the drummer. For us that was the easy part of getting together. Then we added a base player and singer from a previous incarnation of the band in the Northwest. After some family tragedy we moved to southern California – I moved to SoCal to join my brother. And then Claude Snow said he lost a guitar player, he is thinking about going into the studio and why don't I think about working with him. I was coming out of my funk from my father passing away, and Claude and a few other people get me back into music. We did some shows and I really liked the singer and the bass player. The sessions with Snow never happened but I stole the singer and bass player and that was how SWIRL happened.
PO: You did lot of touring, went into the studio in 2008 and produced your first album, and then it wasn't until 2011 that you re-emerged with some new music. what was going on between 2008 and 2011?
DT. A lot of touring. We have been together since 2008 – there have been no band changes. We are still very much in love with the idea of working together. When you are doing the independent band thing, sometimes you want to move on, but not us. We have stuck to our guns and together. Part of that is that first thing we did when we got together is toured -50,000 miles, opening for RATT, Bullet Warriors, Cinderella – anybody a stage and electricity. And in the process we found out that we liked each other in those three years on the road.
PO: In that period the band developed a knack for lyrics that are are both narrative and musical. The lyrics in "Rise Up" are a great example:
You got your boots you got your suits the attitude and from the outside/all the right moves
House on the hill another shot another pill/do whatever it takes just to make it through the day
Handcuffed in gold you been bought you been sold/can`t complain for the money you slave
If you read those lines without music they are a melody in themselves they are poetry. Who does the lyrics?
DT. I will give all credit to Alfred Ramirez. He puts phrases together like that and I am in awe of him. I am in the same boat as you – where did he come up with those lines. I am just happy we are in the same band. He is very much about writing things that people can relate to – he tells a story, paints a picture. It just works.
PO: You are from Washington State and then Southern California but your toured for three years. You must have played the East Coast – New York City?
DT. We have played New York – we played Times Square with RATT and a few times with LA Guns and other bands. We are looking to tour very soon for "Rise Up". The video for "Rise Up" debuted Monday and we are excited. It has been a great spring for us, with the release of Dich Day film with our music, interviews, reviews so there is focus on us now. It is time to tour. Check www.swirltheband.com for dates.
PO: Several of the songs on the new album were for the movie Ditch Day, which is out now on Amazon Prime and in Europe. You scored a number of songs for the film – were they written for specific scenes?
DT. The way that worked out was my brother was working on another project whose writer's wife was working on Ditch Day. We were in the studio creating the songs for the album and the producer took a demo to the writer, who played for his wife, the film's producer and they loved it. We didn't write the songs for the movie, but they used them. All the credit goes to Megan Waters, the producer and assistant director of the film
PO: The song "Spell" in the album is really full of hooks. The lyrics " I feel a change coming over me/I was blind now I see/I won`t waste another minute on you and me are a really good hook. Did you plan that? To create lines that stick in your ear?
DT. I don't believe so. It was a classic love gone wrong story as told by Alfred in his genius way. That is just him…that is what he does.
PO: "Spell" was used in the film. How did the director decided to use it in the film?
DT. I recall vividly being at the screening party. It is a horror film. Three fourths of the band all watch horror films. I don't – I am the quarter who does not like horror films. I got into it when our music was in it. But that scene – I missed it. I was sitting in the screening on the big screen next to my bass player – there is a party scene going on at the screening and I am looking around — and my bass player leans over a says "you do know that this is us right now, don't you?" And I was like "Oh hey, it is!" So I missed it.
PO: Another song used in the film is "We Are Alive" which is very direct both musically and lyrically and an interesting choice of music for a slasher film. It sounds more like a political critique. Does "We Are Alive" sort of boil down your personal determination?
DT. I have talked to Alfred about it and I feel comfortable saying this now – that was a former employer of his. Somebody upset him and he wrote a great song about it.
PO: Breakups and former bosses are often a source of great material.
DT. Yep. When you let the pain in, the lyrics flow. You get the best stuff
PO: DT as you have moved forward, the band has gotten better and better musically – each of you have developed amazing chops. Has there ever been any friction because of it – anybody wanting to be a prima donna and show off their skill?
DT. No. First things first. Everyone's sole purpose is to serve the song. We recognize how well we can play but no one is sitting there saying they are a virtuoso. Whatever the songs needs is what we do. Part of that is the history of the band. We have been in the studio with Fred Coury from Cinderella and with Carlos Cavazo from RATT and Quiet Riot and Matt Thor from Rough Cut and a Grammy-nominated engineer. so those are our recording mentors. We learned our lessons there and went into the studio in Wildomar California and produced it ourselves. We were sitting with the mixing engineer in the studio and remembered and applied a lot of the lessons learned in working with the people on the top of the pile in the rock world. That's what helped us learn to write and record those songs.
PO: Last question. How has your music changed over the years?
DT. We got a little more modern in our production, but the way we write is the way we write – . It usually starts with me creating something on the guitar, then I sit down with Brian (Bam Bam Jones) and work on arrangements and then we take it to Shane (Carlson) and Alfred (Ramirez) and they will add their parts to it. The stylistic differences between our two albums are due to my brother. He wanted to go to a little more modern, including guitar tone and tuning and writing. I was resistant because my heroes where classic hard rock guitar players like Warren DeMartini, but he got me to listen to more modern players. I thought "what would it sound like if you put someone like DeMartini into Nickelback, or Creed – you know – let's try it out." That was the mentality — to see if it comes across.
Patrick O'Heffernan. Host, Music FridayLive!, Co-Host MúsicaFusionLA
Check out the SWIRL web page 
SWIRL, the album, is available at www.swirltheband.com,  iTunes, and Spotify