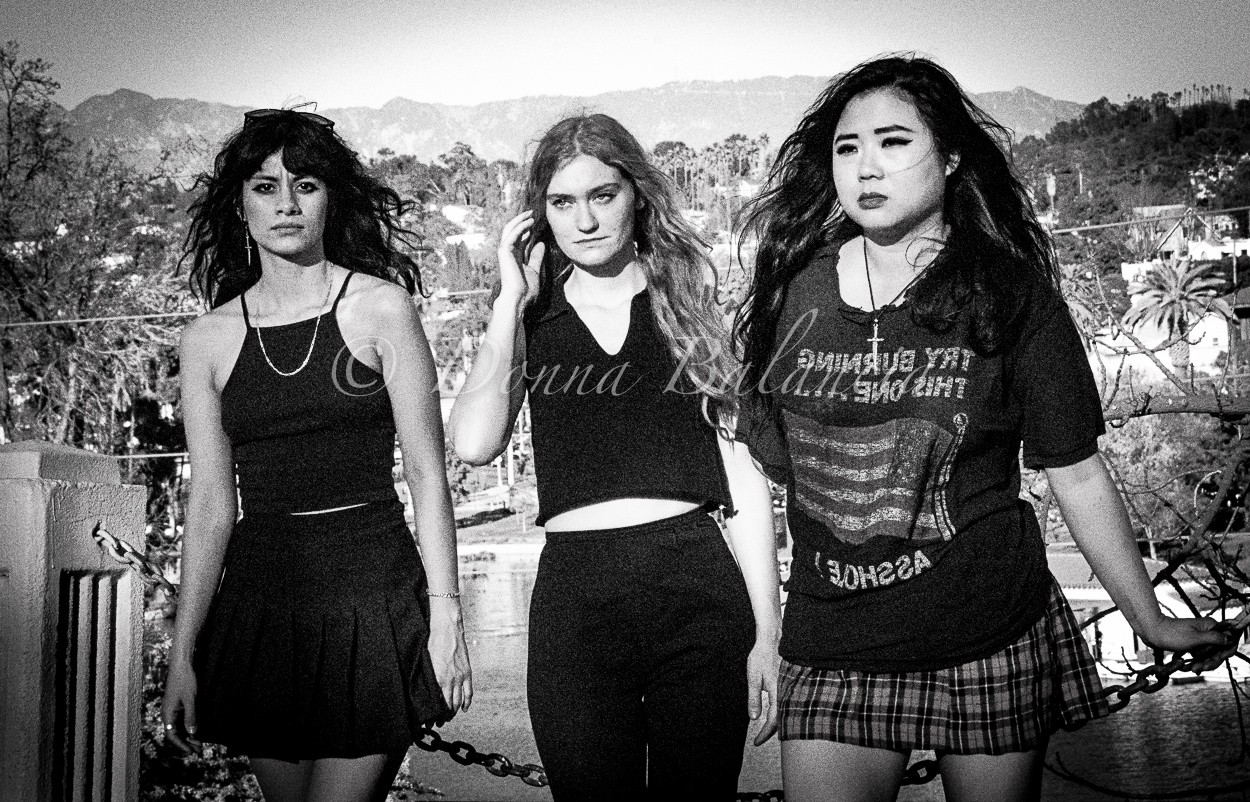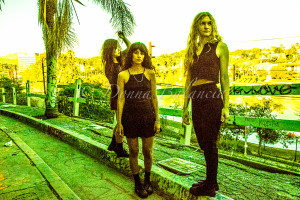 By DONNA BALANCIA – L.A. Witch is taking their magic on the road. Front gal Sade Sanchez, bassist Irita Pai, and drummer Ellie English of L.A. Witch are three Angelenos who have some miles behind them but some uncharted journeys ahead, including a stop at SXSW and regions beyond.
They're promoting their new single "Drive Your Car"  and you can catch them at The Smell this weekend for the Bernie Sanders fundraiser, along with some of SoCal's hottest bands.
L.A. Witch makes music fun and interesting again. Listening to L.A. Witch is like hitting the whip button on a blender of Sonic Youth and Link Wray and then passing the mix around in gleaming summer glassware.
California Rocker sat down with these look-ahead, take-no-prisoners players and asked L.A. Witch the important questions.  
CR: Your music is unique; how does the songwriting process go for you three?
SADE: I usually come up with songs while jamming alone. If I like something, then I'll record it and keep playing it back to myself (usually when I'm driving) and add a melody and lyrics. Once I have a general structure, l'll show it to the girls and then from there we all kinda add more to it whether it be individually or together at a practice.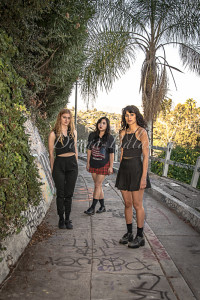 CR: What are the goals for the next year, then what are the goals for the next 5 years?
SADE: I want to release more music. I want to do more music videos. It would be cool to release an EP with a video for every song. Like a series of short films. I want to continue to touring the world. Mainly just to keep creating music and other creative projects.
ELLIE: I would definitely like to write more songs and do a lot more traveling.
CR: What are your top three venues to perform in?  What are your favorite venues in Los Angeles?
IRITA: I really like the Monarch in El Paso, it's supposedly haunted. Also I really like the Crepe Place in Santa Cruz, they feed you and the food is really good.
SADE: The Crepe Place is also always super fun, and the fans who come out to those are so rad. I really dig the vibes at Hotel Vegas in Austin. And I have really good memories of the some shows at the cobalt and electric owl iThe Cobalt and Electric Owl in Vancouver (we love Zach). In L.A. I would have to say the Echo, Non Plus Ultra and the Observatory.
CR: Which bands inspire you?
SADE: There are way too many to list, I go through a lot of musical phases, but some of my forever favorites are BJM, MBV, Black Sabbath, Nirvana, The Gun Club, Sonic Youth, JAMC, Mazzy Star, The Smiths, Spacemen 3, The Velvet Underground and so on…
IRITA: Rolling Stones because they're all still alive and they've been touring forever.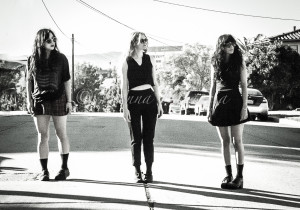 CR: How did you all meet?
IRITA: I had been jamming with some girlfriends and a mutual friend, Tony from Santoros, introduced us to Sade.
SADE: They were missing a singer and guitar player, and I was looking for a whole band. We vibed really well and had a lot of similar influences and stuff like that. So we started L.A. WITCH. Then we lost our original drummer, who moved to New York. I had known Ellie from a high school band that we played in, and asked her to fill in for some shows and then she just kinda became permanent.
ELLIE: I met Sade in high school, and it was really nice to be reunited. It's great to play music with such talented people.
CR: How does L.A. Witch manage on the road these days?  What can young people learn from your experience touring, and what would you tell them?
IRITA: Lots of caffeine helps. Also you can't be afraid to sleep on weird floors or shower in dirty bathrooms that have tons of spiders or cockroaches and/or smelly towels.
SADE: There's moments where you think you're losing your mind, but it's totally fine because you get to lose your mind with your best friends. I mean if you really love it, nothing is gonna stop you so it doesn't matter.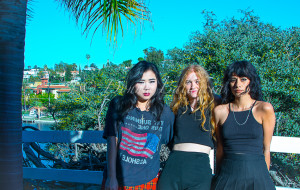 CR: What was the funniest thing that ever happened on stage?  Or what was the weirdest thing?
ELLIE: One time someone threw their panties on stage.
IRITA: Sometimes people yell stuff at us, it's pretty funny. Stuff like "I love you" or "You're hot". Generally nice things. One time in Iowa some guy got on the stage and was like dancing with us while we were playing, getting all up in our business and no one told him to get off. That was weird. Then he followed me to our van and asked for my number. Ha.
CR: What do you typically eat when you're on the road?  Is it cheeseburgers or healthy?
IRITA: We probably should eat healthier. We try to get at least one good, healthy meal in per day. But usually it's coffee and gas station snacks. I really like discovering new, weird flavors of potato chips.
SADE: Yeah, we usually only get to eat one meal when we're on tour. I really like eating fruit. Also Laena from Feels got us hooked on Yerba Mate.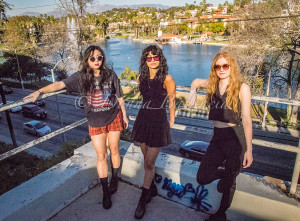 CR: What work, fine art or paintings do you relate to?
IRITA: I really love Kirchner's work, it's colorful with really dark undertones. But I think I relate most to Goya's work. He's my favorite right now.
SADE: Recently, Joe Roberts' book LSD World Peace.
CR: Have you ever met your favorite musicians and what advice did they give you?
IRITA: My favorite musicians are all dead.
SADE: I wold have wanted to meet Johnny Thunders, Kurt Cobain and Jeffrey Lee Pierce. We're all water signs, I'm sure I could relate. 
[Best_Wordpress_Gallery id="39″ gal_title="LA Witch"]