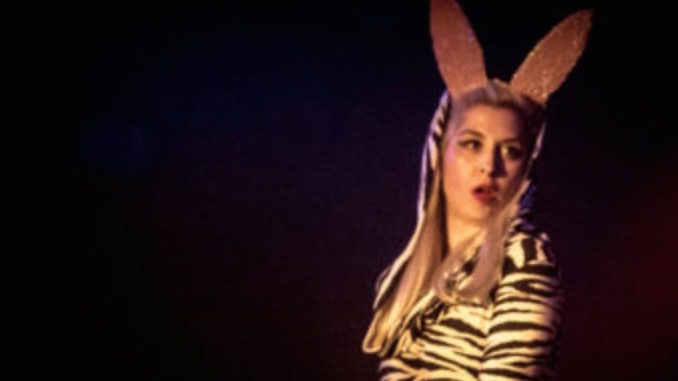 By DONNA BALANCIA
Her fashion may be wild and her songs are pop-electro, but Jesika Von Rabbit, is a no-nonsense working musician.
Von Rabbit has accomplished what few others have been able to do: She has captured a fan base that buys her music and she has mastered the art of promoting her very special act.
"I'm playing in front of the right audiences and we have a lot of fun," she said. "We've got some great dancers, it's sexy with a little bit of innuendo."
Friends for the Queen of the Desert
There are some secrets to success. She's got friends and supporters, she keeps writing music and she never misses an opportunity to self-promote.  It's a new world for musicians and Von Rabbit embraces it.
Von Rabbit is known as the "Queen of the Desert," and she has built a faithful entourage with a home base in Joshua Tree. But much of the time is spent traveling and touring at a hectic pace.
It's a cool group of performers Von Rabbit works with. At a recent show at The Viper Room on the Sunset Strip there were sexy gals, monkeys, a banana and a host of others.
"We have a rotating cast of characters," she said. "Once we even had a 70-year-old man who danced at the stage with us."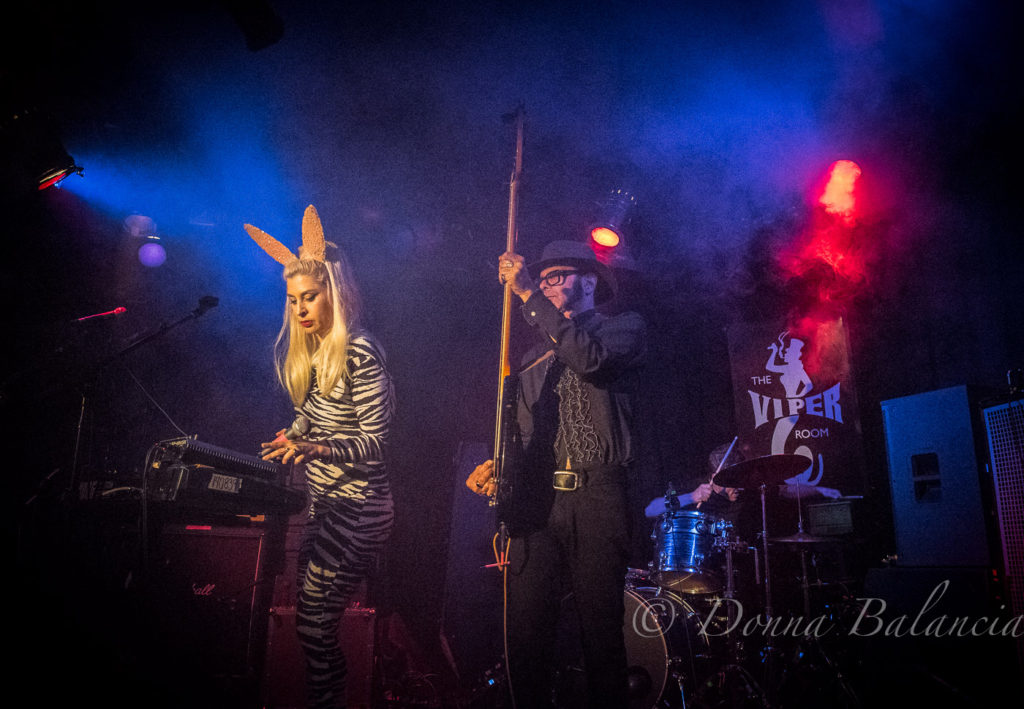 Jesika Von Rabbit and Her Unique Wardrobe
Von Rabbit has a unique wardrobe, sometimes wearing a skeleton suit, sometimes zebra stripes, but all the while keeping her trademark bunny ears. And while she is a natural performer and all-around musician, the studio is her place.
"I do like performing live, but I prefer writing and being in the studio," she said. "It's exhiliarting and the best natural high to be coming up with creative ideas. That initial moment when you're on to something in a song, it never gets better than that moment."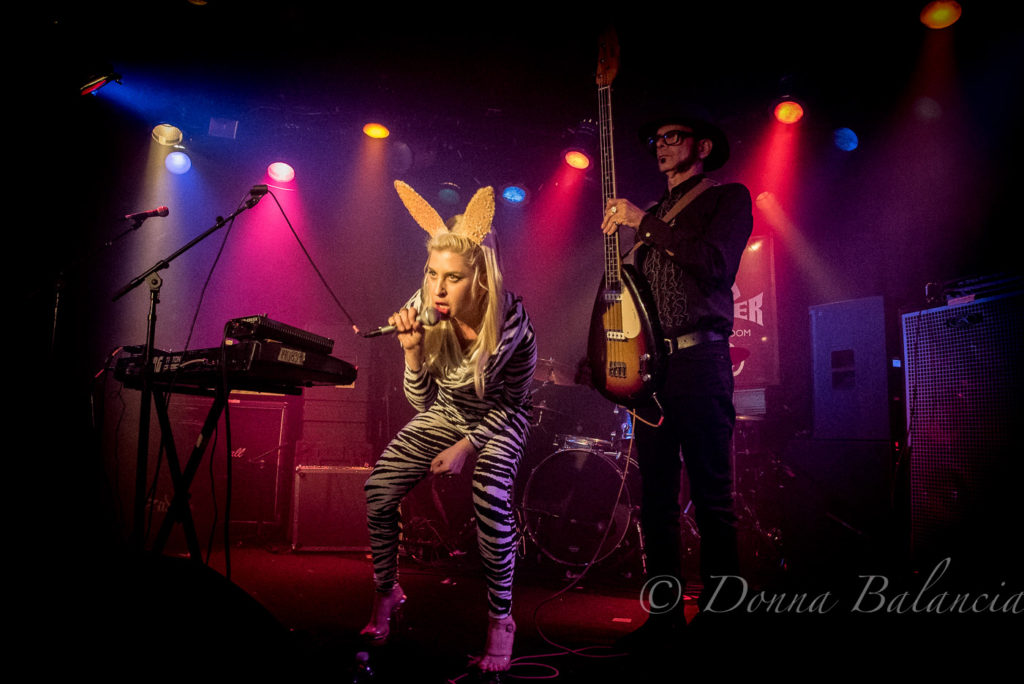 A 'Cheesehead?'
It's the midwest work ethic that keeps the music flowing.  After all, she hasn't always been the so-called "Queen of the High Desert."
"I'm from Green Bay, I'm a total cheesehead," she said.  "I was living in Minneapolis after high school that's where I got my start in music. I knew that I wasn't going to stay in the midwest forever. I had an ex-boyfriend who said I should come to LA, so I came to LA in my early 20s."
But music was always in her blood no matter where she lived.
Von Rabbit's Family as Artists
"My mom sang and she was an artist and she was very untraditional," she said. "I took piano lessons from first to 12th grade. When I was in high school I went to a lot of punk rock shows. In Green Bay there was an awesome thriving punk rock scene – I saw the Dickies there, Killer Clowns from Outer Space, Soul Asylum and Fugazi."
Von Rabbit said her band Gram Rabbit gave her exposure and also a little bit of pocket money even today from licenses from commercials, movies and TV shows. The Gram Rabbit songs played in Crazy Stupid Love and reruns of CSI Las Vegas.
While she has had her share of musical partnerships, the people in her life now are most important to her, she said.  Ethan Allen is one of those. He's her collaborator and producer.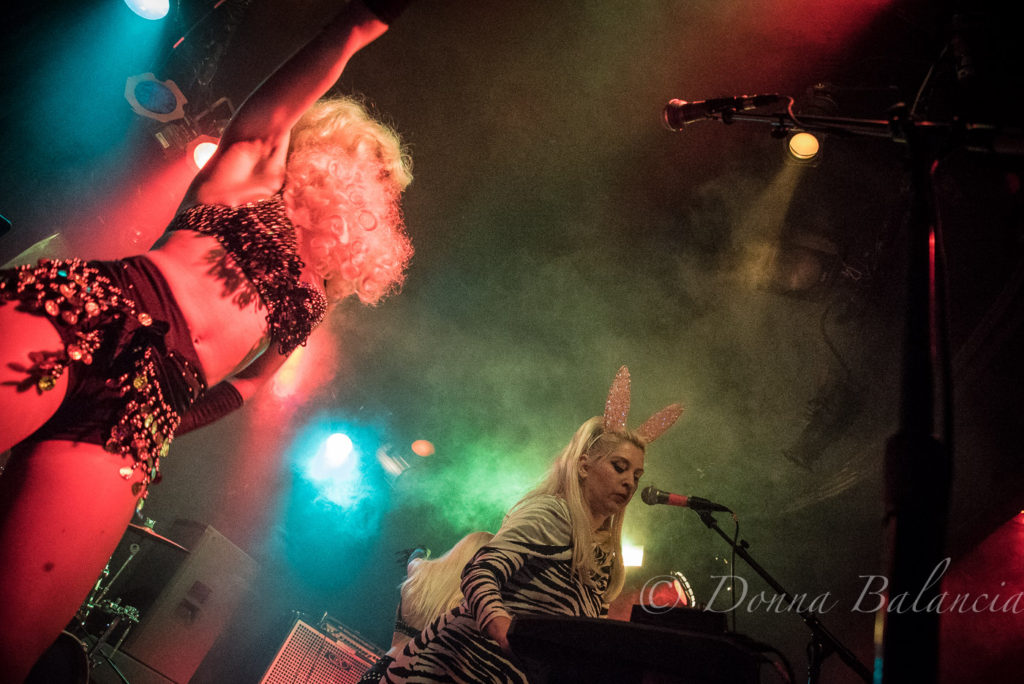 Ethan Allen: Fortunate
"If you're fortunate enough to collaborate on a project with Jessika, then you get to engage in unbridled creativity," he said.  "Her perspective on the world is unique, and she has something different to say. Her capacity as a lyricist is really human and honest, and her musical choices are always  a surprise."
"Her music always has an element of threat and an element of humor, and that's a rare combo," he said.
And with all that pent-up talent, she's not resting. So what's next for the bunny-eared innovator?
"Just world domination," she said. But in the meantime, she'll stick with working with her crew of pals and conquering the fans one by one.
Von Rabbit also makes sure to keep in shape with a regimen.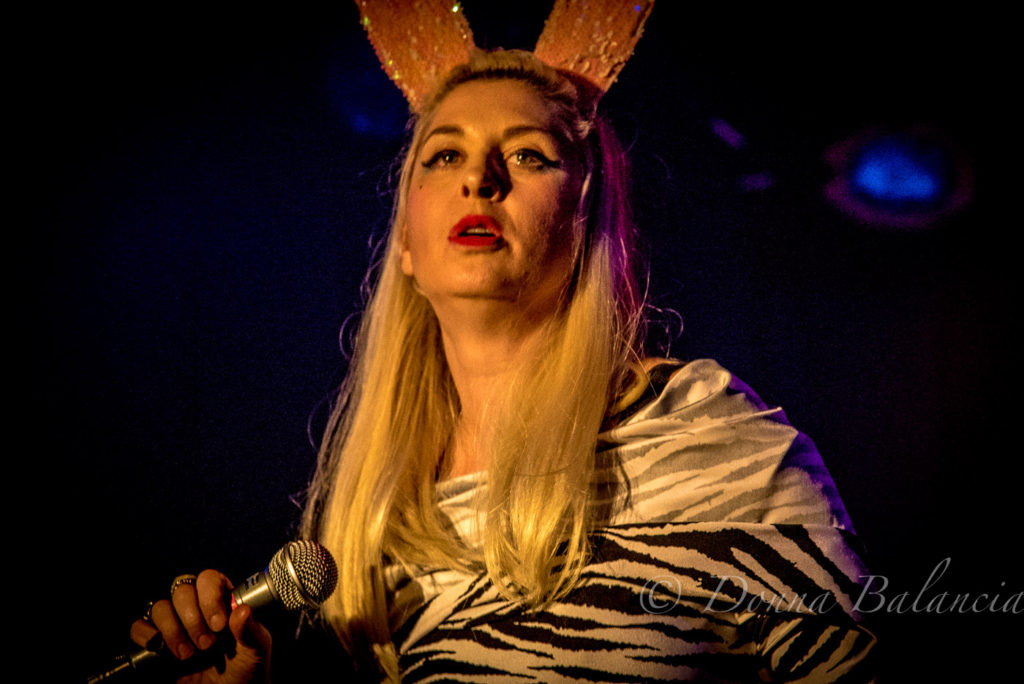 Rabbit Regimen
"I try to get to the gym three times or five times a week, really so that I can feel good mentally," she said.  "It's good to have a structure.  Working out is about feeling better about myself and knowing you're doing something good for your body."
Von Rabbit is all about empowering women. Her music is fun and upbeat and while the act is all in good fun as well, the gals on stage may be a bit scantily clad. Does that make guys think they can take advantage?
"I haven't run into it too much," she said. "But speaking up is going to help future attitudes and empower women to not let stuff happen to them. If something doesn't feel good say somethinng."
Getting The Music Out There
Von Rabbit may exude confidence on stage and she's coming into her own.  She tries to always look at a new way to get the music out.  She's working with Ethan Allen and it's a good collaboration.
"I'm excited to be working with Ethan and it's definitely more evolved than my first solo record. That one was primarily electronic music and my voice.  I'm not sure when I'm going to release an entire album next, but I'm going to start with releasing singles from the album."
How does Von Rabbit describe herself?
"I'm pretty much a combination platter," she said. "I can be serious and sympathetic and down to earth. I care about people. But I also like to be silly and creative because life is short. My favorite friends are the ones who laugh with me."