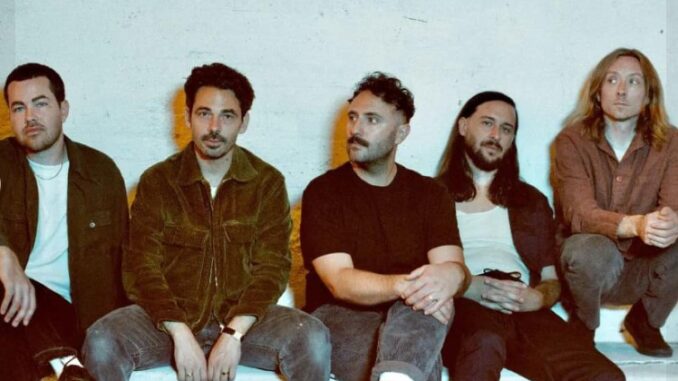 Local Natives
Masonic Lodge at Hollywood Forever
December 7, 2022
Review by DAN MACINTOSH
LOS ANGELES, CA – The chilly night's music at Hollywood Forever's Masonic Lodge featured the third night of Local Natives' brief residency there. After originally coming together in Orange County in 2005,
Local Native band members are truly local natives and drew an enthusiastic hometown audience. Each night, the band played differing sets, so true fans likely attended all three shows.
While the group performed favorites, like "Sun Hands," this talented act also threw in new songs, too, including "NYE." Darkside's Dave Harrington even masked up and sat in for a few songs as a special guest. The band played a few covers. One, "Don't Look Back in Anger," was an Oasis hit the band recently played for Ryan Hahn at his wedding reception. This time, though, Hahn was also able to join in. The group also later played the seasonal "Happy Xmas."
It would be foolish to tie each member in with a respective instrument, as everyone switches
instruments often throughout the show. Even the drummer stepped away from his kit and grabbed an electric guitar toward night's end. A few factors make Local Natives' music special. One is its unusual rhythms and deeply layered sound. There's plenty going on at the same time, which makes just closing your eyes and taking it all in, a rewarding experience. Secondly, the group contains four strong vocalists, which allows for robust group vocals. At its best, Local Natives songs have a delightful Beach Boys quality.
To reference Beach Boys once again, these unique aural elements filled Masonic Lodge with plenty of good vibrations. There is a joy about Local Natives music, which distinguishes it among the alternative music set. These players don't sound angry at all. Instead, they all come off overjoyed about just having the opportunity to create encouraging music together. Local Natives deserve to have a residency on your playlist, just as much as the group earned its successful Masonic Lodge three-night stand.