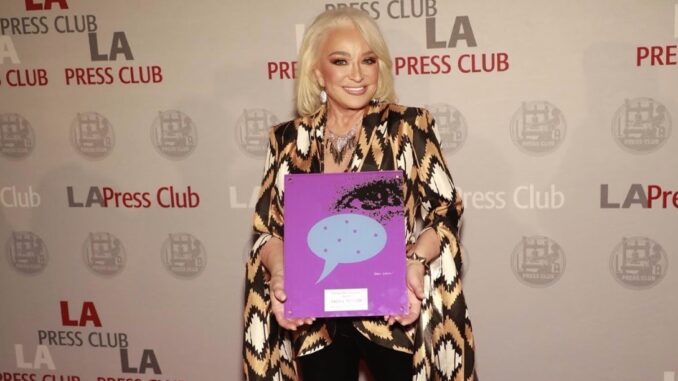 LOS ANGELES – The National Arts and Entertainment Journalism Awards honored Tanya Tucker with the Distinguished Storyteller Award for excellence in storytelling outside of journalism as the entertainment icon is set to star in Paramount's "A Nashville Country Christmas," her first original movie airing Dec. 12 at 8 p.m. ET/PT on Paramount Network.
Tanya is also featured in the "The Return of Tanya Tucker, Featuring Brandi Carlile," a documentary now in theaters that chronicles the resurgence of Tanya's career via Sony Pictures Classics. The documentary will be available on Digital and Blu-ray Jan. 10.
The Distinguished Storyteller Award is presented to a legendary person who has proven to be a great storyteller like the best journalists, only through other forms of artistic expression. Kathlyn Horan, who directed "The Return of Tanya Tucker, Featuring Brandi Carlile," presented the award to Tanya. Past recipients who have collected the award include Quentin Tarantino and the creators of "Sesame Street."
In addition to Tanya, Byron Allen received the Impact Award, Ryan Seacrest received the Luminary Award, Marla Gibbs was honored with the Legend Award and director Jennifer Lee (Disney's "Frozen") picked up the Distinguished Storyteller Award for film.
Tucker, a music legend, is a two-time 2020 GRAMMY winner and continues to inspire artists today. Born in Seminole, Texas, Tanya had her first country hit, the classic "Delta Dawn," at the age of 13 in 1972.
Since that auspicious beginning, she has become one of the most admired and influential artists in country music history, amassing 23 Top 40 albums and a stellar string of 56 Top 40 singles, 10 of which reached the No. 1 spot on the Billboard country charts.
Tanya's indelible songs include some of country music's biggest hits such as the aforementioned "Delta Dawn," "Soon," "Two Sparrows in a Hurricane," "It's a Little Too Late," "Trouble," "Texas (When I Die)," "If It Don't Come Easy" and "Strong Enough To Bend."