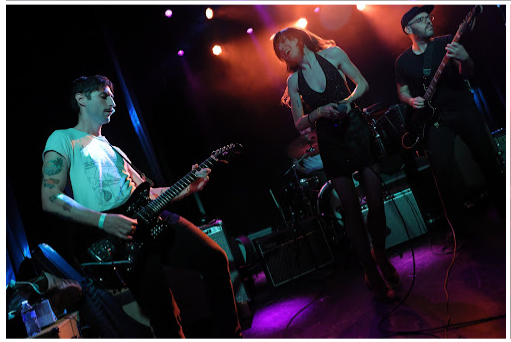 Photos and Review by NOTES FROM VIVACE
The inaugural Dum Dum Fest took place at The Echo where the bands playing the night brought together the Los Angeles music community. Fun conversations among friends were had throughout the night.
Regarding the festival, Taleen Kali who curated the festival said on Instagram: Hard to believe I started Dum Dum Zine in 2012 on the floor of my old apartment all by lonesome and now so many beautiful people are part of this great big DUM DUM FEST we're playing tonight in L.A. So excited to kick the summer off together!

Opening up the night was Nightjacket with their early 90s retro sound that reminds many of Mazzy Star and The Cranberries. Songs such as "Lonely Archer" and "Don't Say a Word" are intricately composed and effortlessly played. Andrea Wasse's vocals are a comfortable blanket that drew the crowd together. Lauren Lakis came up next on stage.
Cheers to her drummer who had to deal with back pains that sent him to urgent care earlier in the day. Lakis' sounds are dark with heavy beats, reflected in songs such as "Sail Away" and "Take My Hand." That doesn't stop her from whirling on stage. The crowd loved it all, screaming as each song came to a close.
https://www.instagram.com/nightjacketsound/
https://www.instagram.com/laurenlakis/

Iress combines shoegaze with gothic vocals. Lead vocalist Michelle Malley has the chops to blast that microphone stand ten feet into the crowd – if so desired. Yet, a sparkle in the eye indicates all will be just fine if the dark tones of the band's music hits you too hard.
Taleen Kali took a well-deserved bow for putting on the festival. As those who have followed Taleen Kali expect, she came out with the sunglasses under the low lit stage as the band opened with "Flower of Life." It's a song that blasts a psychedelic thrill ride. One has to love how all the band members get a chance to chat up the crowd throughout the set.
https://www.instagram.com/weareiress/
https://www.instagram.com/taleenkali/

Closing out the night was Patriarchy with an hour long set that felt like it lasted only the traditional 30 minutes. You knew you were in for a distinct experience when one of the photographers in the crowd mentioned, "You can tell that the Patriarchy fans are showing up."
The band came on stage dressed in all white. It is an interesting contrast with the theatrical dark metal set. The theatrical part comes with vampiristic sexual attraction on display at points during the set (admittedly, what is actually being represented on stage is up to interpretation). The band threw itself into the set without pause and left the crowd on the lookout for vampires in the post-midnight environments of Echo Park.
https://www.instagram.com/_patriarchy_/