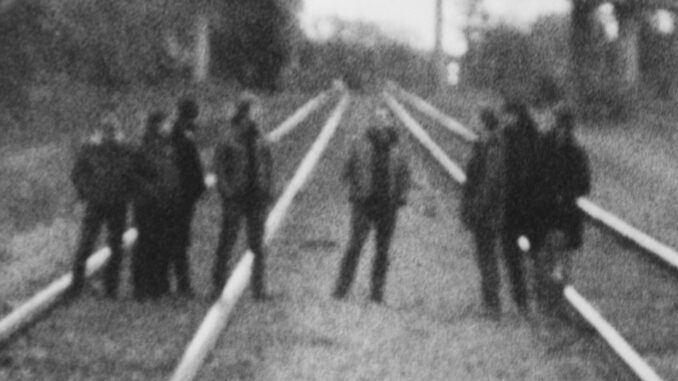 Godspeed You! Black Emperor
State Theatre, Portland, Me.
By AVA LIVERSIDGE
PORTLAND, ME – Post-rock collective Godspeed You! Black Emperor are on an international tour of G_d's Pee AT STATE'S END!, their eighth full-length release and fourth post-hiatus record.
As GY!BE made their way up the East Coast to Portland, Maine's State Theatre—a stone's through from their home city of Montréal—a rare synthesis of cacophony and cohesion arose from the 8-man ensemble.
Solo act Rhubarb (a.k.a. Jonathan Downs of avant-folk group Ada) opened the evening with a minimalist modular synthesis set. The image of a solitary figure, surrounded by instruments, and in his socks engendered his ever-expanding, analog synth-driven constructions a great pathos.
Rhubarb ended his show with an intimate track he dedicates to growing up in Central Maine. The plain magnitude of sound emanating from this single man, the amplitudes of musical expanse he could craft—tinny guitar lines, warbling synth, shoegazing harmonies—portended the commotion that the following act might harness.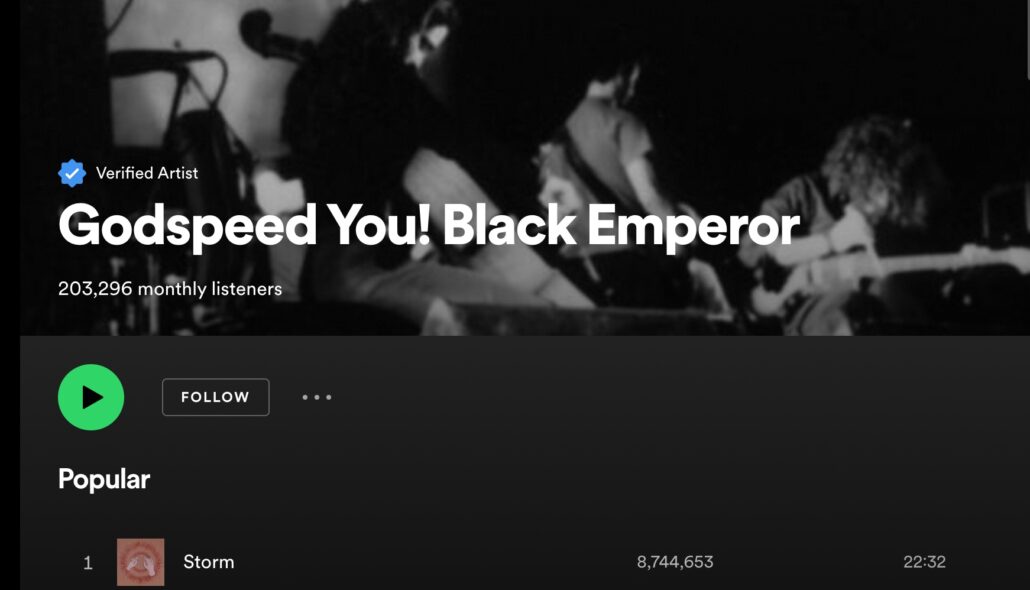 Everything people say about Godspeed You! Black Emperor concerts is true. You don't go to watch the concert; that is, the audience isn't meant to fixate dutifully at the show up there, on stage. Whispering operatic interludes and roaring percussive thunderstorms come up through the floor, then through you. You, the audience member, are an essential part of this whole.
The band is elusive: never genuflecting to the commercial motivations that accompany contemporary band-hood conditions, GY!BE has no social media presence, sparse interviews, and two official band photographs. Their medium is their music. And beyond their albums released on independent label Constellation Records, any concrete life-signs come from live performance. Their semiotic reticence makes for an audience agog and a band with something to prove.
In 2004, Godspeed revolutionized what protest music sounds like, choosing sonic tension over sloganeering in their canonical record Lift Your Skinny Fists Like Antenna to Heaven. As an audience member feeling the rumble of chamber rock within them, your imperative is to do the work of identifying the dystopia you're hearing. The handy work of two drummers, a double bass, cello, violin, keyboards, electric guitars, and film projection presents nothing less than an apocalyptic fantasy—just short of incendiary to the eager concertgoer. Built into every crescendo and realized further with projections of January 6th insurrectionists, landfills teeming with plastic, footage of stock-brokers in conference rooms, fire and ice, GY!BE invokes the sublime by pairing our plain reality with a lattice of siren-sounds that tear this reality asunder.
Using dynamic dexterity as a salve to the sheer performance volume, the most earthquaking apex of orchestral momentum so quickly becomes the delicate fluttering of a solo violin line, then a synthesizer's drone. Alarms ring with deafening ease from metallic-tinged guitars only for you to be lulled back to a hypnotic rest by silken cello strings. Half the setlist comes from their 2021 record, G_d's Pee AT STATE'S END!, grounding this four-track run's aggression in the woes of today—pandemic-age paranoia and climate-crisis cynicism at once.
The evening ended with catharsis: Looped projections of the insurrection paired with "BBF3" was anthemic and exponentially expanding, uplifting and desperate. GY!BE taps in to the full range of their audiences affections—the grief and the most earnest hope.
Follow the rest of Godspeed You! Black Emperor's tour on the West Coast and Europe and stream G_d's Pee AT STATE'S END!
Setlist: State Theatre, Portland, Maine (November 18, 2022)
Hope Drone
Job's Lament
First of the Last Glaciers
Anthem for No State
Cliffs Gaze
Fire at Static Valley
World Police and Friendly Fire
BBF3