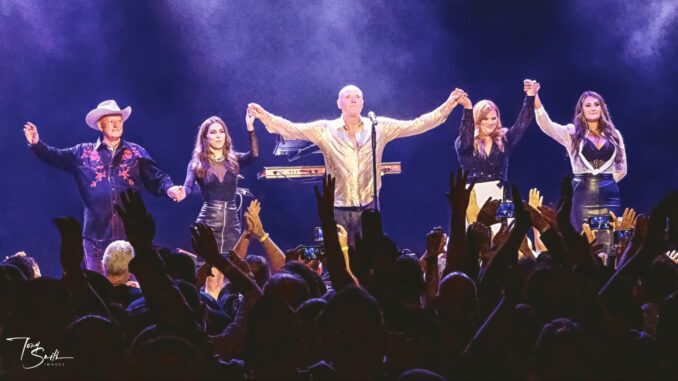 Heaven 17
The Observatory
October 1, 2022
By DAN MACINTOSH
SANTA ANA, CA – Heaven 17 was significantly different from many of the other synth-pop British
imports in the 1980s. Yes, the act's music was upbeat and dance-y, much like Thompson Twins and early Depeche Mode. However, Heaven 17 was also expressly political in its lyrics, which gave it a distinctly punkish angle – at least lyrically. Heaven 17 didn't tour the U.S. much back during its heyday, so its stop at Orange County's The Observatory made up for lost time.
Quite naturally, the duo (Martin Ware on keyboards and Glenn Gregory singing) opened with its
signature song, "(We Don't Need This) Fascist Groove Thang." Its sentiment comes off a little naïve now, but it proves that those on the left have actually been calling conservatives fascists a long, long time. So, it's not exactly a new accusation. Nevertheless, it is still a fun groove song, and Heaven 17 had its enthusiastic audience dancing happily from beginning to end.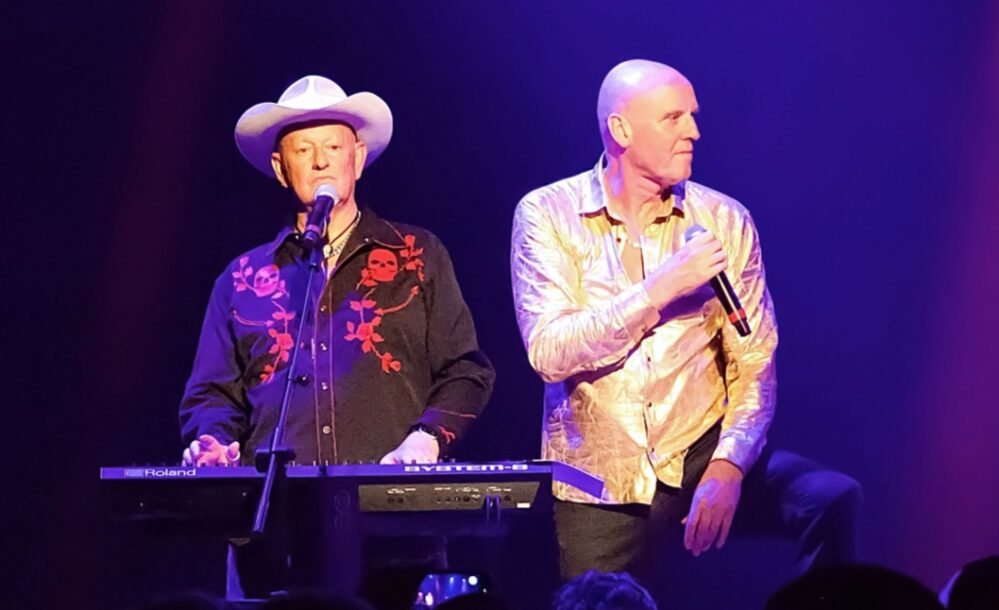 Only its cover of the ballad "You've Lost That Lovin' Feelin'" gave this mainly middle-aged audience a bit of a breather. Speaking of naïve, the pair also performed "Let's All Make a Bomb," which brought back some of the Cold War paranoia from that era. Gregory introduced "Let Me Go" as his favorite Heaven 17 recording, as it didn't change from conception, to demo, to final recording. It was also a huge MTV hit at the beginning of that cable channel's existence, and probably introduced Heaven 17 to a whole lot of people for the first time.
Ware looked sharp, wearing a sparkly suit and cowboy hat, while Gregory dressed in a casual shirt and pants combination. They were accompanied by Flo Sebeva on piano and synth, as well as vocalists Kelly Barnes and Rachel Mosleh. There were oftentimes four vocalists singing at the same time, which created powerfully strong vocal combination atop irresistible synth grooves.
One has to wonder why "Who'll Stop the Rain" was left off the playlist, however, as it was one of the
group's most popular and best songs. Especially since the setlist was filled out with a few relatively
unfamiliar inclusions. Nevertheless, Heaven 17 looked and sounded great. Some of its political-leaning lyrics may not have stood the time too well, but its dance sounds still have the ability to make an audience move.
With the popularity of the recent Cruel World festival (one fest shirt was even spotted in this audience), '80s music is nearly as popular now as ever. Heaven 17 proved tonight that it still has that groove thang down pat.