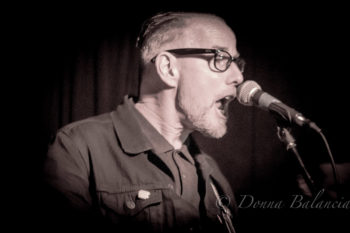 Guys Behind Rank and File Create 'Blues-Punk' With Ford Madox Ford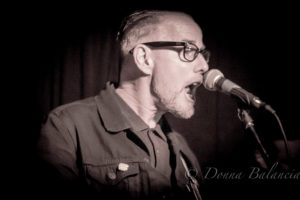 By DONNA BALANCIA
Chip Kinman, the power behind Rank and File and The Dils, is using his new band Ford Madox Ford to take the Blues into the future.  The innovator behind "cow-punk" has re-envisioned "blues-punk" and is taking it on tour.
Kinman, the well-known SoCal punk legend, has put together Ford Madox Ford with guitarist — and son — Dewey Peek, bassist Matt Littell and S. Scott Arguero on drums. His brother, Tony Kinman, produces and writes the music.
Ford Madox Ford plays The Pike in Long Beach on June 18 and La Cita on June 24; there's a live radio gig on KXLU on June 29 and then they're off to tour Canada in July with the band Three O'Clock Train.  Ford Madox Ford returns to The Pike on July 30.
"We've got a great single and we're going on tour," said Kinman. "I'm happy to be playing music again."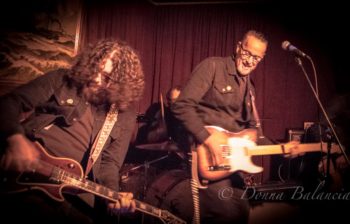 On The Road
Kinman had taken a break from performing — a 10-year break — but is coming back strong; just wrapping a residency at punk hangout, The Redwood Bar and Grill, with his cool band.
The new Ford Madox Ford single is called "Expect It" written by Chip and Dewey, and on the B side is the tune "Before The Fall," written by Chip, Dewey and Tony.  Tony also produces. The music is on Porterhouse Records.
Ford Madox Ford has been bringing its music to the people, playing gigs all over. Tony, too, has been on the scene, recently belting out "Big Train," one of the Kinman boys' most famous and most covered classics.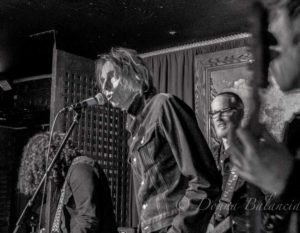 Chip and his brother are coming back into music at a time when technology has taken over. A lot of things have changed.
"There are a lot more outlets for social media, but there's no substitute for a good band," Chip said. He feels his music relates not only to died-in-the-wool punkers, but to music lovers in all age brackets.
"Our band ranges in age from 58 to 21," Kinman said. "But I have rules: No one can be older than me, no one can be fatter than me and no one can play shittier than me."
From Country to The Blues
The Kinmans set the West Coast punk rock standard in the late '70s.  The Dils were famous for their politically-energized songs like "I Hate The Rich," "Class War" and "Mr. Big," which were covered by all sorts of famous, and not-so-famous bands too.  Their band, Rank and File, was a departure into country, a genre that was getting no attention, but the Kinmans blew it up.
Chip said while Rank and File put a punk spin on country, he's trying something new this time around in adapting the blues to his punk style.
"Blues is a great form, open to interpretation," Chip said.  "It's something I've never done before and I knew I had something to offer."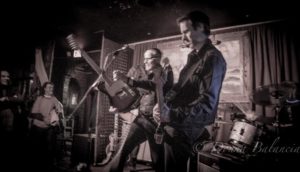 While he says there are a lot of good up and comers out there, Chip said that among the younger bands, he's into the Katellas and Florida Mistakes.
"They're two great young punk bands," he said. "All punk bands should be young. It's noooooooo place for old people, sorry."
And given that, what does Kinman think of vinyl making a comeback?
"It's great fun," he said.  "Vinyl is perfect for the blues and punk."
Carlsbad Guys
Chip and Tony grew up in Carlsbad and moved to Burbank years ago.  But they have fond memories of growing up in the San Diego County village.
"Carlsbad's a lot different than Burbank," Chip said. "We didn't go to the beach, we were always punk rockers."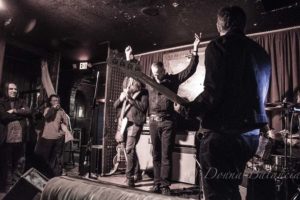 But in general, Kinman is pretty easygoing and it seems like he and his wife, Lisa, would be happy living anywhere in Southern California. Lisa's the one behind the merch table at most shows.
"We're really excited about Ford Madox Ford," Lisa said. She's Dewey's mom, so she brings a new appreciation for the family band.
"They're really happy playing in the band and the audience really likes the music," she said. "They're getting ready to record and that makes the guys happy."
Chip said he's looking forward to touring again.  And he has a special affinity for logging miles along the Great White North.
"They always loved us in Canada," Chip said. "And we're ready to bring our music out on the road."