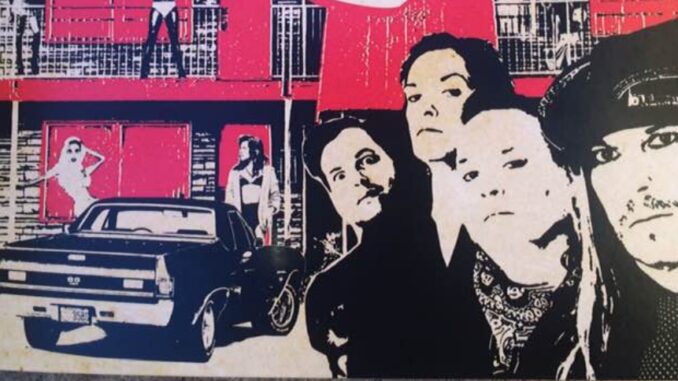 If you accept the offer to have A Date With The Oxys, you will fall in Rock 'n' Roll love.
By AMES FLAMES
To fill my rock buzz I usually have to listen to records from last century. Most big festivals are headlined by nostalgia acts that haven't done anything ground breaking in years and rely on material most older people enjoyed when they were in high school. Believe it or not, the '70's was a half a century ago. "Put the past right back in it's place!"
The Oxys are fresh and new. They possess all the qualities I look for in a rock and roll band. Great lyrics, excellent vocals and harmonies, driving rhythms, and smoking leads. Well crafted songs with just the right amount of dirt and a punk edge. Plus they don't sound like anyone else. You can hear their influences in the material but this band is not a carbon copy of anyone.
I have known and worked with Jason "Grinchy" Kottwitz for some time. We both share a history with Sylvain Sylvain and Cheetah Chrome, as does bassist Gabriel Von Asher. Jason has played in many notable bands over the years. He was most recently in the new Dead Boys until 2019.
It was also in 2019 that saw the Austin Punk Rock Lottery, a competition that paired local performers to create music. Jason and lead vocalist Phil Davis, rhythm guitarist of The Nowherebounds, were assigned each other. They both were sitting on lots of unused material. They spent 4 pandemic months writing songs. Then they had to record. Phil wrote most of the lyrics and does lead vocals. Jason played all guitars, bass, organ, and piano, as well as writing all the music and arranging it. Gabriel played bass. They brought in James Sheeran of Mr Lewis and the Funeral Five to do drums. The results are exceptional.
This record reminds me of the first time I listened to Alice Cooper's Killer album. A record you listen to from start to finish. A flowing collection of songs. There is much diversity on this record. No two songs sound alike. Even the slow songs rock. About a year ago Jason sent me what is now the first song to be officially released, "Liars, Betrayers, and Spies." It blew me away, but he told me I couldn't share it because it wasn't released. Last week as I was scrolling on Facebook, the songs premiere video popped up on my feed. I pressed play and when I saw the band I loved it even more. I imediately contacted him and asked if he would send me a CD of A Date With The Oxys, so I could review it. Here are the results.
1. Liars, Betrayers, and Spies. An explosive in you face rock song. The video is attatched to this review.
2. Motel Hell. A horrorific tune that could fit in nicely on a horror movie soundtrack complete with spooky organ, campy vocals, and screams.
3. Whaddya Have. A salute to 70's rock with great guitar lines and harmonies.
4. Premeditated. A driving hard rocker with great lyrics and memorable lead guitar parts.
5. Ain't No Life. A ballady rocker with texture that takes you on a journey like taking a sad walk in the rain alone.
6. Rock And Roll Eyes. An upbeat rocker that makes you want to get up and dance.
7. Machine Gun. co-written by Sylvain Sylvain (RIP) and his unmistakable touch oozes from this tasty track. The guitar and back up vocals support this thought. Such a wonderful tribute to our fallen friend.
8. Voodoo Queen. A straight up rocker with a heavy touch that will grab your attention.
9. Anxieties. A nicely orchestrated rock tune that flows and changes gears but maintains a smooth ride.
10. Crisis. This rocky ballad is the perfect end to this collection of songs to leave you in the clouds.
This debut album, A Date With The Oxys, is just a sign of things to come. The Oxys have album #2 in the can and are working on #3 as I write this. If you get the CD there are 2 bonus track cover songs. On The Oxys website there is another non LP track posted you can listen to. They have shirts available on the web site too. At this point a permanent full band line up has been created. Jason, Phil, and Gabriel along with Rob Williamson, Phils bandmate from Nowherebounds on drums taking James Sheeran's place, and Abel Idle of Sex Pump on Rhythm guitar.
If you want to know more, listen to Jason's interview on Punk Til I Die Podcast Group on Facebook. If you love rock and roll, you need this album. I hope The Oxys play club shows so fans can see them up close and personal and feel the raw power energy. Real amps, no backtracks, no circus sideshow gimmicks. Straight up, in your face, balls out, rock and roll the way it was intended to be played. The only thing that could make this record better, is if it came wrapped in a plain brown wrapper. Must be played at maximum volume. The Oxys just might save rock and roll. On a scale of 1-10, I give it an 11. I hope you agree.