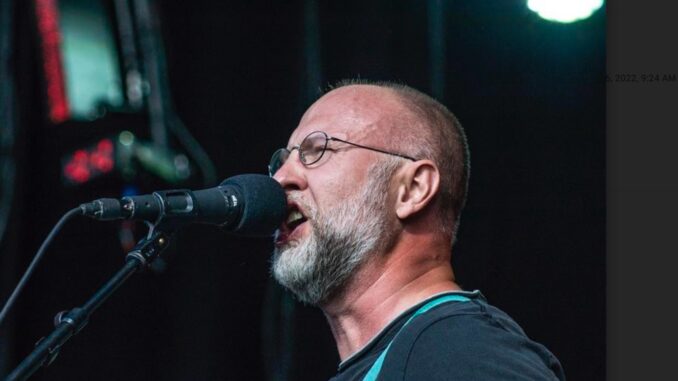 LOS ANGELES – If you are too young to have witnessed Bob Mould in a few of his other prior artistic vehicles (Husker Du, Sugar), this Tuesday night show offered an all-in-one live retrospective of the singer/songwriter's best work.
Mould is, to put it mildly, a rocker. Even though he didn't have a backing band, Mould is a master musician and created a satisfying rock band sound, accompanied only by his electric guitar. If anyone deserves the title of one-man-band, it's Mould. He thrashed around – with both his body motions and finger work – and filled The Troubadour with wave after wave of loud and emotional sound.
Mould hit the celebrated Husker Du catalogue early on with the one-two punch of "Flip Your Wig" and "I Apologize," and then followed up these two with Sugar's "Hoover Dam." The crowd, which looked to be old enough to have seen the pre-solo Mould, loved every minute of it.
Mould commented on how he was so glad to be back on the road, after practicing a lot of yoga during the pandemic downtime. At 61, it was simply amazing to hear Mould still in fine, raspy voice. It must be some kind of a vocal miracle to have those same pipes, after all that Mould put them through. He's older and thinner and wears glasses now, but Mould otherwise came off as relatively unchanged.
High points included the always-gripping "Hardly Getting Over It," which must have pleased one patron that strangely asked Mould to slow things down. It's a song that frames the concept of 'closure' as a kind of pop psychology myth. Getting over a painful loss is always easier said than done. Mould ended the show with an audience singalong on Husker Du's "Makes No Sense at All." It sure felt good to sing (shout?) this one along with Mould. Yoga is therapeutic, but so also is an evening of loud guitar rock.
Mould's set was preceded by a short performance by H.C. McEntire, from the band Mount Moriah. And even though McEntire experienced technical issues with her electric guitar, the folk-ish singer nevertheless gave the audience a lovely, intimate opening set. Accompanied by a second guitarist, McEntire's songs were as quiet as Mould's tunes were loud. It was a fully pleasing night of music, and wonderful chance to reconnect with Bob Mould's fine songs.
The tour continues, go here for info.