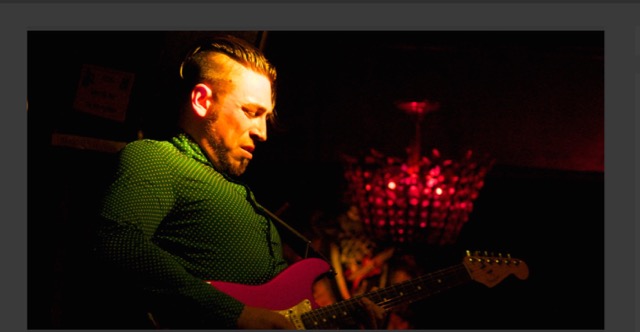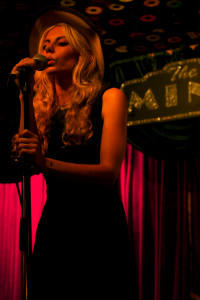 By MARIEL CALLOWAY
While there may be all sorts of rumors about music leaving the Sunset Strip, it's clear that The Mint is here to stay.
We love The Mint because the club supports young musicians and it's always the place to go to find a veteran or two trying out new material.
It's obvious from the high quality of the bands that appear at the Pico Boulevard hot spot that music is still very much alive in a non-downtown Los Angeles venue.
One of the most fun evenings we've had in a while was hallmarked by performances by Hank and Her Ponies, Creatures Choir, Mishael Cross and The Jackpots, and The Rituals in an evening that combined folk with alternative and turned out to be an amazing mix.
Hank and Her Ponies, along with Creatures Choir were both fun groups — Hank and Her Ponies had a folksy appeal.  Can't say enough good things about this up-and-coming band.
Powered by vocalists Lauren Chanel Cobb and Camille Ong, Hank and Her Ponies had a rich bluesy sound with beautiful tones and tunes that carried the audience along their interesting musical journey.
Their overall tone was a smooth blend of soul and country, mellow but full of passion. I was impressed with their ability to replicate the authenticity of southern folk, beautiful and twangy with dark undertones.
They have an album out on Bandcamp (http://hankandherponies.bandcamp.com/album/introducing-hank-and-her-ponies), as well as a new single.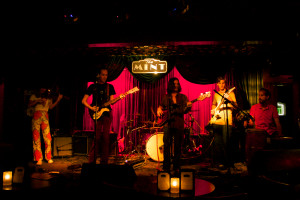 Creatures Choir, who describe themselves as "Ballroom Psychedelia," were fun and experimental band, that really worked their music to the appeal of the audience.
Creatures Choir had so many instruments and used them all to great effect — two guitars, bass, drum kit, and then a violinist and a percussionist.
Mishael Cross and The Jackpots of El Paso had a harder edge to them with an aggressive sound. They've got a slow, driving and writhing sound to them, with singer-guitarist Cross winding his way through several deft and ringing solos. The Rituals were a mellow rock band.  Both appealed to the all-age demographic.
The last band of the night, Periscope, had a clean, alternative rock vibe. Good energy and powerful sound.  They pulled off a classy Radiohead cover as well with "All I Need."
The bands' Facebook pages are here:
The Rituals: https://www.facebook.com/theritualsband
Hank and Her Ponies: https://www.facebook.com/HankandherPonies/info?tab=page_info
Creatures Choir: https://www.facebook.com/CreaturesChoir
Periscope: https://www.facebook.com/periscoperock