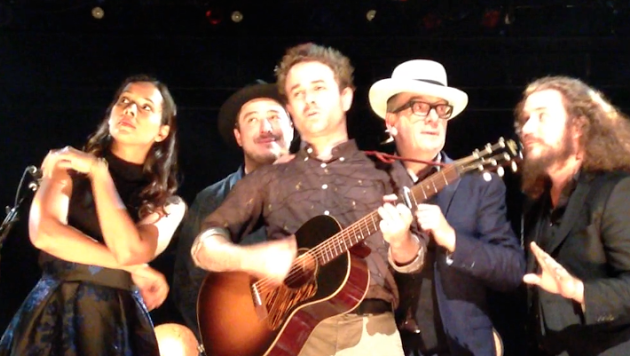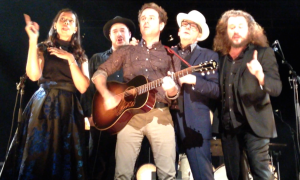 Johnny Depp and Haim Join 'Superband'
By DONNA BALANCIA — The New Basement Tapes proved work and friendship can indeed mix, performing a "one and only" show that knocked the socks off a curious LA audience in Hollywood Thursday night.
JOHNNY DEPP AND HAIM MAKE SURPRISE APPEARANCE CLICK HERE
The band, comprised of Elvis Costello, Rhiannon Giddens, Taylor Goldsmith, Jim James and Marcus Mumford played the songs each had co-written to Bob Dylan lyrics discovered in Dylan's upstate New York home.
It was a night not to be forgotten for the crowd at the Montalban Theatre in Hollywood, as the group performed songs including "Kansas City," "When I Get My Hands on You," "Card Shark," and others off the new album "Lost On The River."
SEE VIDEO -TNBT PERFORM CARD SHARK
Produced by T Bone Burnett, Lost On The River: The New Basement Tapes brought together the supergroup and their lively performance in a "one night only"-billed affair.
The New Basement Tapes musicians were also joined onstage by the sisters Haim, and Johnny Depp.
VIDEO – JOHNNY DEPP PERFORMS WITH RHIANNON GIDDENS AND THE NEW BASEMENT TAPES LIVE AT MONTALBAN