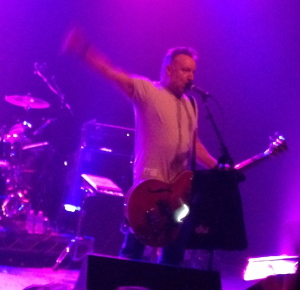 LOS ANGELES — Peter Hook And The Light gave innovative performances of New Order's first two albums Movement and Power, Corruption and Lies, in venues in the Southern California region.
SEE VIDEO: PETER HOOK PERFORM ALL DAY LONG, BIZARRE LOVE TRIANGLE at Fonda
The group performed Joy Division albums Unknown Pleasures and Closer, featuring special guest Moby at The Roxy, and played The Fonda Theatre and Pomona.
SEE VIDEO: PETER HOOK PERFORMS DECADES FROM CLOSER #JOYDIVISION
Hook also performed a Low Life and Brotherhood show at House Of Blues, San Diego, on Nov. 26, before ending the tour with the final show at Republik in Honolulu, Hawaii, on Nov. 28.
All of the Low Life / Brotherhood concerts included the singles and B-sides from New Order's most renowned time, August 1983 through 1987.
Other than the Los Angeles' Roxy date and the Pomona Glasshouse Date, The Light supported themselves at the concerts performing a selection of Joy Division material prior to the album performances.
The legendary Hook and his band continue to push the boundaries in sound mastery. He is an artist who has embraced technology over the years and experiments with melody and tech for an always interesting result.
Saturday, Nov. 22 – Henry Fonda Theatre – Hollywood
Monday, Nov. 24 – The Glasshouse – Pomona
Tuesday, Nov. 25 – The Roxy – West Hollywood
Wednesday, Nov. 26 – House of Blues – San Diego