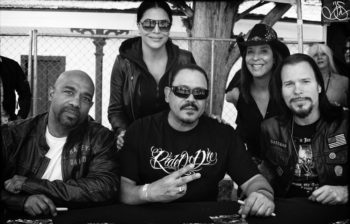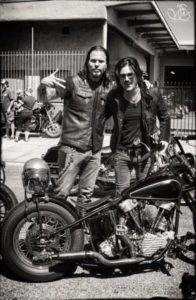 Emilio Rivera Joins Ride to Support Cancer Research
Photos © 2016 JESSE SILVA; Story by JOHN DALY
The second annual motorcycle ride and concert to benefit cancer research, Ride For Ronnie, drew devoted friends and fans of rocker Ronnie Dio to Los Encinos State park Sunday.
Among the hundreds on hand were celebrities and motorcycle enthusiasts who rode and attended a concert in the late heavy metal rocker's name, put on by The Ronnie James Dio Stand Up and Shout Cancer Fund, which benefits cancer research.
Sons of Anarchy actor Emilio Rivera and rockers Sean McNabb and Gilby Clarke were among the riders, who came together to raise money for cancer research in the name of Ronnie Dio.  Heavy metal rocker Dio fronted Rainbow, Elf, Heaven and Hell and Black Sabbath.
Sponsored by Harley Davidson of Glendale, a good group of celebs, rockers and regulars were on hand to pay tribute with a ride and concert. Rivera frequently rides for charity, see his charity ride here.
"If there was a United Nations of bikers we would totally be in," said photographer Jesse Silva, who documented the event.
It is the second time the event was put on by The Ronnie James Dio Stand Up and Shout Cancer Fund, which supports research and education that furthers early detection, prevention and treatment of prostate, colon and stomach cancer.
The charity says it has raised almost $1 million for research. The money has been been committed to the cancer research work of the T. J. Martell Foundation for Cancer, AIDS and Leukemia Research, the gastric cancer research unit of the M.D. Anderson Cancer Center in Houston, where Ronnie was treated for gastric cancer during the last six months of his life, and other cancer research projects.