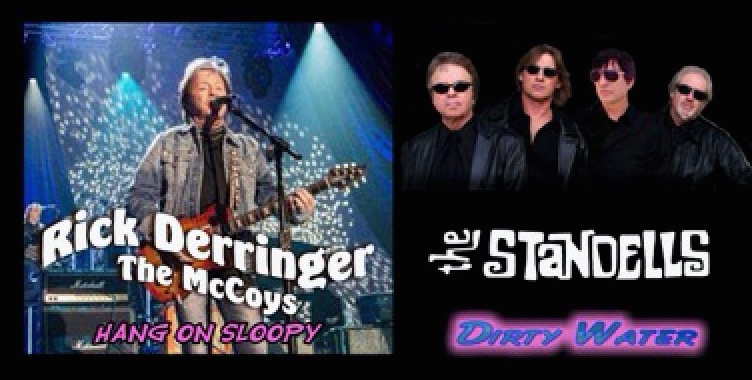 Derringer's 'Rock and Roll Hootchie-Koo' Still Popular Today
BY DONNA BALANCIA
Rick Derringer has a knack for turning play into work.
Derringer's career began at age 17 with the hit "Hang On Sloopy," which he co-wrote. He produced platinum albums for Johnny and Edgar Winter and went on to write classic songs like "Rock and Roll Hootchie Koo."  He's also played with Steely Dan and others.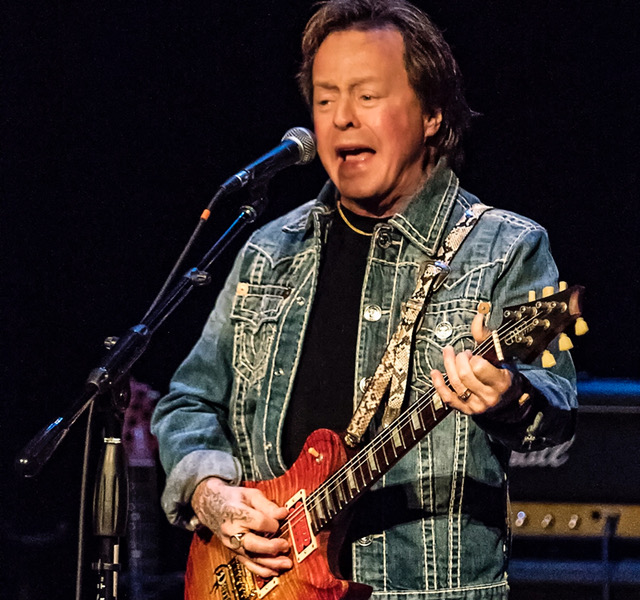 Love That Dirty Water
The Standells are known for "Dirty Water," which has become a theme song for the city of Boston, "Good Guys Don't Wear Black," "Try It," and other songs — into a career spanning five decades.
Derringer produced Johnny Winter and Johnny Winter and Live. He tours all over the U.S. and not only produced Edgar's biggest hits but also the band White Trash.
Derringer Collaborated With Johnny Winter and Edgar Winter
"I run the gamut in my projects," Derringer said. "I've worked with Johnny Winter and Edgar Winter but I've also worked with Weird Al. The weirdest thing is he is one of the most dilligent hard working artists. He's a nerd, a smart guy, and he's funny."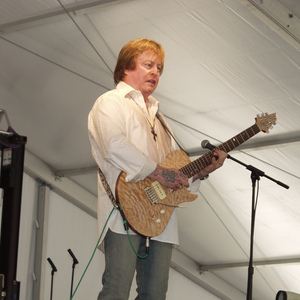 Weird Al and Derringer
The result of working with Weird Al were awards and accolades including a Best Comedy Recording in 1984 for "Eat It."  Derringer produced the first six of Weird Al's albums.
"People are always suggesting titles for Weird Al, and they're all one-joke songs. He's good because he jam-packs the songs with jokes and that's his purpose."
Derringer has played with a range of people and is friends with plenty more. Back in the the early 1980s Todd Rundgren put on a benefit show for him at South Street Seaport after Derringer had his equipment stolen.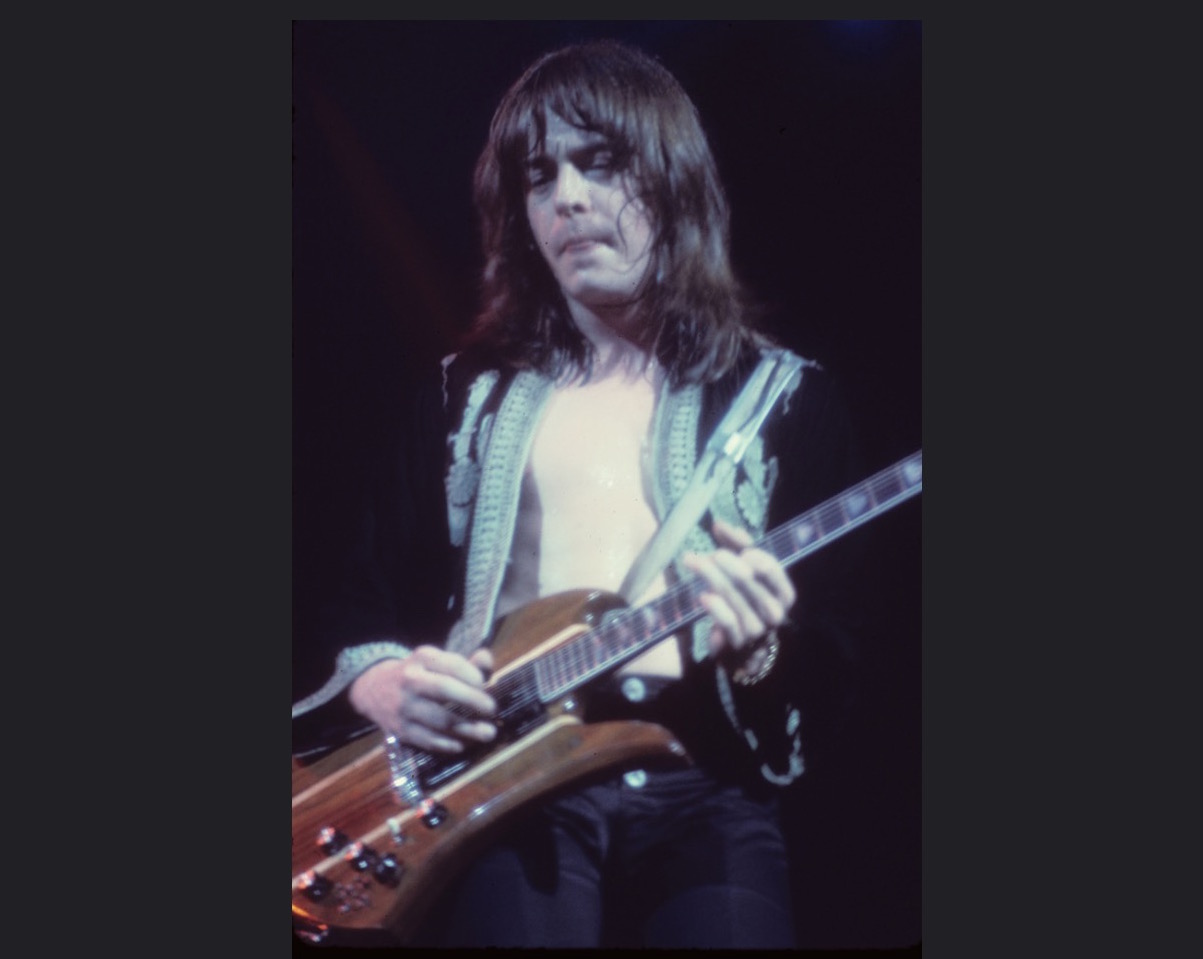 Derringer and Todd Rundgren
"It's always been fun playing with Todd," Derringer said. "It was certainly after the days after I left the McCoys, and he gave me the opportunity to go out and play. When I lived in Manhattan he lived a block from me. He's asked me to play on a quite a few recordings. Recently he remarked the first time he heard "Frankenstein" was before it was released in my music room."
Derringer will take the stage on June 3 at the Palace with the Standells and it will be the first time they've all played together in a long time.
It goes back to the 60s," Derringer said. "The Standells were one of the first bands we toured with — It was a Rolling Stones tour where the Standells were also on the tour. They're funny guys as well as having hit records. They haven't lost their sound and people love them. Younger people would love to hear them. In those days they were called garage bands. It's very great rock music."
As for today, Derringer keeps moving along.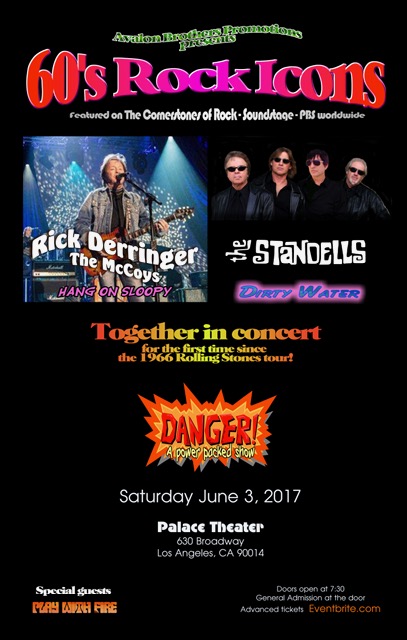 'Real American' To Debut on Alex Jones
"I just keep playing and recording," he said. "One of my biggest songs is a song called 'Real American'  – It's the Hulk Hogan theme song. It's been been used in quite a few arenas. That's become one of our biggest songs. It's from the '80s, it was never released as a single. It needed a revamping and we recorded a new version for May 28.
"Real American" will be on Derringer's label but he's given first dibbs to Alex Jones, who will debut the song on his news channel. Sound ground May 28.
As for younger people and succeeding in the music business today, Derringer says it's important to keep trying, no matter what.
"The challenge is to strive to be relevant," Derringer said. "Listen to your own heart, follow you're instincts music is a message from player to audience. If they try to make current relevence that's not what it's about. It's a message from you to the audience. In the end that's what you're striving for."
Check out this amazing video of Rick Derringer from 1973:
https://www.youtube.com/watch?v=XdHnGyU1yJQ