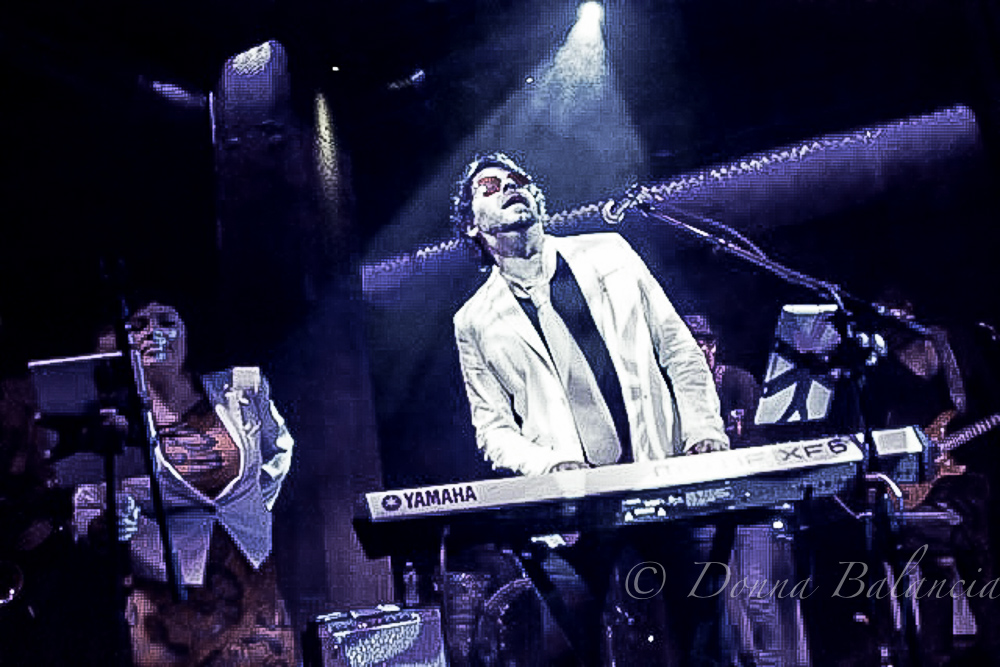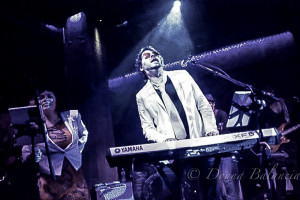 By DONNA BALANCIA – Thursday nights won't be the same in Downtown LA as The Dave Schulz All-Star Jam brings a rockin' new show to Mrs. Fish.
Schulz' All-Star Jam plays a great range of dance music, funk and rock covers, and a couple of originals or two thrown in the mix. Schulz, who is perhaps best known for his work with bands like Berlin and The English Beat, has put togther a group of musicians who can really lay it down.
Mrs. Fish is an interesting establishment with a futuristic and upscale "hideaway" feel, located on Hill Street, in the center of DTLA.  Schulz and his band are expected to bring in a new crowd for the growing social scene in the area: People who want to kick off the weekend a little early, or those who hang around for a night of fun after work. There's no cover charge.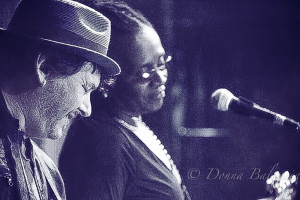 On the first of the Thursday night sessions at Mrs. Fish, last week, Schulz and his group of musician pals took the stage in the center of the room, and performed a range of blues, rock and familiar tunes. Friends in the industry and those celebrating the birthday of Nancy Hilton were on hand to rock n roll.
"This is one of the coolest places I've been to in a while," said Ronnie, who with Celeste, grabbed a seat in one of the neo modern chairs around the band. "There are fun people here and that fish tank is amazing."
Indeed, overhead is a coral-filled fish tank with tropical species jumping to the music. Apparently, those Fish above the crowds have something to do with the name of the bar.  The furniture in Mrs. Fish is cool and there are plenty of private and semi-private areas to hang out in the double-decker area.  And from no matter where you care to kick it, you can see the band.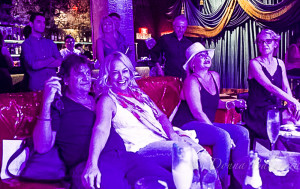 To call this venue a bar is really not adequate. There's a good menu with reasonable prices, and Mrs. Fish boasts a nice list of mixed drinks.
And then of course there's the music.
Bringing Schulz and his band in on Thursday nights was a good idea as the resume of the well-respected keyboardist is impressive. He's worked with Bo Diddley, Fuel, Dave Wakeling-English Beat, General Public, Berlin, Ryan Cabrera, Phil Upchurch, The Rembrandts, Eric Sardinas, Fastball, Glenn Hughes, The Fizzies, Jay-J, Bran Van 3000 and One Tribe Nation.
Mrs. Fish is a cool new place to have a drink, dinner and see some of the hottest musicians in town when in Downtown LA.
[Best_Wordpress_Gallery id="24″ gal_title="Dave Schultz All-Star Jam by Donna Balancia"]