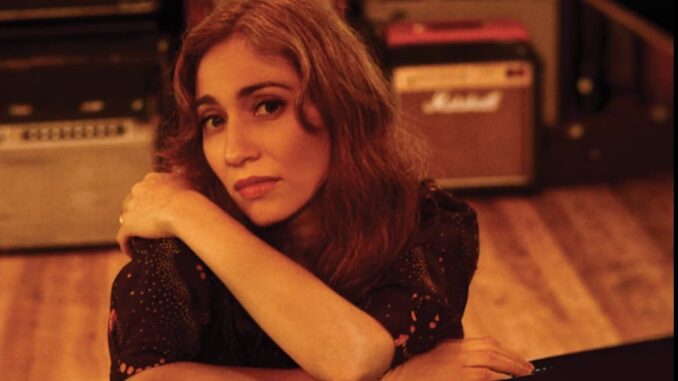 Regina Spektor
Walt Disney Concert Hall
March 7, 2023
By DAN MACINTOSH
LOS ANGELES, CA – Regina Spektor's concert featured the singer/songwriter mostly sitting at an acoustic piano, but this did not stop the artist from adding rock-like percussion in multiple places, whether this entailed tapping the microphone, as she did during "Ain't No Cover," the show-opener, or banging on a chair with a drum stick, as she did later. She even brought out Caleb Teicher to tap dance along with her to add extra percussion. All these examples reminded us how this was an enjoyable rock show, not a piano recital.
Spektor strapped on an electric guitar to perform "Bobbing For Apples," adding yet one more rock element to the evening. Spektor can oftentimes be deceptively deep. She speaks with an 'awe shucks' little girl voice between songs, but then sings smart, sensitive, and literate songs. Toward show's end, for instance, Spektor performed one called "Ink Stains." It's a song dedicated to Holocaust deniers, which is a group Spektor could hardly believe actually exists. It includes the line, "All the ink stains on their wrists mean business," is a reference to how Nazi imprisonments left permanent marks on survivors' skin. Evidence, impossible to deny.
Teicher remained on stage, moving from a tap floor to the piano and accompanied Spektor on "It's You I Like," a cover of a – yes! – Mr. Rogers song. This affirmative song from our youth is just as affirmative today. Maybe even more so. Lord knows, there are far too many forces trying to belittle people in our world today.
Although Spektor's little percussive elements filled out her performances a tad, there was sometimes a big sonic difference between the recorded and live versions of her songs – particularly some of the new ones. For instance, "Spacetime Fairytale," which is a fully orchestrated, nearly nine- minute track on Spektor's 2022 Home, Before and After release, couldn't help but feel slightly thin performed with just Spektor and her keyboard.
Spektor is a many times spectacular vocalist, filling her vocals with unexpected high notes and trills. One is left believing she could sing opera if she really wanted to. However, she's not about to sing some composer's ancient words. Rather, she's a word painter, singing about what she sees and feels, which has created an unbreakable bond with her attentive audience.
This approximately two-hour, 22-song set, which included the incredible "Samson" as the lone encore, could hardly at all be termed skimpy. Regina Spektor gave her all, and then some, many times rocking it on the most un-rock and roll night of the week, a school night, as she called it. Yes, this show took place on a near midweek Tuesday. To paraphrase Mr. Rogers, Regina Spektor, it's you we like – a lot!