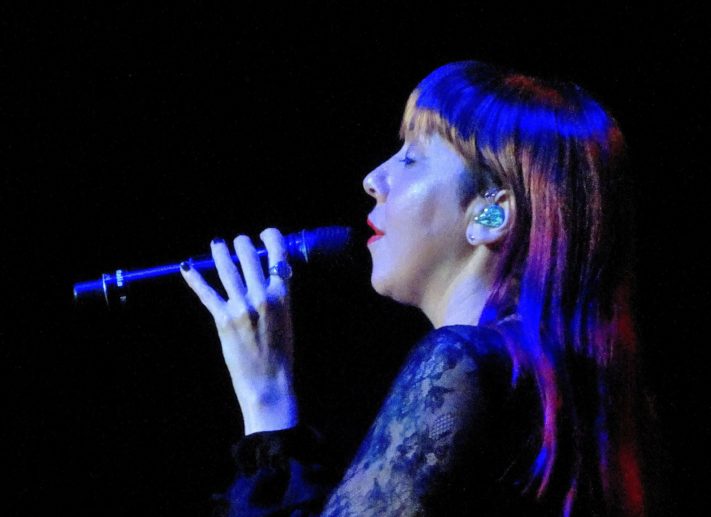 By CRAIG HAMMONS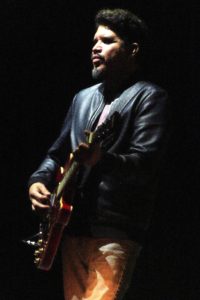 Thievery Corporation brought their hypnotic grooves, intricate rhythms and mystical funk to the Santa Barbara Bowl on this cool summer evening.  This is the 20-year anniversary of a band that continues to inspire with their broad canvas of styles and sounds.
Opening the show was Mexico City's favorite band of muy loco rockers Café Tacuba.  These guys really know how to get the party started.  Lead singer Ruben Albarran and guitarist Jose Alfredo Rangel got the audience up and dancing to their various styles of espanol rock and roll.  The band's flashy costumes and energy won over the early arrivals and set a festive tone for the evening.
As sun was setting and the black moon rising the anticipation was running high as most of the audience I talked to had seen Thievery Corporation before.  The lights dimmed and the familiar sounds of sitar, bass and percussion jammed out on the opening instrumental "Facing East."
As the song ended out comes the first vocalist of the evening Lou Lou Ghelickhani singing "Take My Soul" a song with lush textures and sweet vocals.   The set had a caravan of rotating vocalist for each song.   Next up was Jamaican vocalist to get us fired up and grooving to songs such as "Blasting Through" and "Radio Retaliation."   Before the song "Culture of Fear," the vocalist said he was afraid of the police.  The opening line "seems to me like they want us to be afraid, man" touches on what is going on in our world today.
Set List of Crowd Favorites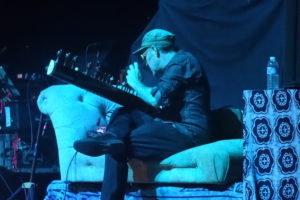 Thievery Corporation has the mighty DJs Rob Garza and Eric Hilton sitting high above the band knocking out the beats mixing them with their many different cultural styles.  This tour being their 20 Anniversary had a set list full of crowd favorites and even a few covers.
About half way thru the set they did a version of Grateful Dead's "Fire on the Mountain" and later the percussionist came forward to sing a rocking version of the Door's "Strange Days."
The quality of the musicianship and vocal power of all the singers highlight their vast changes in musical styles.  Ashish Vyas the bass player never stops moving while high stepping across every square inch of the stage.  Rob Myers the sitar / guitar player rocked hard on both instruments.  My favorite singer of the night was the mighty and majestic Natalia Clavier.  Her soft and sexy vocals styling on such songs as "Lebanese Blonde" draw you in to her seductive charm.
Rob Garza on Guitar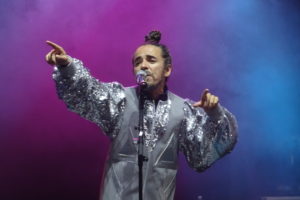 They heated things up again with two live show staples "Vampires" and "Heart is the Hunter."  They created such a bond with the audience we all forgot about out problems and were fully engaged with their rhythms, beats and intricate electronic music.  Rob Garza came down from his DJ booth to play guitar as they closed with "Warning Shots."  Everyone was dancing to the heavy bass riff and rap reggae vocals.   Rob then stepped to the mic and said "we weren't going to do this song" but he said he wrote it while he was roaming the hills above Santa Barbara and they went in to the sweet and sensual "Depth of My Soul."
As this sweaty hippie groove party was about to end they came back out and jammed on the instrumental track "The Forgotten People" before bringing Lou Lou back to sing "Sweet Tides."  But it would not be a Thievery Corporation show without doing "The Richest Man in Babylon" from there 2002 album of the same name.  After shaking my suitcase for two hours with this band of incredible musicians and the two beautiful songstresses I felt good to be alive.  A band of this caliber should not be ignored.  Every person there was a delighted fan or was converted by the sweet melody, atmosphere and vibe only Thievery Corporation can provide.