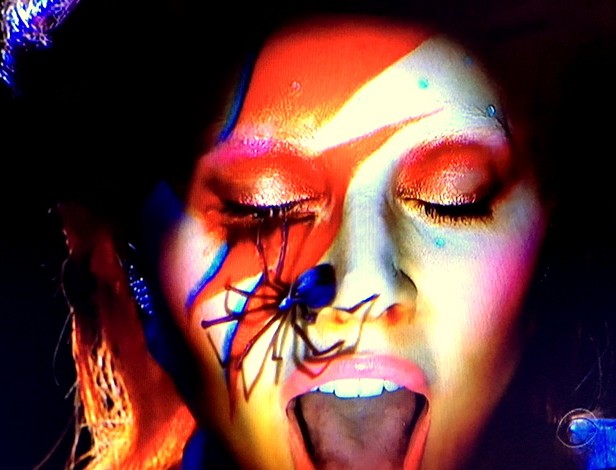 Full List of Winners Here; Lady Gaga, Hollywood Vampires Mesmerize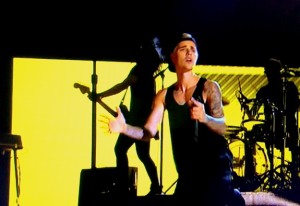 By DONNA BALANCIA – It was a rough year for the music business and the 58th annual GRAMMY Awards reflected that, as dead musicians took the spotlight from today's performers.
Lady Gaga honored David Bowie; Bonnie Raitt, Chris Stapleton and Gary Clarke Jr. performed in honor of BB King; and The Hollywood Vampires, alias Johnny Depp, Alice Cooper and Joe Perry, played in honor of Lemmy Kilmister.
As for the awards, Taylor Swift, Kendrick Lamar and even Justin Bieber got GRAMMY awards Monday night. And while many may have a hard time with Bieber, we have to admit he has a great voice and he does play guitar.
GRAMMYs: Rigged and Antiquated
CaliforniaRocker.com takes the position that the GRAMMY Awards event is a rigged and antiquated marketing function. The GRAMMY awards are highly irrelevant to 90 percent of aspiring musicians of today.  For established musicians, attending a GRAMMY Awards event and getting on national TV boosts recognition and sales.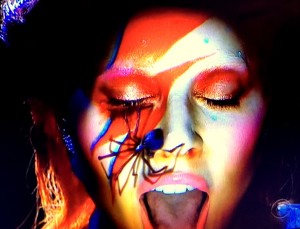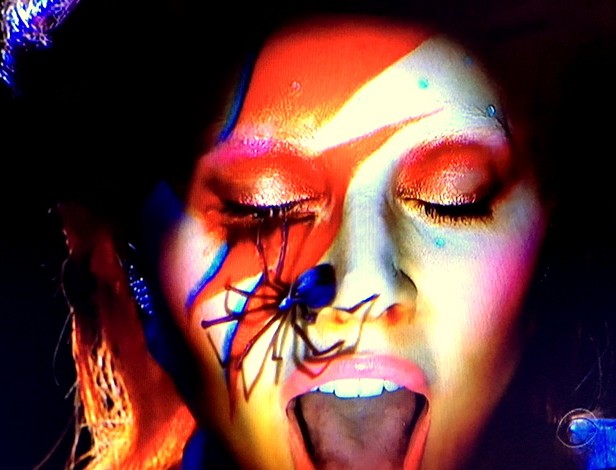 But, big bucks are invested in the GRAMMY Awards. The annual event, and events like it, are important to musical instrument manufacturers who are having a very rough time getting young people to play traditional drums, keyboards and guitar.  The GRAMMYs can put a dream in a kid's head, a guitar in his or her hands, and money into the empty coffers of today's music schools.
So the industry props up Taylor Swift, Justin Bieber and all the others, whether they have true talent or not, regardless if autotune is in their DNA, or whether they have truly "made it on their own" or not.
So congrats to the winners.
As for performances, a strong showing of the evening was that of The Hollywood Vampires, who busted their national TV cherry, putting on a tribute to Lemmy Kilmister. This Sunset Strip supergroup is so appealing and influential it could possibly single-handedly keep rock and roll alive.
CaliforniaRocker.com covered Johnny Depp's compelling performance with The New Basement Tapes at The Montalban Theatre; Alice Cooper is an all-time original, whose "School's Out" was a national anthem, and Joe Perry is pure class. And if we're going for full disclosure we're biased because we're fans of not only outstanding producer Bruce Witkin, who is the bassist in the band, but also his beautiful and creative family.
Gwen Stefani, formerly of The Voice, debuted her single "Make Me Like You" via a high-dollar, one-take, but ultimately cheesy Target ad. Her record bows March 18.
Foo Fighters Still Together?
Foo Fighters, whose existence is in question since their long email note to the fans a few months back indicating they would stop touring, lost out to Alabama Shakes in the best rock performance category. The "wrap it up music" cued not only Alabama Shakes, but others during their acceptance speeches.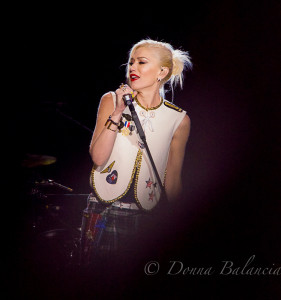 Adele, What Happened?
Adele, whose chart-topping album, 25, was a multimillion seller, had some challenges. She missed the high notes during her performance of "All I Ask," and the best we can figure is she has the walking pneumonia that's plagued everyone in LA recently. Extremely talented and appreciated, it wasn't her night, but she can take comfort weeping into her millions. She blamed a microphone causing a clanging sound. Rihanna canceled her GRAMMY appearance because of that LA flu. Smart move.
For the people who were actually there, it was good to see those who had passed were honored by the likes of Gaga, and Jackson Browne and Joe Walsh.
Browne and Walsh led their version of "Take It Easy" in tribute to Glenn Frey who also passed away a few weeks ago. Gaga, who seems to be every old musician's favorite pal — she is godmother to Elton John's children and hangs with Tony Bennett — put on a ripping performance to honor David Bowie through the years.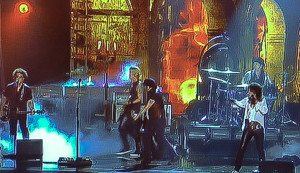 Stevie Wonder led the the tribute to Lionel Richie singing "That's The Way of The World;" his voice is still amazingly clear and he appeared in good nature.  He made a brief but poignant statement on helping to enable people with disabilities.
With fashion, short undergarments with draping skirts were the style of the night (for the gals) as many picked gowns with thigh-high slits or outfits that flashed short shorts. Wonder actually slayed in the fashion department too, wearing camouflage in introducing Song of the Year. For the men, the print shirts and black and white tuxedoes were the flavor this year.
Among those who received a GRAMMY Lifetime Achievement Award was Run DMC. Reverend Run (Joseph Simmons, brother to Russell Simmons) with all his advice and words of wisdom said his story and music was always told from his heart.
Original Wrapper
East Coast Rocker readers remember the night Run DMC warmed up for Lou Reed during his Original Wrapper show at the Capitol Theatre in Pasaic, N.J. and they had a very rough time with the audience. The audience was having none of this rap warm-up band and was calling out "Lou! Lou!" and catcalling "Boo!" while Run DMC was performing and scratching. OK it was 1986.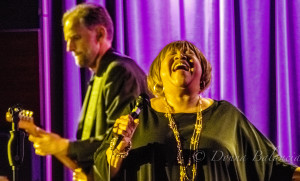 Speaking of rap, Kendrick Lamar's performances were spot on and interesting at least, if not costly — and hot! — with fire burning right in the middle of Staples Center.
And lest we forget, a special congrats goes out to the grande dame of rock music, Mavis Staples, who was awarded the American Roots Award.
GRAMMY AWARD RECIPIENTS:
Album of the Year – 1989, Taylor Swift
Song of the Year – "Thinking Out Loud," Ed Sheeran and Amy Wadge
Record of the Year  – "Uptown Funk," Mark Ronson featuring Bruno Mars
Best Rap Album  – To Pimp a Butterfly, Kendrick Lamar
Best Country Album – Traveler, Chris Stapleton
Best Musical Theater Album – Hamilton
Best Rap Performance -"Alright," Kendrick Lamar
Best Rap Song -"Alright," Kendrick Lamar
Best Rap/Sung Collaboration -"These Walls," Kendrick Lamar featuring Bilal, Anna Wise, and Thundercat
Best Rock Performance -"Don't Wanna Fight," Alabama Shakes
Best Music Video -"Bad Blood," Taylor Swift featuring Kendrick Lamar
Best New Artist -Meghan Trainor
Producer of the Year, Non-Classical – Jeff Bhasker
Best Country Song – "Girl Crush," Hillary Lindsey, Lori McKenna, and Liz Rose (Little Big Town)
Best Country Solo Performance  -"Traveller," Chris Stapleton
Best Country Duo/Group Performance – "Girl Crush," Little Big Town
Best Pop Vocal Album – Taylor Swift, 1989
Best Pop Solo Performance  -"Thinking Out Loud," Ed Sheeran
Best Rock Album – Drones, Muse
Best Alternative Album – Sound & Color, Alabama Shakes
Best Rock Performance – "Don't Wanna Fight," Alabama Shakes
Best Rock Song – "Don't Wanna Fight," Alabama Shakes
Best Pop Duo/Group Performance – "Uptown Funk," Mark Ronson featuring Bruno Mars
Best Metal Performance – "Cirice," Ghost
Best Traditional Pop Vocal Album – "The Silver Lining: The Songs of Jerome Kern," Tony Bennett and Bill Charlap
Best Traditional R&B Performance – "Little Ghetto Boy," Lalah Hathaway
Best Dance/Electronic Album – Skrillex and Diplo Present Jack Ü, Skrillex and Diplo
Best Dance Recording-"Where Are Ü Now," Skrillex and Diplo with Justin Bieber
Remixed Recording, Non-Classical-"Uptown Funk (Dave Audé Remix)," Dave Audé (Mark Ronson featuring Bruno Mars)
Best Urban Contemporary Album-Beauty Behind the Madness, the Weeknd
Best Comedy Album-Live at Madison Square Garden, Louis CK
Best R&B Album-Black Messiah, D'Angelo and the Vanguard
Best R&B Song-"Really Love," D'Angelo and Kendra Foster
Best R&B Performance-"Earned It (Fifty Shades of Grey)," the Weeknd
Best Blues Album-Born to Play Guitar, Buddy Guy
Best Folk Album-Béla Fleck and Abigail Washburn, Béla Fleck and Abigail Washburn
Best Reggae Album-Strictly Roots, Morgan Heritage
Best New Age Album-"Grace," Paul Avgerinos
Best Surround Sound Album-"Amused to Death," James Guthrie and Joel Plante (Roger Waters)
Best Score Soundtrack for Visual Media-Birdman, Antonio Sanchez
Best Song Written for Visual Media-"Glory," performed by Common and John Legend
Best Music Film-Amy, Amy Winehouse; Asif Kapadia, video director; James Gay-Rees, video producer
Best Compilation Soundtrack for Visual Media-Glen Campbell: I'll Be Me
Best Spoken Word Album-A Full Life: Reflections at Ninety, Jimmy Carter
Contemporary Instrumental Album-"Sylva," Snarky Puppy and Metropole Orkest
Best Improvised Jazz Solo-"Cherokee," Christian McBride
Best Jazz Vocal Album-"For One to Love," Cécile McLorin Salvant
Best Jazz Instrumental Album-"Past Present," John Scofield
Best Large Jazz Ensemble Album-"The Thompson Fields," Maria Schneider Orchestra
Best Children's Album-"Home," Tim Kubart
Best World Music Album-"Sings," Angelique Kidjo
Best Regional Roots Music Album-"Go Go Juice," Jon Cleary
Best Bluegrass Album-"The Muscle Shoals Recordings," The Steeldrivers
Best Americana Album-"Something More Than Free," Jason Isbell
Best American Roots Song-"24 Frames," Jason Isbell
Best American Roots Performance-"See That My Grave Is Kept Clean," Mavis Staples
Best Latin Pop Album-"A Quien Quiera Escuchar (Deluxe Edition)," Ricky Martin
Best Tropical Latin Album-"Son De Panamá," Rubén Blades with Roberto Delgado and Orchestra
Best Latin Rock, Urban or Alternative Album-TIE: "Hasta la Raíz," Natalia Lafourcade and "Dale," Pitbull
Best Regional Mexican Music Album-"Realidades, Deluxe Edition," Los Tigres Del Norte
Best Roots Gospel Album-"Still Rockin' My Soul," the Fairfield Four
Best Contemporary Christian Album-"This Is Not a Test," Tobymac
Best Gospel Album-"Covered: Alive in Asia [Live] (Deluxe)," Israel & Newbreed
Best Contemporary Christian Music Performance/Song-"Holy Spirit," Francesca Battistelli
Best Engineered Album, Classical-"Ask Your Mama," Leslie Ann Jones, John Kilgore, Nora Kroll-Rosenbaum, and Justin Merrill, engineers; Patricia Sullivan, mastering engineer (George Manahan and San Francisco Ballet Orchestra)
Best Producer, Classical-Judith Sherman
Best Orchestral Performance-"Shostakovich: Under Stalin's Shadow — Symphony No. 10," Andris Nelsons, conductor (Boston Symphony Orchestra)
Best Opera Recording-"Ravel: L'Enfant Et Les Sortilèges; Shéhérazade," Seiji Ozawa, conductor; Isabel Leonard; Dominic Fyfe, producer (Saito Kinen Orchestra; SKF Matsumoto Chorus and SKF Matsumoto Children's Chorus)
Best Choral Performance-"Beethoven: Missa Solemnis," Bernard Haitink, conductor; Peter Dijkstra, chorus master (Anton Barachovsky, Genia Kühmeier, Elisabeth Kulman, Hanno Müller-Brachmann, and Mark Padmore; Symphonieorchester Des Bayerischen Rundfunks; Chor Des Bayerischen Rundfunks)
Best Chamber Music/Small Ensemble Performance-"Brahms: The Piano Trios," Tanja Tetzlaff, Christian Tetzlaff, and Lars Vogt
Best Classical Instrumental Solo-"Dutilleux: Violin Concerto, L'Arbre Des Songes," Augustin Hadelich; Ludovic Morlot, conductor (Seattle Symphony)
Best Classical Solo Vocal Album-"Joyce & Tony — Live From Wigmore Hall," Joyce DiDonato; Antonio Pappano, accompanist
Best Classical Compendium-"Paulus: Three Places of Enlightenment; Veil of Tears & Grand Concerto," Giancarlo Guerrero, conductor; Tim Handley, producer
Best Contemporary Classical Composition-"Paulus: Prayers & Remembrances," Stephen Paulus, composer (Eric Holtan, True Concord Voices, and Orchestra)