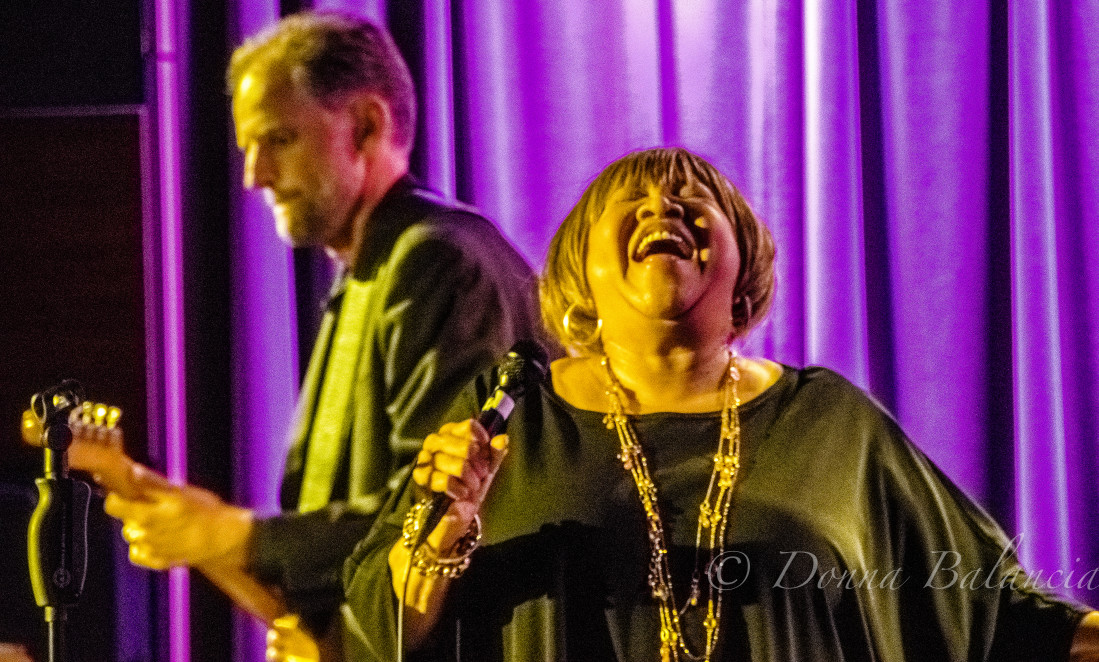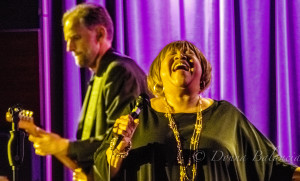 By DONNA BALANCIA — Mavis Staples was awarded the Woody Guthrie Prize at the GRAMMY Museum in downtown Los Angeles Wednesday night.
Among those on hand for the prestigious event were Bob Santelli GRAMMY Museum executive director, and Deana McCloud, executive director of the Woody Guthrie Center in Tulsa, Okla.
"Music can be a great tool for social justice," McCloud said. "We want to change lives and change the world. In this country our history isn't necessarily pretty but we're looking for ways to do better."
Megan Ochs, the daughter of Phil Ochs, accepted the Woody Guthrie Legacy Award on behalf of her father.
"As  patriot it's not only the right but the responsibility to challenge the government," Ochs said. "My father found a way to interpret political times through music."
Staples said she was honored to receive the Woody Guthrie Prize, particularly since The Staples Singers — comprised of patriarch Roebuck "Pops" Staples, Cleotha, Mavis and Pervis Staples — always loved Guthrie's songs.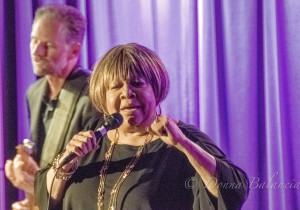 "I was a teenager when I heard Peter, Paul and Mary sing "This Land Is Your Land," and we loved the song so much that we recorded it."
The lively leader of The Staples Singers, Mavis gave an audience of GRAMMY members and guests insights into her inspiration to sing and record freedom songs.
The Staples Singers had a history of gospel, but it was during the time of the preachings of Dr. Martin Luther King that they found their calling.
She said until the Staples Singers came along, gospel had not previously been blended with blues and it was something that made her family unique — even though their sound was met with a degree of resistance.
Staples said some things have improved, compared to the day and age in which she was raised.  She said her father was 18 and her mother was 16 when they married and that her father was proud of her mother's cooking.
"My father would invite people over for dinner," she said. "Ray Charles, Nancy Wilson… Ray tried my mother's Sweet Potato Pie and said, 'We should franchise,'" she recalled. "We could make big ones, little ones,'" she recalled. "  My father would bring sweet potato pie to the disc jockeys," she said. "They would say, The Staples Singers don't need payola, they have 'Pie-ola."'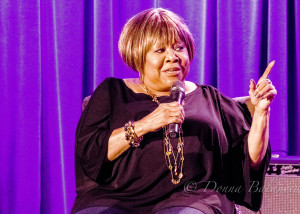 Staples said she was influenced by Guthrie and a host of artists like Joni Mitchell and others who used the guitar.  She told her father she wanted to learn the guitar.
"Pops had me cut my fingernails," she said. "He gave me three lessons it was too much for him, I wasn't learning fast enough. I wanted to pick I wanted to strum."
Staples said she was flattered to be included in the Martin Scorsese film, The Last Waltz.  By the time the film was actually going into production, she had formed a strong bond with Levon Helm and The Band as well as Bob Dylan.  She said Dylan was always close to her brother Pervis.
Pervis is living in their parents' house in Dalton, Ill., and he's doing well, Staples said.
"He's still frisky at 80," she said. "He thinks he's a player."
As far as finding their successful niche, Staples said it was the sermons of Dr. Martin Luther King that influenced the Staples Singers.
"Pops had been hearing Martin Luther King on the radio and said he has a church and he would like to go to the 11 o'clock service," Staples recalled. "We were ushered in and greeted by Dr. King who said he was glad to have Pops and the Staples.  After service, Dr. King used to shake hands. Pops shook hands and spoke to Dr. King for a while.  When we got home Pops called us in and said listen, y'all, if Dr. King can preach it, we can sing it."
Staples said she was disappointed there aren't more singers singing songs of freedom today and said she remains hopeful someone would come forth.
Staples sang a selection of songs and closed out the night with the GRAMMY-winning 1972 hit "I'll Take You There," which she said was initially scorned in the church because of its rythmn.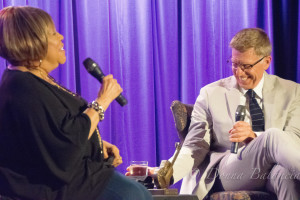 "They said it was Devil's music," she recalled. "I said, 'The devil ain't got no music, all music is God's music.'"
Eventually, when she proved her point and was asked back to the church, she said the first request was "I'll Take You There."
Staples said she has felt fortunate to have worked with some of the top names in music.
She joked that after seeing all the memorabiliia in the GRAMMY Museum that's devoted to Taylor Swift, she decided she would like to sing a duet with the young songstress.  "I would make more friends I think."
In addition to collaborating with some of the greats, including Ry Cooder, and Curtis Mayfield, Staples said she enjoyed her recent work with Bruce Hornsby and Galactic.  The work won't stop, she said.
"I'm not retiring as long as I have a voice," she said.
And the best advice she ever received?  She said it was from her father.
"He said, 'Sing from your heart, be sincere," she said. "He said, if you're singing from your heart, you'll reach the people.'"