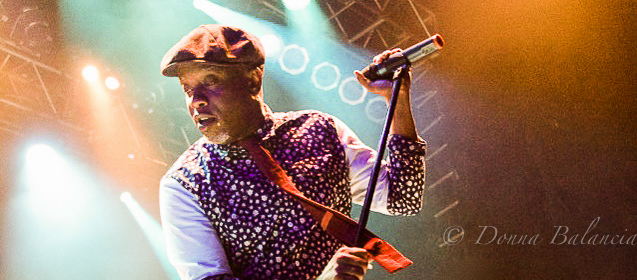 Living Colour Brings Energy and Alternative Funk to the HOB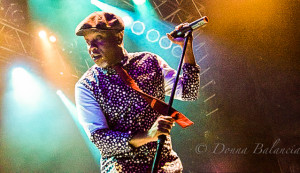 By DONNA BALANCIA — Living Colour packed the House of Blues Anaheim with their funky, punk-influenced music and wild performance, a hint of what to expect on their tour with Aerosmith.
The Blue Army Tour just wrapped.
"We wouldn't miss their show," said Molly, with her boyfriend Joe, regulars at the Living Colour shows since the 1980s.  And after seeing the concert Thursday, we see there's a good reason for Molly's many years of devotion.
To put it mildly, Living Colour kicked ass, with lead guitarist Vernon Reid jamming, Corey Glover singing his heart out, Doug Wimbish killin' it on a wild bass, and Will Calhoun driving the jams on drums. Living Colour will be on the road in a supporting role with Aerosmith's Blue Army Tour.
Living Color hasn't lost a beat since the heydays of the 1980s and kept up with the HOB audience, which sang along word for word with each song.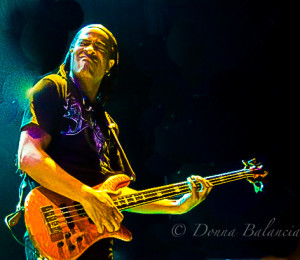 The band, which falls into the rare niche category of "black men who perform funky-punk-alternative" gave a performance in Anaheim that will long be remembered by the 16-to-60s on hand.  For those who've seen Living Colour at CBGB or the Ritz in the day, they'll remember the bandmembers were  known for their ability to whip up the audience with funky tunes while also whipping their dreadlocks.
Glover's commanding voice, one of the best around, pulls all the emotion out of some of the multiple GRAMMY Award-winning band's top tunes, including opener "Who Shot Ya," "Cult of Personality," "Desperate People," and "Middle Man."
Glover moves pretty well — and in fact climbed through the audience and to the upper decks — singing the whole way, bodyguard in tow.  His trademark dreads are gone and have been replace by a cap, but his remarkable voice remains stronger than ever.
The band's founder, Reid, is one of the most diverse guitarists around, ripping riffs that blew the audience away.  It's incredible the rig he travels with — any visitor checking out the equipment should have a degree in sound engineering to follow his work.  For such a sophisticated technologist, he's  understated, making it look easy and smiling through the performance as the audience got down with the sound. He's got Pedals ranging from Whammy and Ring Worm to the old-fashioned Synth Wah and the gamut.  Premier Guitar does a nice job chatting him up about his equipment HERE.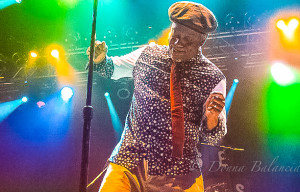 Calhoun's drumming keeps things moving nicely and his solos were greeted with screams and whooping from the packed Anaheim venue.  Bassist Wimbish has brought a new dimension to the band that's reminicent of the Bad Brains in style, throwing the audience back with his powerful bass lines, flailing arms and cool moves.
At show's end, Glover gave props and sent regards to his friends Fishbone and Bad Brains, as both bands had a huge impact on Living Colour's music and style.
The tour happens now and those who live in the area who are fortunate to catch a glimpse of Living Colour will have a memorable experience. Living Colour and Aerosmith can be seen at Prospera Place in Kelowna, BC on Monday night, the tour moves on to Las Vegas Aug. 1 and wraps up at the Hall of Fame Stadium in Canton, Ohio, Aug. 7.