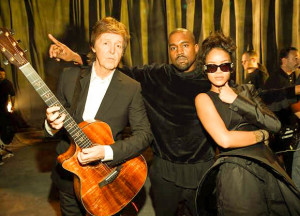 LOS ANGELES — Honorees take all different styles and shapes at the GRAMMY Awards.
But 2015 is definitely a nostalgia year as Paul McCartney and Tom Jones were set to perform, and Bob Dylan was honored.
With 84 categories in 2015, there were several wins that viewers tuning in to CBS at 8 PM EST would not see.
Early winners include "Happy" by Pharrell Williams for Best Music Video and 20 Feet From Stardom as Best Music Film.
Ricky Dillard, nominated for Best Gospel Album for Amazing, was outshone by Erica Campbell, whose Help won the statuette.
"I feel I am blessed to be a nominee," Dillard told California Rocker. "I've been around a long time."
"Don't get yourself get cornered by fear," said Angelique Kidjo, winner in the Best World Music Album category. "Every one of us have the power to transform this world. What I tried to do is give the voice to the African women. They want to live in dignity."
Another veteran, Toni Braxton, secured a Best R and B Album win with Love, Marriage and Divorce, surpassing Aloe Blacc, whose album Lift Your Spirit was considered a strong favorite in the category.
Rockin' performances are expected during the evening, with McCartney teaming with Rhianna; Beyonce teaming on a Selma tribute with John Legend and Common and 60s sex symbol Jones performing with Jesse J.
Jones said: "I got my first GRAMMY in 1965, 50 years ago exactly, and I got it for Best New Artist, now (I'm) back with Jesse J  for 'You've Lost That Lovin' Feelin.'"
Dylan was honored with a fundraiser Musicares concert Thursday night and he gave a speech that moved the audience.
###GRAMMYS###