Release – Stephen Marley's new album, Old Soul, brings together special guests including Bob Weir, Jack Johnson, Ziggy Marley, Damian "Jr. Gong" Marley, Eric Clapton, Buju Banton and Slightly Stoopid.
Marley's highly anticipated fifth solo album Old Soul,  his first full-length project since 2016, comes as a complete revelation. With his reputation as a studio perfectionist, "Ragga" as he's known to friends and family, is also a consummate live performer with a knack for spontaneity.
While grounded from the road during lockdowns, Marley set up a new studio on a remote family farm in the countryside, holding nightly jam sessions in a converted garage. Marley played whatever he felt like — ranging from original compositions and reggae rarities with deep personal meaning to classics recorded by Ray Charles, Frank Sinatra, and The Beatles.
"Irie vibration," Marley said of the sounds made together on the farm. "You have to be true to yourself, I refuse to be put into any category. I am inspired by everything. So if I feel like I want to play some jazz music, I will go play some jazz music. Who dig it, dig it.
"April 1972, my mom and poppa brought me through … back then I was the favorite, so they say."
Reflecting on his life as a youngster growing up as the second eldest son in the royal Marley family, Stephen marked his 51st year on earth by sharing glimpses of his past and releasing the title track of the album earlier this year: "I'm an old soul, living in the body of a 9-year-old / Guess I've been here before."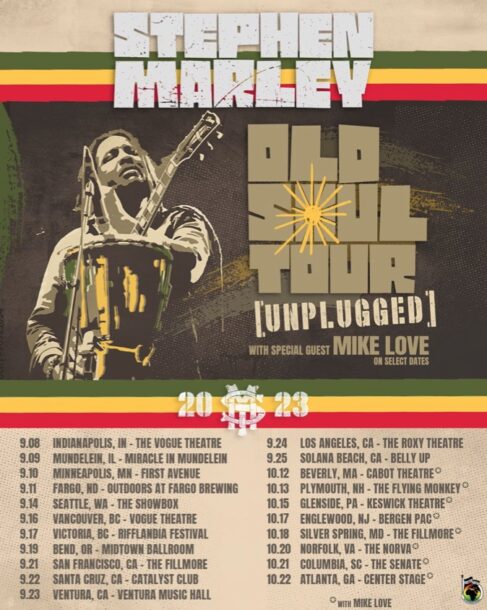 Old Soul explores a musical palette that spans a variety of cultures and genres alike with hand-selected special guests furthering the spiritual journey that encompasses Old Soul. Stephen and his elder brother Ziggy collaborate on "There's A Reward," a heartfelt tribute to Joe Higgs, the man who mentored young Bob Marley, Peter Tosh, and Bunny Wailer when they were all aspiring singers in Trenchtown. Meanwhile, Stephen's younger brother Damian "Jr. Gong" Marley features on "Cast The First Stone," a powerful, thought-provoking tune set to an ominous groove that sounds like something from a lost spaghetti Western soundtrack.
Stephen enlists his old friend Buju Banton on the ska-flavored "Thanks We Get (Do Fi Dem)," a Lee "Scratch" Perry composition made famous by Junior Byles that explores the idea that no good deed goes unpunished. And Kyle McDonald of Slightly Stoopid joins on a verse on "Standing In Love," a beautiful ballad that hearkens back to reggae's sweet rocksteady era.
Eric Clapton laces up tasty lead guitar riffs over a powerful acoustified version of Bob Marley's "I Shot The Sheriff," and the album closes with Grateful Dead legend guitarist/vocalist Bob Weir and surfer/singer/songwriter Jack Johnson, who join Stephen on the album's final track, "Winding Roads," recorded at Bob Weir's TRI Studios with his Wolf Bros band including Don Was and Dead & Company members Jeff Chimenti and Jay Lane, the only song on Old Soul recorded with a full band.
"We definitely did want some different sounds," says Stephen. "We never want to come with the same ray ray ray. We try to make some of them something you can't really identify. Ah just music." Among the more unexpected selections embedded on Old Soul are a disarmingly sweet cover of Sinatra's "These Foolish Things (Reminds Me Of You)," as well as Marley's take on The Beatles' perpetually pleading "Don't Let Me Down."
In celebration of the new album, Stephen Marley will embark on his ambitious Old Soul Tour Unplugged 2023 this Sept 8 – Oct 22, with special guest reggae singer-songwriter Mike Love to open on select shows.