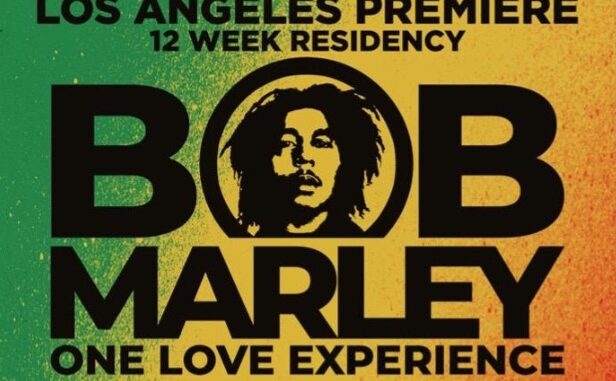 The official Bob Marley One Love Experience will open in Los Angeles on Jan. 27, 2023, at Ovation Hollywood (formerly Hollywood & Highland) and will run through April 23.
Produced by the Marley Family & Terrapin Station Entertainment, fans may join the waitlist for tickets to the exhibit at www.bobmarleyexp.com. Tickets will be available on Dec. 7 at 10 a.m. at that site.
"We are so thrilled to have the exhibit opening in Los Angeles just in time for Daddy's birthday," Said Cedella Marley CEO of Bob Marley Group. "After being in London and Toronto, it's going to be amazing bringing the experience here to the US for the first time and just steps from Daddy's star on the Hollywood Walk of Fame."
The 15,000 square-foot One Love Experience opens up the world of Bob Marley like never before. This multi-room exhibit notably features the entire Rock & Roll Hall of Fame Bob Marley Archive, including previously unseen photographs, rare memorabilia, and various other surprises such as the world's largest indoor vinyl record celebrating Legend.
The two-thousand square foot immersive One Love Forest enables viewers a virtual trip to Jamaica in a multi-sensory environment, which also features a cannabis garden and giant joint. Upon entering the Soul Shakedown studio, fans are greeted with headphones to groove out to the curated playlist in the silent disco. Exclusive art from Mr. Brainwash, The Postman, Camoworks, Idiotbox, and dozens more highlight Bob Marley's influence on street art. Fans culminate their journey in the Next Gen Zone which celebrates the Marley family, legacy, philanthropy, and influence.
SOCIALS:
IG: @bobmarleyexperience
FB: @bobmarleyexperience
EVENT INFO:
Who: Marley Family & Terrapin Station Entertainment
What: Bob Marley One Love Experience
When: January 27 – April 23, 2023
Where: Ovation Hollywood | 6801 Hollywood Blvd, Hollywood, CA 9002