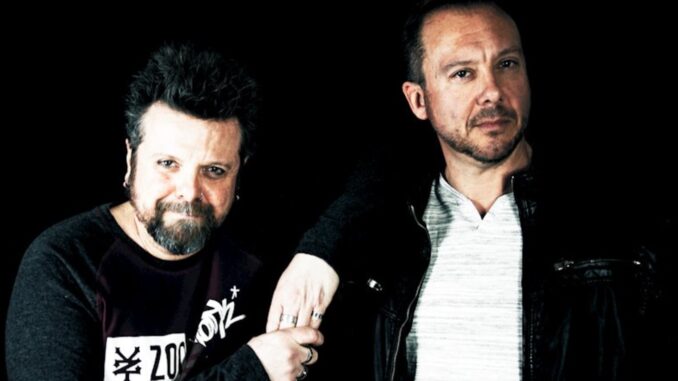 Review by DONNA BALANCIA
Sky's Rust is the latest album by Paul Lewis Featuring Romeo Rage and it's an impressive work, full of cool riffs, inspiring lyrics and fantasy-driven mystical mastery.
The album, released via RealizeRecords, launches out of the box with the rocker "Rips," which is appropriately named as the contagious beat and the melody get the energy going. The opening track is a departure from the rest of the album, which guides the listener through varied musical terrain and along a compelling journey.
"Send Letters," which has an engaging video that accompanies, is a haunting tune that shows off Lewis' vocal talents. The track leads with percussion, masterfully anchored by Lewis' longtime musical partner, drummer John Sanders.
After listening to a few tracks on Sky's Rust it's apparent the record runs a range of styles: "Slip Away" conjures a mysterious "spaghetti western" opening, belying a melancholy desperation; "Little Bit of Rain" has a slinky retro feel that reinforces the need for soul-enriching defiance.
"The Shift" is a simple work that accents desolation and the need to continue on. Stripped of fancy tech tricks that are all too common in the "anyone-can-create-music" attitude of people today, "The Shift" is a lesson in pure, emotive songwriting and captures the heart-bending demise of today's artists. "Ghost Town" is a favorite, encompassing helplessness and raw emotion in a desperate plea.
Album-ender "In The Pines" is an ensemble wrap-up to an 8-track collection that should be widely heralded. Kudos to Paul Lewis Featuring Romeo Rage on Sky's Rust. The tunes are good to run on repeat, particularly following a breakup or loss. The lyrics and melodies empower the listener to continue on, no matter how lost. With Sky's Rust, Paul Lewis has made a map that not only leads the listener home, but also to the treasures hidden within ourselves.
Check out 'Black' here:
Check out 'Send Letters' here:
Follow Paul Lewis:
www.paul-lewis.com
www.romeorage.com
www.realizerecords.com
Official Website: www.paul-lewis.com
Facebook:  facebook.com/paullewisrr
Twitter: twitter.com/paullewismusic
Instagram: instagram.com/paullewismusic
Spotify:  Paul – https://open.spotify.com/artist/72nAiHHbtAmers2gdZvdKN
Romeo Rage – https://open.spotify.com/artist/0xi4RknOBXCSzdo01zqLGi
Youtube Channel: https://www.youtube.com/user/PaulLewisTV
Listen to Paul Lewis & Romeo Rage on Apple Music, Amazon Music, Deezer, Spotify, Tik Tok, Tidal, Pandora
Check out Sky's Rust on Spotify: