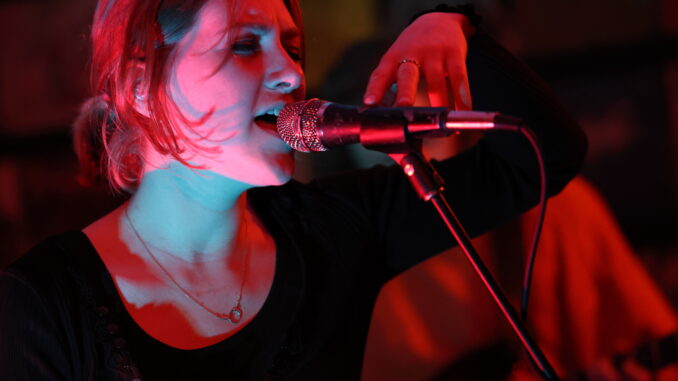 By NOTES FROM VIVACE
LOS ANGELES – Permanent Records Roadhouse on a recent Saturday night was the place to be for lovers of sonic sounds. Powder Pink & Sweet opened up the night with a sound where vocals and music are intertwined together. Guitars were played in a hypnotic fashion and allowed to drive the music for a period of time. Vocals eventually drifted in and words were allowed to stretch across time and space and the band swayed slowly to the beats.
Coming in from Albany, New York was Laveda. The band is spending the month of May touring across the United States in support of their recently released album A Place You Grew Up In. This was only their second time playing Los Angeles – both of those times were at Permanent Records Roadhouse. Even though this was only their second time playing the Los Angeles music scene, they have definitely formed a strong level.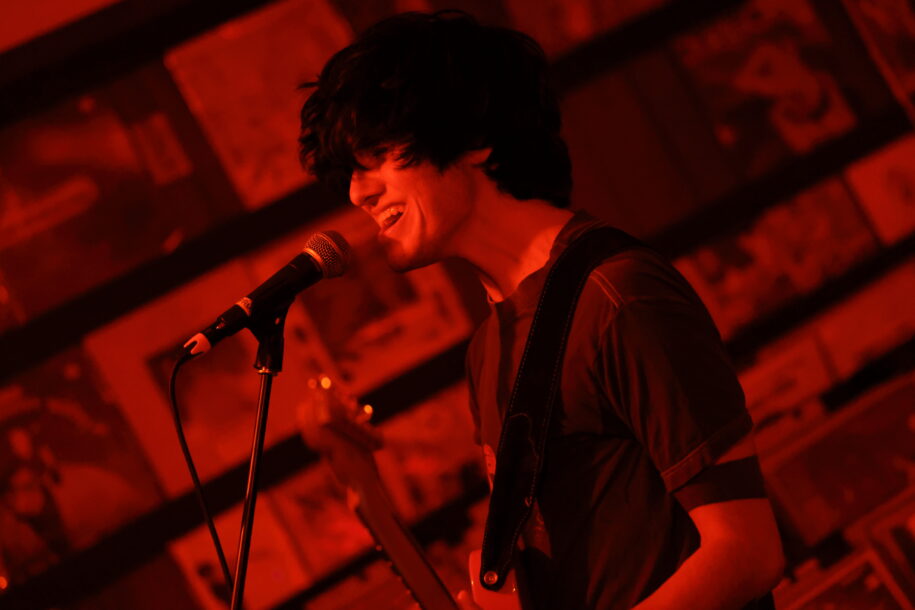 Before the band even started setting up for their set, the crowd formed around the stage. The band was met with loud cheers from the audience as they began to play their set. The band's first song was "F***" which has the painful lyrics, "Try my best not to cry (And I hate you so much). Took what you wanted then gone (And it's me who loved you more). Try my best not to cry, yeah. Took what you wanted then gone (And I know it's too much)."
The band ended their set with "Better Now," which the band describes on their Bandcamp page as being, "In a post-apocalyptic world, a person loses someone close to them and is reflecting back on what once was." The song has the catchy lyrics, "She was 17 when she looked at me. I doubt she knew what she was in for." It is a song about losing someone close, but it must have been a lovely and long relationship.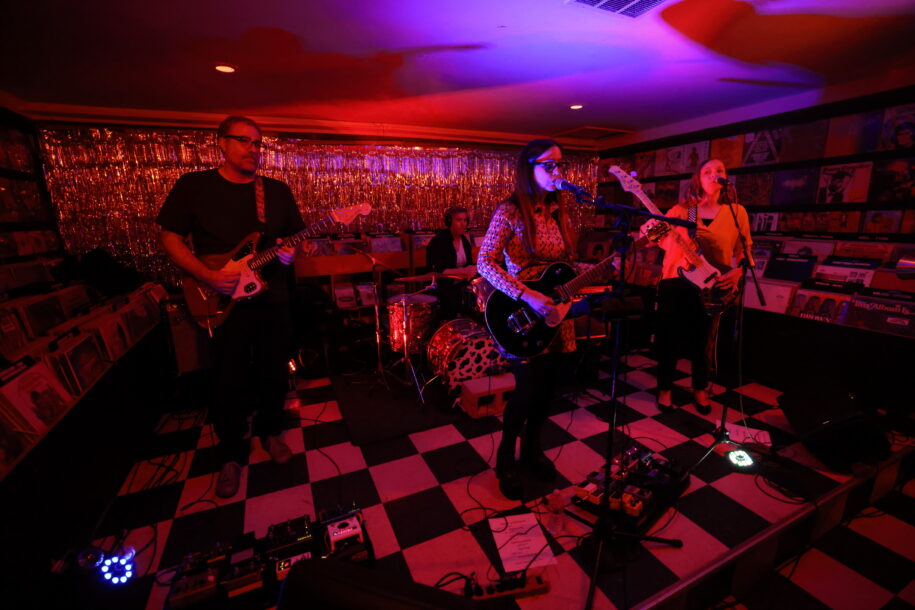 Closing out the night was Gal Pal. They have a new album releasing on June 2nd called This and Other Gestures. Not to be left out, the band also has their sonic qualities. Yet the band adds an interesting wrinkle. The lead vocals might have sonic qualities, but the backing vocals often drift into poetry freeform where lyrics are nearly screamed out.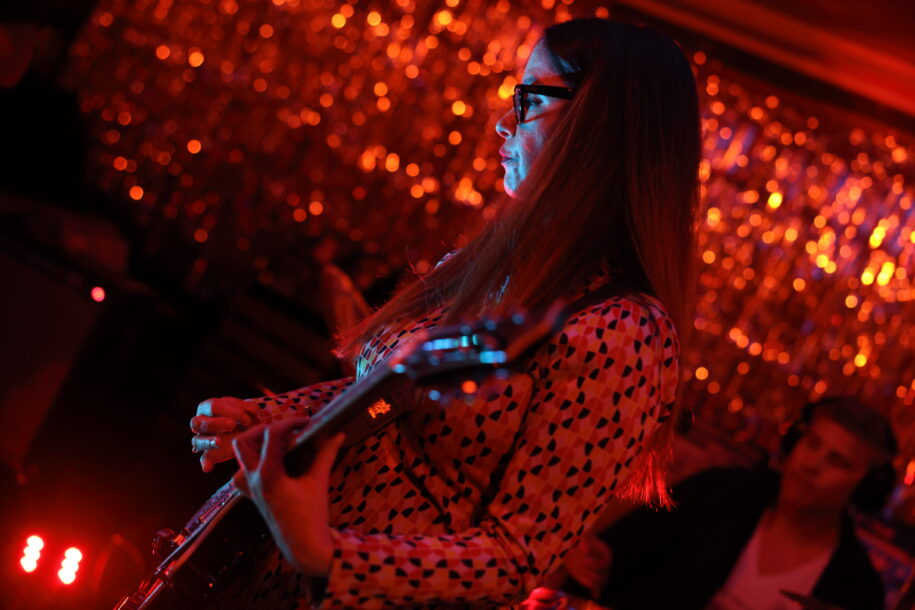 It makes for an intriguing clash of vocal battles. What was also enjoyable, maybe amusing, about watching the set was the split personalities of the band. The backing guitarist and bassist played it cool throughout the show. Meanwhile the lead guitarist and drummer (roles were switched mid-set) just slashed their way through the music. In the middle of it all, lead singer Emelia Austin kept the balance. In the end, the wild side won out as the drums were played with such vigor that the set ended with a drum scattered across the stage due to the power of the sticks.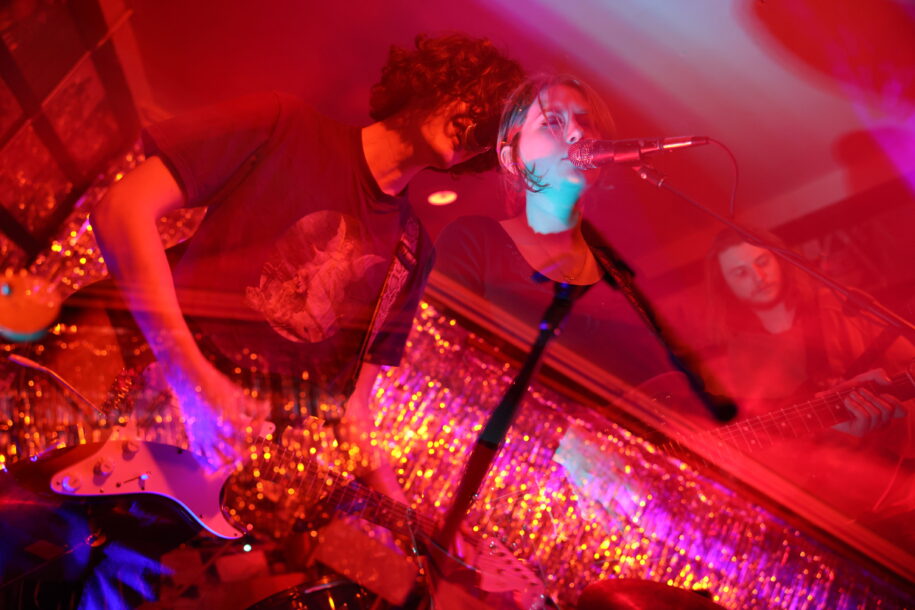 Follow the bands here:
https://www.instagram.com/powderpinkmusic/
https://www.instagram.com/lavedamusic/