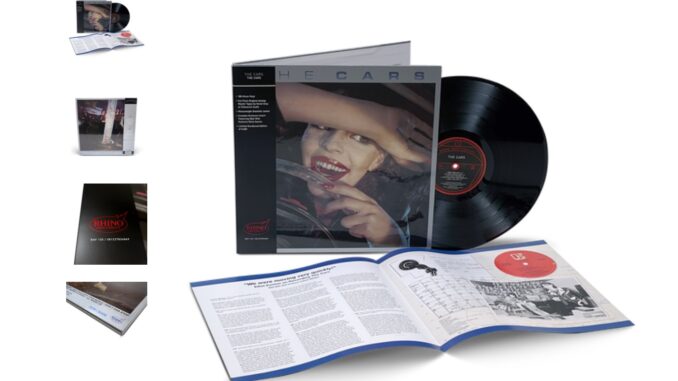 Edited by JOHN DALY
The Cars and Coltrane's Sound are the first two reissues to be released by Rhino High Fidelity, a new premium vinyl series, it was announced today.
The new series represents Rhino's continued investment in the vinyl business, which in 2022 grew to $1.2 billion in revenue on 41 million units, according to the Recording Industry.
The first two Rhino High Fidelity albums are available today exclusively at Rhino.com – The Cars (1978) by the Cars and Coltrane's Sound (1964) by John Coltrane. Each Rhino High Fidelity title is limited to 5,000 individually numbered copies and retails for $39.98.
To ensure consistent sonic excellence, Kevin Gray will cut lacquers for all Rhino Hi-Fi releases, and Optimal will press the 180-gram vinyl records. The releases boast high-quality glossy covers and "tip-on" jackets, an old-school aesthetic that evokes the golden age of vinyl.
"It will be an honor to master this series," Gray said. "There is so much variety to explore in the Rhino catalog – everything from Jazz to Rock to R&B. Rhino has a very deep catalog spanning across five decades. The possibilities are incredible. I look forward to all of it."
Another hallmark of the new Rhino High Fidelity series is exclusive content. The Cars features a new interview with guitarist Elliot Easton about the gear used on the album, plus producer Roy Thomas Baker's tracking notes for "Good Times Roll." Coltrane's Sound includes notes and images from the master tapes along with an archival essay by legendary producer Tom Dowd, the recording engineer on this album, and hundreds of other classics on Atlantic Records.
Rhino High Fidelity will take full advantage of Warner Music's vast music catalog, creating superlative versions of landmark albums from the worlds of jazz, blues, rock, pop, and beyond.
The Rhino High Fidelity series will continue to release two classic albums quarterly, each with the same audio and packaging quality of the initial pair in strictly limited editions. The next round of Rhino High Fidelity releases will be announced in the coming weeks.
THE CARS
Track Listing
Side One
1. "Good Times Roll"
2. "My Best Friend's Girl"
3. "Just What I Needed"
4. "I'm In Touch With Your World"
5. "Don't Cha Stop"
Side Two
1. "You're All I've Got Tonight"
2. "Bye Bye Love"
3. "Moving In Stereo"
4. "All Mixed Up"
COLTRANE'S SOUND
Track Listing
Side One
1. "The Night Has A Thousand Eyes"
2. "Central Park West"
3. "Liberia"
Side Two
1. "Body And Soul"
2. "Equinox"
3. "Satellite"