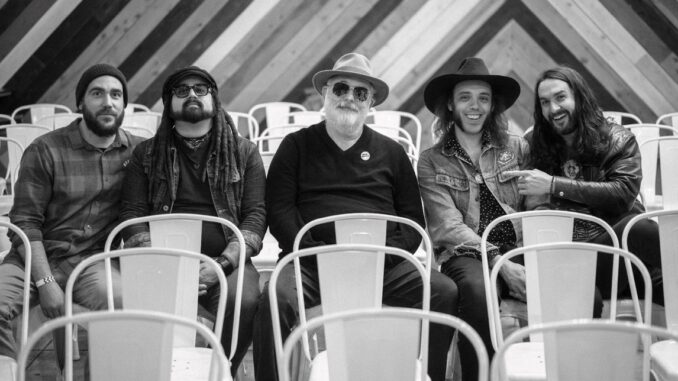 #CaliforniaRocker
SAN DIEGO – Songwriter Jack Tempchin and San Diego rock band Mrs. Henry have released "Waiting," their first collaboration.
Recorded live in one take in Otay Mesa, the gritty rock single bottles lightning in roaring fashion. A blazing organ and galvanizing guitars tee off the song for Tempchin's grizzled voice to soar. "Waiting" builds momentum and anticipation in its peaks and valleys. Like a snake unclenching its jaw to swallow its prey whole, the song's chorus unravels and opens itself behind dazzling vocal harmonies supporting Tempchin's wanting wail.
"I'm waiting for an angel / she's all dressed in white / waiting for a Goddess / she's wrapped in shining light," howls Tempchin, whose voice embodies the song's yearning id with fiery tenacity. Trading guitar and organ solos, "Waiting" is a bona-fide outlaw shootout, a do-or-die dance. The song's final movement crescendos through a dynamic, piercing guitar solo that carries this story to completion, just as the narrator holds out hope for another day. "I'm waiting while the sun goes sinking down / waiting cause what's lost can still be found."
After practicing a set of songs for a previous performance, it occurred to Tempchin and the band that their rehearsal space had great acoustics for live recordings. The group recruited an engineer friend to record a handful of songs in that space. "Waiting," a previously recorded and released solo song from Tempchin's catalog, was recorded in one take with the full band, and captures a true live dynamic that Tempchin and Mrs. Henry recreate onstage. "They're all live recordings and no overdubs. It's just us," says Tempchin. "The thing that excites me most about [Mrs. Henry] is the singing all four of those guys can do. They can instantly slap incredible harmonies on anything. I feel like this band backing me up lifts my songs to completely new places and gives them a lot more meaning."
"Jack initially sent us about 15-20 songs to give a go at our first rehearsal," says Mrs. Henry bandleader Dan Cervantes. "This one struck the whole band the same way since it seemed so different from anything we had heard from Jack. The original recording reminded us of somewhere between Guns N Roses and Neil Young's Crazy Horse which is right up our alley. We put ourselves into the song, driving more into the Deep Purple and Devo pocket while amplifying the attitude and spirit with a ton of muscle on the rhythm section, and a mantra background vocal that gets stuck in your head." The fiery energy you hear in the song can additionally be viewed in the live performance video by the group and Tempchin in their space.
Tempchin is best known for penning some of the Eagles' most beloved songs including "Peaceful Easy Feeling," and co-writing " Already Gone," "The Girl From Yesterday," and "It's Your World Now." In addition to the Eagles, Tempchin has written songs for artists such as George Jones, Glenn Campbell, Emmylou Harris, Tanya Tucker, Patty Loveless, and several other legendary artists and groups.
Mrs. Henry is led by Dan Cervantes (Howlin Rain guitarist + Blind Owl label owner), and is rounded out by Jody Bagley (Vocals and Keyboards), Blake Dean (Vocals and Bass), and Chad Lee (Vocals and Drums).  The group was ignited by a consciousness-changing West Coast tour in 2015. Since then, Mrs. Henry has spent the last five years on the road building an unrivaled reputation for their brand of intergalactic boogie with a torrent of improvisation, and in turn, a cult following atop their already well-established individual credits (Howlin' Rain, The Schizophonics, The Silent Comedy). Endurance is their vocation and bringing unapologetically live music into a new era is their mission.
 FACEBOOK // INSTAGRAM // TWITTER // YOUTUBE // SOUNDCLOUD