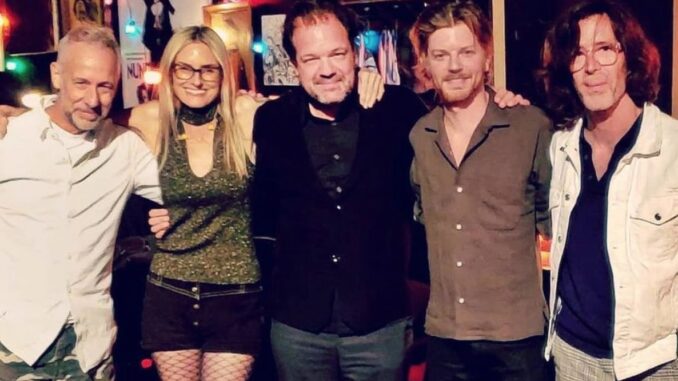 By DAN MACINTOSH
LOS ANGELES – Aimee Mann had to restart a couple of songs during her delightful Largo at the Coronet show. She said she was aiming for perfection because this performance was being recorded. A nearly full house didn't mind, though, because Mann's songs are so good, and these restarts actually gave the gathered a few extra added performance tidbits.
Supporting her excellent new Queens of The Summer Hotel, Mann (and her talented four-piece backing band) even rocked the usually quietly acoustic Largo a tad in places. In the end, it was a fulfilling way to spend a Saturday evening.
Mann's top tier band, which included drummer Jay Bellerose and keyboardist Patrick Warren, opened with "You Fall" from the new album, and then drew liberally from recordings throughout her extensive career. She sounded great, especially when still hitting the high notes on "Wise Up," and – at 61 – still looked beautiful in her fishnets and short shorts. Mann accompanied herself on acoustic guitar, except for her gripping performance of "Suicide Is Murder," another new album selection, where she plunked on the venue's grand old acoustic piano.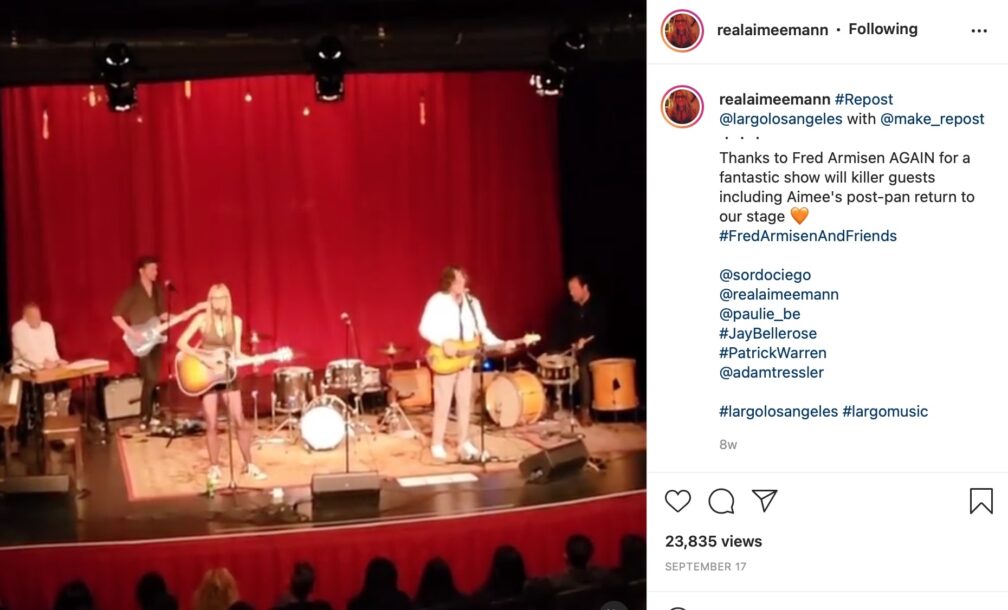 One of our truly smartest lyricists, Mann especially shined on an older one called "The Moth." "The moth don't care when he sees the flame," it begins. "He might get burned but he's in the game." This could be an analogy about the magnetic pull of temptation. It also speaks to the consequences of poor behavior. Whatever the temptation, Mann sings these dark words with such a gentle, always pretty voice. 
Although not what you might call a humorist, Mann delivered some funny lines between songs. She joked about her new large glasses, which she quipped are required once a person enters his/her sixties. Later, while Warren played the acoustic piano into to "Wise Up," she mentioned how this instrumental part sounded a lot like the music to a car commercial. Mann then proceeded to improvise an announcer describing some vehicle or other in a made-up on the spot car ad.
Los Angeles is so blessed that Mann calls our fair city home, as she often performs hometown concerts. This night was the first of a three-night stand at the intimate Largo, which has a 280 seating capacity, making it feel like a large living room concert. It's always pleasurable to just sit and enjoy music with few distractions (cell phone usage is strictly prohibited).
Mann's Queens of The Summer Hotel takes on some heavy topics and is why it was best shared with a small, but dedicated, group of fans. This night was just such a special gathering for some serious musical conversation.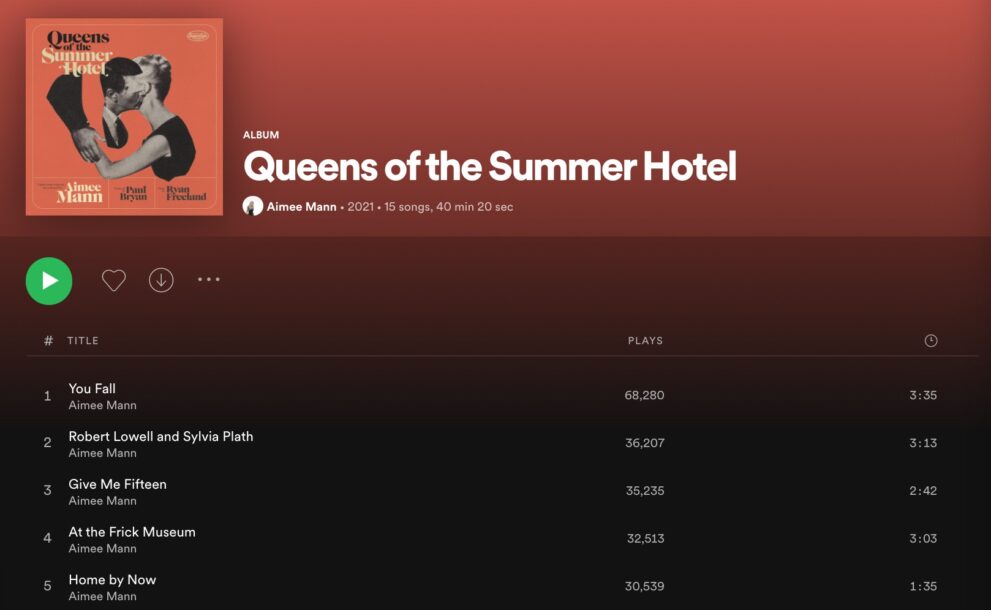 Aimee Mann plays City Winery in NYC for four nights at the end of December.