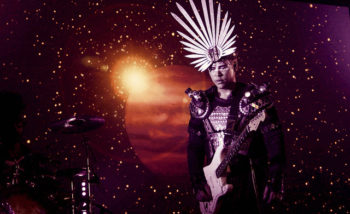 By CRAIG HAMMONS – To truly enjoy Empire of the Sun you have to see the live show and that is what 7,000 of us colorful fans did this perfect summer evening.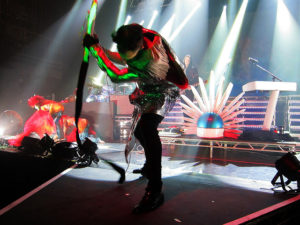 At 9:15 the lights dimmed and a fine mist took over the stage, the entrance music for Empire of the Sun began and some darkened silhouettes of four dancers and three musicians appeared.
After a burst of color and light, front man Luke Steele took center stage to open with "Old Flavours."
Before they finished the first song the entire audience was on their feet and under their spell.  By the second song "DNA" with the lyrics "Just take me away, be my DNA" is exactly what they did.
Luke Steele's vocals were spot on and he seemed happy to hear the audience singing the words right along with him.  Each song carried a different array of colors and lights with a huge screen that showed different themes and pictures.  During "Half Mast," the screen showed a field of flowers and pictures of a planet they landed on.  The band and dancers blend well together as they dance and play through a sea of smoke wrapped in velvet and gold.
It is not hard for this band to keep the audience engaged.  It is almost impossible to turn your eyes away from the stage.  Frontman Luke Steele has his own stage out front and center that has a small keyboard that he plays at the same time as playing his guitar.  But he wanders the stage with his elaborate costumes and headdresses, working the audience into a frenzy.  He even went out into the crowd a few times creating drama and showing what a powerhouse bandleader he is.  This is more than a concert; it is a theatrical performance that could fit well on a Broadway stage.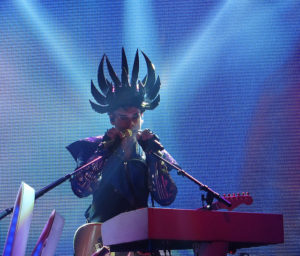 The show was perfectly choreographed with the dancers changing costumes that ranged from alien rock stars with guitars that lit up, to astronauts and butterflies.  The dancers were always in synch and brought an element of fantasy to each song.  Part of this may be because Steele's partner, Nick Littlemore, worked as composer and musical director for the Cirque Du Soliel's touring arena shows.
Empire of the Sun's musical performance makes you feel like you're in a movie filled with special effects and a cool soundtrack.   By the time they got to "Walking in Dream," the audience enthusiasm was out of control.
When Luke Steele sang the lyrics "Thought I'd never see the love you found in me" you could see he was happy as he wandered back into the audience to feel the love of the fans.  They ended their set with "Tiger By My Side" and Steele went '80's rock star on our ass playing and smashing his guitar to pieces.  The stage went dark and we all couldn't believe what just happened.  But before we could catch our breath they were all back on stage with "Standing On the Shore."
They ended with "Alive" and every one of us sang along to the chorus, "Loving every minute, cause you make me feel alive, alive."  That's exactly how we felt tonight after experiencing Empire of the Sun.