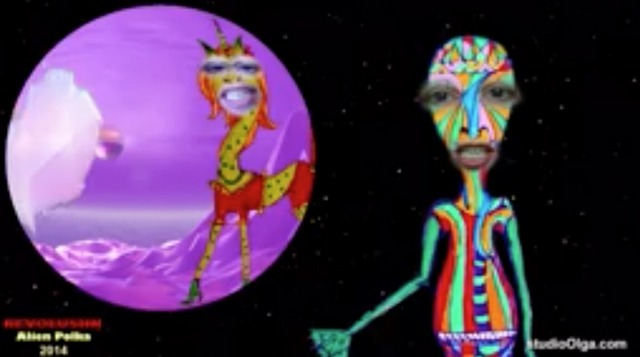 By DONNA BALANCIA – Revolushn doesn't need to have permanent band members — because like on Mars, everything is transient.  And that includes the music.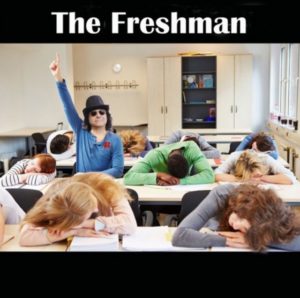 Led by a couple of guys with some weirdo nicknames like NO and EMS or something, these guys have taken a page out of the Residents' anonymity book, but they've added their own space-like twist. Their new album is called The Freshman.
Revolushn is like David Bowie meets REM with some Sonic Youth thrown in.  Eclectic, yes.  But there's apparently some top name talent here. Check out the song that started it all, "KC"
The band members are spread out from the East Coast to the West Coast with the troupe's elders located in California. OK, so what's with the space theme and the all the mystery?
Upon closer "probing" we find there to be way too much talent — however discombobulated it may be — for this to be some relatively new group just starting out. And thus the ol' switcheroo with the band's second record, The Freshman, which is a collection of space-themed oddities.  Some songs are excellent.  There are a couple of strange ones.  But, what do you want from space people?
While they don't sound anything alike, there is a similarity between the Revolushn and the great Jonathan Richman.  Both Revolushn and Richman have a bizarre sense of humor that has great impact. The review rap with Richman —  considered one of the leaders of the punk genre —  is he could have achieved greater commercial success if he cut out the cutesy act and kooky songs like "Abominal Snowman in the Market," "Ice Cream Man," and "I'm a Little Dinosaur."  But who wants commercial success anyway?
Let's be honest. When it comes to kooky, Revolushn may be taking that title and trying it on for size. If this album were to have come across our desks and we didn't find out that some heavy hitters were involved, we would still think there were.  And that's despite the crazy album cover and bizarre musical style.  We particularly like the cuts "Fly Me To The Moon," "Been Thinkin," "Dark Matter," and "Martian Shantytown."  Of course "Alien Polka" is another classic – check out the video above.
Assuming Revolushn doesn't want to be taken seriously and would rather continue to share an "inside joke" with its growing fan base, there still is plenty to like, particularly on The Freshman.  The outerworldly Martian theme probably came to prominence because of the band's heavy use of synth and reverb, distortion … and general weirdness.
Oh, and the videos are equally strange, by the way. Very much like Todd Rundgren's excellent experimental videos from The Desktop Collection. You want Martians? Against a backdrop of break-dancing, two-legged pinkish figures dipping and bending, bongo playing musicians do their thing in one of the videos. There's definitely an alien threat here of some kind, if we could only interpret what's going on.  But we had a hard time trying to figure out The Flaming Lips "She Don't Use Jelly" video also, and it looks kind of similar.
The Twitter account for Revolushn, @therub9  is another strange case.  The Tweets are quotes from famous humans, scattered in with some news about the band from time to time.  No quotes from Wayne Coyne of the Flaming Lips, or from his astronaut pal, John Herrington.  Maybe they'll just stay out there on their little space journey, where there's no WiFi, but there are plenty of stars.
But in the meantime, the music on The Freshman is fun and the talent is about as real as it gets.  But apparently, everything else on our planet is questionable.
Band members: DAVID KENDRICK, Drums-lyrics; SCHUBERT, Keyboards-vocals; EMC, Drums-percussion; WAYNE COYNE, Guitar-vocals; Production: AARON CONNOR (Bone Thugs and Harmony) Engineering-mastering; NO, Engineering-production-mastering.