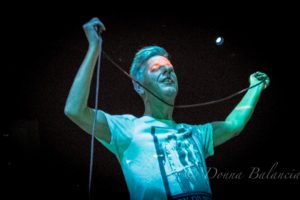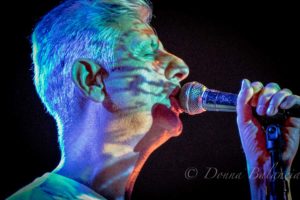 Robbie Grey: 'I'll Melt With You' is 'The Song That Pays The Bills'
By DONNA BALANCIA – Modern English may look a little different than back in 1981, but the music is better than ever.
The British band known for superhit "I'll Melt With You" is tight and gave a stellar performance at The Echoplex Sunday night.
The iconic band performed its 1981 LP Mesh and Lace in its entirety to celebrate the 11th-Year Anniversary of the excellent Part Time Punks program. Underpass, Soft Kill and Sextile brought diversity of alt rock sounds prior to the headliner.
Mick Conroy on bass, Gary McDowell on guitar and Robbie Grey on vocals set the pace as Colchester, UK's first punk band, The Lepers, back in 1979.  When keyboardist Stephen Walker and drummer came on board, they became Modern English and took on a more new wave-style sound.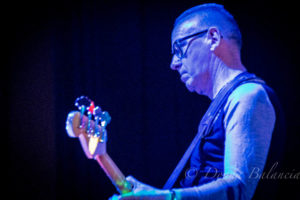 Still Together
It's fantastic the band is together again after some ups and downs, unlike many of their colleagues from the era like Joy Division, Depeche Mode and Gang of Four.  Hugh Jones, who also produced Echo and the Bunnymen produced Mesh and Lace and had a good deal to do with the band's post-punk sound. The UK produced most of the well-known punk/new wave bands in the late 1970s-early 1980s.
And while they may look a little older, a little more heavily tattooed, Modern English band members have a young appearance and a lot of stories to tell.
The members of the band who have broken up, gotten back together, tried to go separate ways and tried different music projects realized they're cherished by not only the generation they're from, but also by today's younger fans.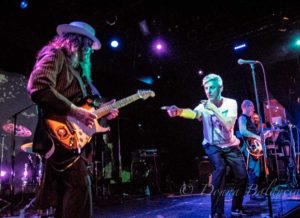 Advertising Income
That could in part be because of the popularity of the group's 1982 superhit "I'll Melt With You," which has had enormous commercial success and has been played in everything from U.S. TV commercials pitching cheeseburgers, chocolate and tacos, to feature films.
But the band says the new wave song is really about a couple making love as a nuclear bomb is dropped. No matter, the song closed out for the evening as Robbie called it "The Song That Pays The Bills."
Favorites of the night taken directly from the Mesh and Lace album are the classic upbeat songs "Smiles and Laughter," "Gathering Dust" and "Swans on Glass."  The songs were badass in the day and still hold up today.
With Modern English you get what you expect. It's refreshing in that they call themselves what they are.  With the exception of drummer Roy Martin, who handled the kit with amazing agility and blend, the band is comprised of all the original members.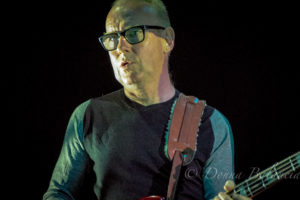 The Long Run
In the never-ending quest for to make a living, there are many bands out there with only one remaining member who call themselves the name they used to go by when they were four.
But it should be determined at what point would it be considered false advertising to call a band with departed anchor members by its original name.
Joy Division evolved into New Order, then split into two bands, New Order, and Peter Hook and the Light. Let's hope Modern English will never have to endure a similar fate.
But it's clear that Modern English has their colleagues on the brain — with Robbie sporting a Joy Division T-shirt and changing into a David Bowie T-shirt to honor the departed musician.  And he performed happily — even when a gal came on stage and started hugging him. But Robbie is a good reflection of the band — seems Modern English will withstand the test of time and simply shrug and carry on.
[Best_Wordpress_Gallery id="53″ gal_title="Modern English – Sextile – Part Time Punks"]