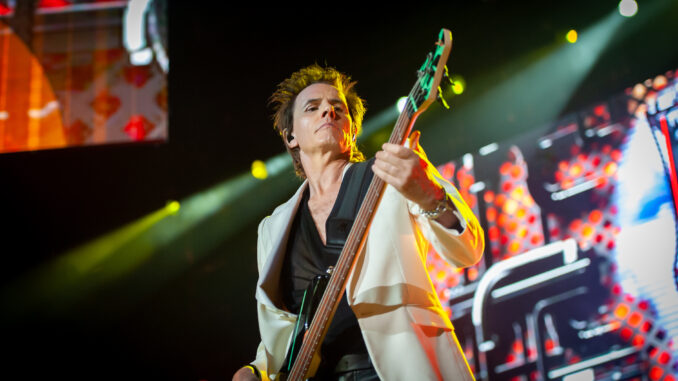 Duran Duran
North Island Credit Union Amphitheater – San Diego
w/ Bastille and Nile Rodgers and Chic
Photos and Review by SYLVIA BORGO
SAN DIEGO – In a testament to their enduring legacy, Duran Duran swept into the North Island Credit Union Amphitheater on a balmy evening and welcomed fans to their Future Past Tour. This globe-trotting journey has spanned nearly four months; the tour kicked off in the UK in April before hitting the US at the BottleRock Festival in May. The British quintet continues to draw adoring crowds, a fact reaffirmed at their recent Chula Vista performance.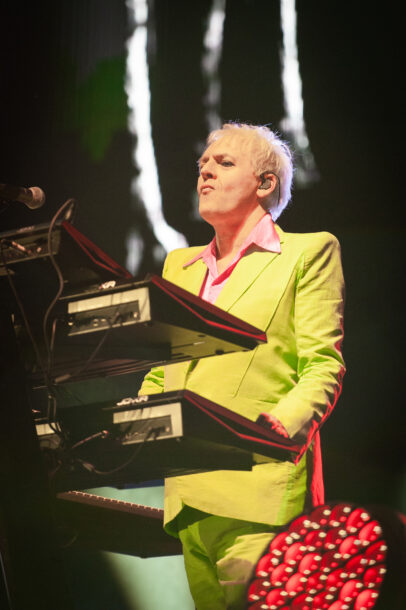 Eagerly greeted by a sea of dedicated "Duranies," the band artfully delivered a concert experience that resonated with nostalgia while effortlessly showcasing the timeless allure of their musical catalog. Commanding the stage with their signature blend of synth-infused pop, Duran Duran whisked the audience through a celebration of their illustrious history.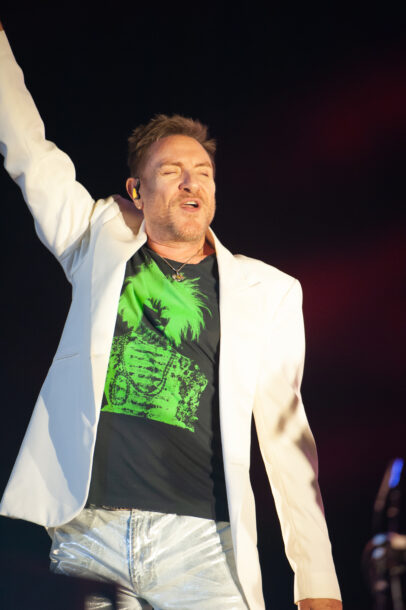 Duran Duran delivered a setlist of crowd-pleasing precision, effortlessly traversing the spectrum from their iconic chart-toppers to lesser-known gems, much to the delight of their ardent fans. As the band rhythmically churned out hits like "The Reflex," "Wild Boys," and "Hungry Like The Wolf," it was evident that their innate showmanship was still vibrant. However, it was the inclusion of cherished obscurities like "Friends of Mine," "Night Boat," and "Lonely in Your Nightmare" that gave the concert an elevated experience, proving Duran Duran's commitment to crafting an engaging sonic narrative that transcends mere commercial success.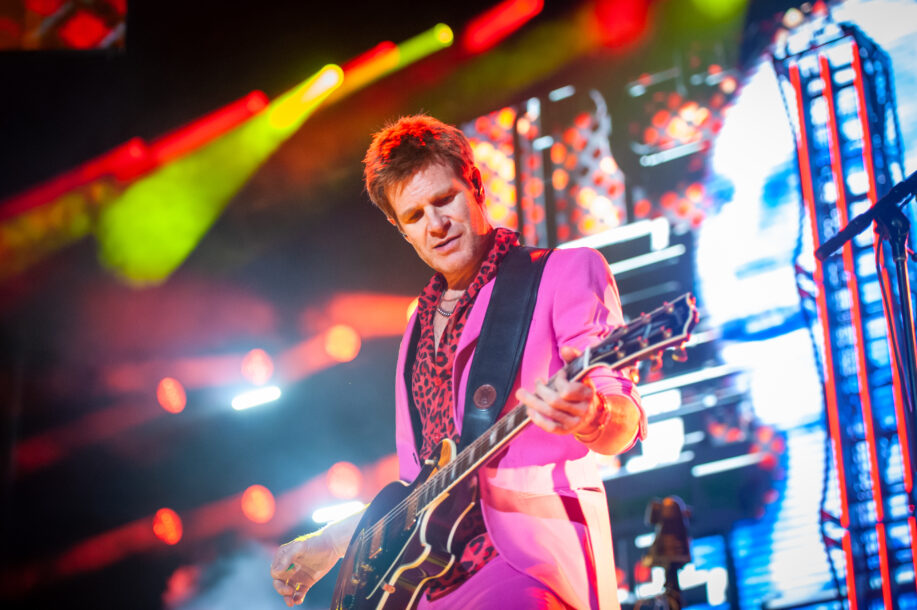 Frontman Simon LeBon, a perennial beacon of cheer, embodied a charismatic stage presence. Although the passage of time may have tempered some of his once-boundless energy, LeBon cleverly engaged the crowd by inviting their voices to intertwine with his own. This judicious maneuver invigorated the fans and ensured the preservation of his vocals, a testament to his seasoned mastery of live performance dynamics.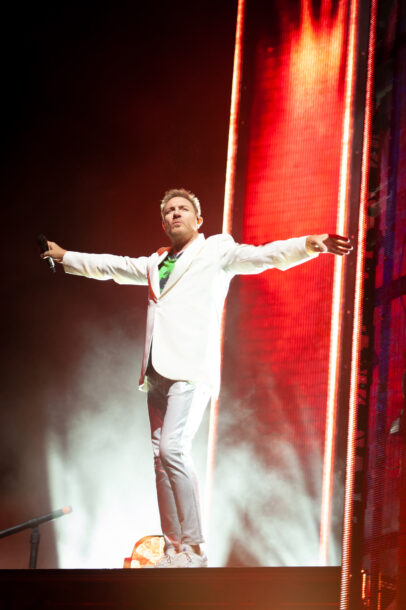 The band's sartorial finesse was another facet of their concert's allure. Simon's glittering trousers caught and refracted the stage lights as he danced across the stage. Nick Rhodes's immaculately coiffed presence exuded sophistication, while John Taylor's bold display of a bare chest showcased both his timeless appeal and rock 'n' roll panache. Not to be outdone, Dom Brown, the band's guitarist, donned a pink suit that stole the spotlight, a visual emblem of their indomitable spirit. With over four decades of musical prominence, Duran Duran showcased their undeniable status as true rock legends.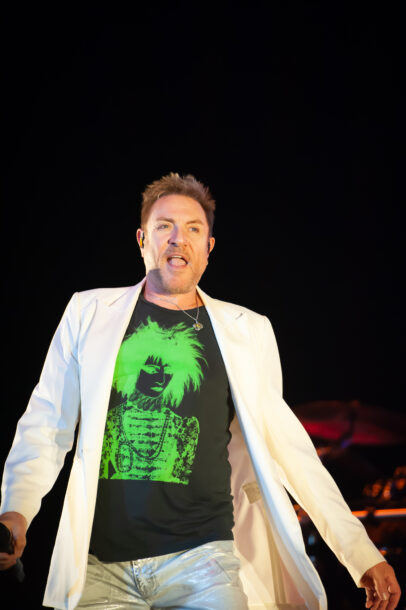 As the night culminated in an encore featuring the emotive "Save a Prayer" and the exuberant "Rio," the North Island Credit Union Amphitheater resounded with an electric energy that underscored the evening's success. The concertgoers, many clad in tour merchandise harking back to Duran Duran's heyday and other iconic 80s bands, left the North Island Credit Union Amphitheater with euphoric exuberance.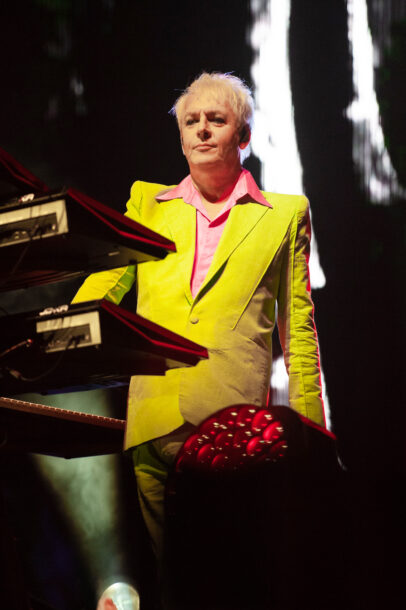 Sharing the stage with Bastille and the venerable Nile Rodgers and Chic, the evening was a harmonious blend of past and present. Bastille, offering a rendition of their chart-topping hits, and Nile Rodgers, invoking the spirits of musical luminaries like David Bowie, Diana Ross, Madonna, and Beyoncé through his own iconic compositions, added layers of richness to the event.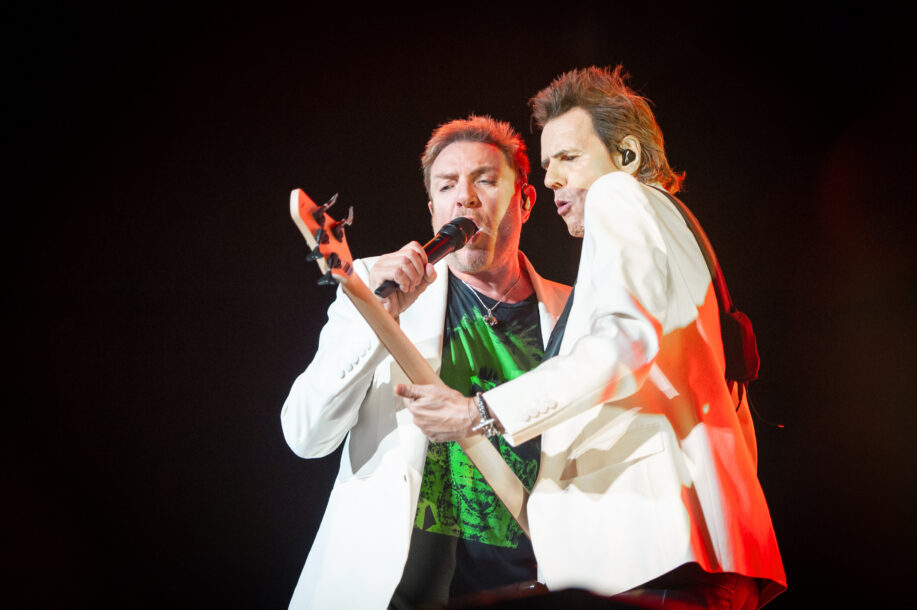 Duran Duran's Future Past Tour continues to prove the band's remarkable longevity, artistic evolution, and enduring connection with their devoted audience. With each performance, they reaffirm their status as not just musical titans but as eternal architects of sonic fun.