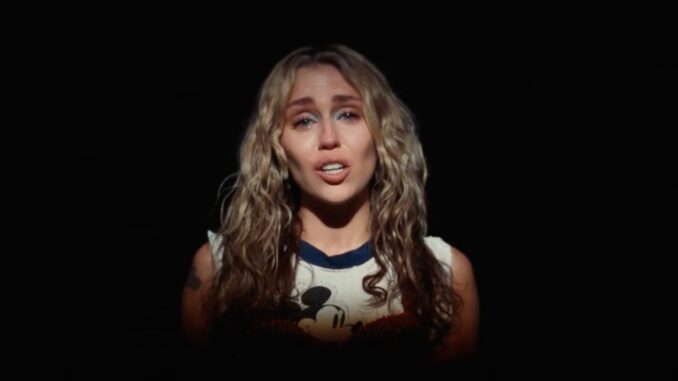 Miley Cyrus, The Glorious Sons and GUM are among the musicians who this week drop new tracks that have an introspective feel, looking back but powering onward. The end-of-summer releases give insights into what's ahead for fall albums.
Cyrus comes to grips with adulthood and reviews her life journeys with the new track + video "I Used To Be Young." It's an emotional ballad that tells the story of the pop songstress who has emerged as a superstar, leveraging her Hannah Montana base and remarkable talents.
Watch 'I Used To Be Young' here:
The Glorious Sons Give 'Cellular' a Towering Release
The Glorious Sons release their new moving single "Cellular." The song is nostalgic and grand, a personal reflection that serves as a touching tribute to lead singer Brett Emmons' late grandfather.
"Cellular" is the latest release off the band's forthcoming album 'Glory,' due out September 6th via Warner Music Canada / ADA Worldwide. The band will also be embarking on their headlining The Glory Tour this fall, an exhilarating journey through 57 cities across the U.S. and Canada. Tickets for The Glory Tour are available now on theglorioussons.com.
Mon LaFerte Visits Memory Lane with 'Tenochitlan'
Mon LaFerte shared today her new single "Tenochtitlan." The track is trip-hop with a Latin heart and represents a new phase for Laferte, who used mechanics to create rhythmic foundations and samples to create a song that speaks about social judgment and self-worth. 
Check out 'Tenochtitlan' here:
Jaguero Rocks with 'All I Think About'
Italy's Jaguero gives Rock N Roll a decidedly American twist with "All I Think About." It's a single that boosts the spirits and motivates with heavy percussion, fun vocals and driving bass and guitar. 
Following the release of "New Love," the title track from the band's upcoming 'New Love' EP on Epidemic Records, the 4-piece returns with the next single "All I Think About."
"All I Think About" features elements fans of the debut EP "Worst Weekend Ever" loved, but introduces many new ideas, which blend spontaneously and convincingly into a captivating track.
Check out 'All I Think About' here:
Catbells Purrs with New Release 'Partly Cloudy'
Partly Cloudy is the full-length debut from Dream-pop auteur Catbells. The album was produced by Billy Mohler (Pom Poms, Coastal Clouds, Airborne Toxic Event, Bel Rays, AWOLNation, Sia, Drowning Men, War Tapes), recorded at his studio in Long Beach, Calif., Partly Cloudy is being released by SQFT Records on 12" LP vinyl, CD, as a digital download and via streaming services October 27
Check out 'Fade' here:
GUM Hits the Right Notes with 'Music Is Bigger Than Hair'
Jay Watson, AKA GUM gets back to his wistful roots with "Music Is Bigger Than Hair" a stripped down track that gets to the heart of listeners with clever twists and turns. The new single is from the upcoming album Saturnia set for a Sept. 15 release. 
"'Music Is Bigger Than Hair' is a funny title, I think it's referring to me getting older and feeling my mortality a little bit more, or at least my worth as a musician being tied up in the way I look," Watson said. "Feeling like it's affecting my music, as if it has anything to do with it. Musically it's one of my favorites because of Jesse Kotanskys beautiful string arrangement."
Check out 'Music Is Bigger Than Hair' here: