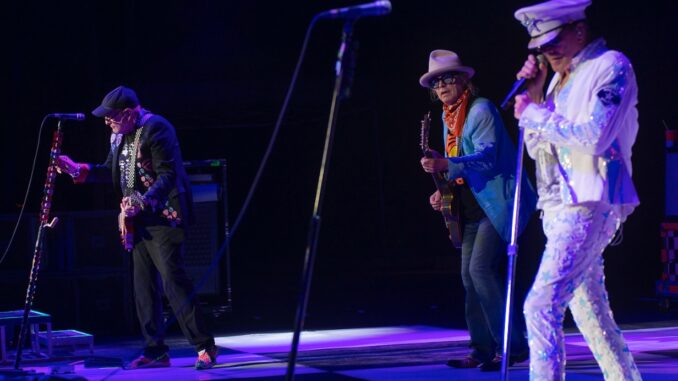 Cheap Trick
Pacific Amphitheatre
August 7, 2023
Review by DAN MACINTOSH Photos by MIGUEL VASCONCELLOS
COSTA MESA, CA – These days, the touring band Cheap Trick has become a bit of a family affair.
In addition to Daxx Nielsen, son of guitarist Rick Nielsen, holding down the drums, singer Robin Zander's son Robin Taylor Zander now sings and plays guitar with the group live. Vocally, you might say the younger Zander is a doppel-Zander, as he sounds so much like his dad. In fact, this son sings a lot of the lead lines along with his father.
Yes, nobody likes to see personnel changes in their favorite acts, but at least you can say Cheap Trick is keeping it in the family currently. Better still, this never-stops-touring act still sounds both enthusiastic and good.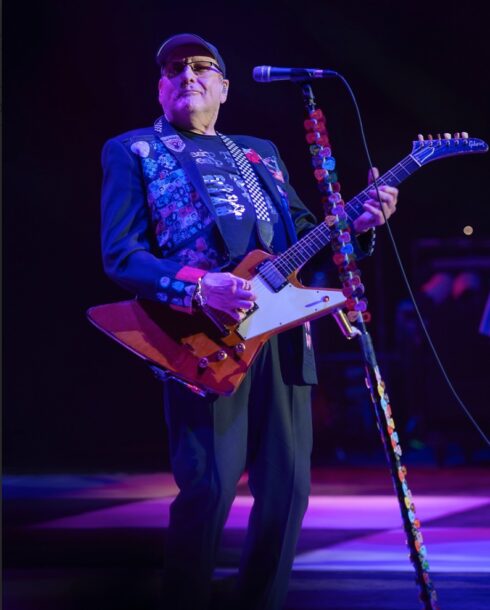 It's impossible to complain about the act's setlist tonight. Of course, the group must play "Surrender," "I Want You to Want Me," and "Dream Police." All of these stand the test of time well. Just plain great melodic rock. However, "Heaven Tonight" was a bit of a surprise, as the group also dusted off the oldie "Big Eyes" and opened with "Clock Strikes Ten."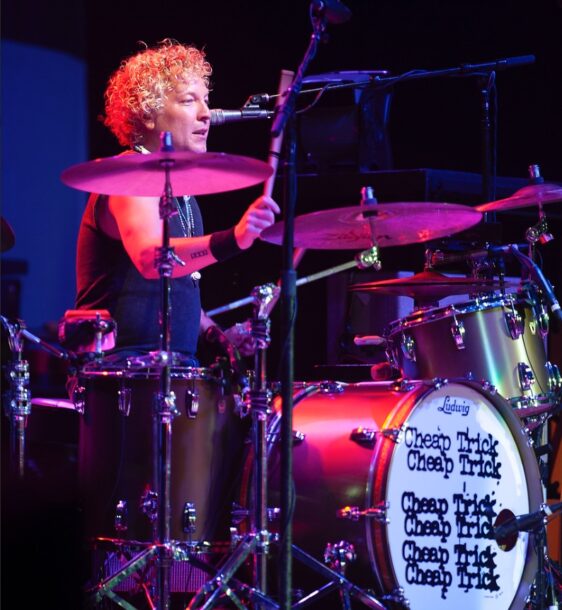 Visually, Robin Zander looked sharp in his white outfit,complete with a white captain's cap, while the ever-nerdy Rick Nielsen was outfitted in basic black. He changed guitars on almost every song, as he mugged for the audience and flicked guitar picks out into the crowd continuously. Nielsen appeared to really be into it tonight, whenever inserting one of his patented guitar solos. This is a band meant to experience live. It's when they are fully in their element. Tonight, these players were certainly on their A-game.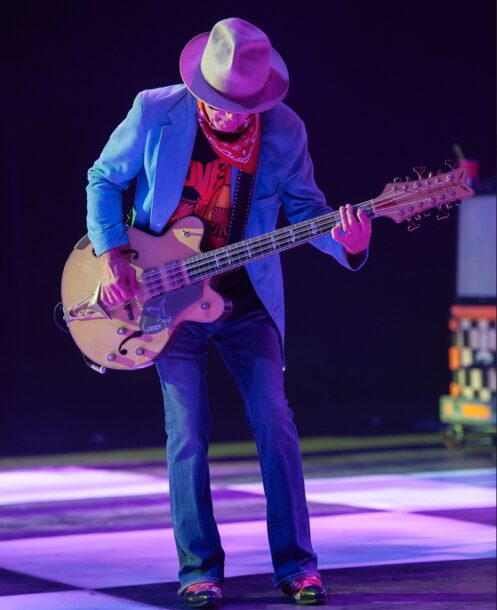 The Tubes opened the show looking especially dapper. All were dressed in colorful, florescent suits. (All that is, except lead Fee Waybill, who wore pinstripes). Waybill also removed his shirt at one point,which revealed just a little more Waybill than we bargained for. Nevertheless, the band was topnotch. Waybill even wore reflector shades and a leather jacket when getting his Elvis on with a cover of "Trouble,"and the act closed on a high note with "Talk To Ya Later."
What could have been better than this strong, one-two double bill punch on a beautiful SoCal summer night? Well, nothing. It was just that good.
Check out Cheap Trick at the OC Fair – Video by HBWalter77