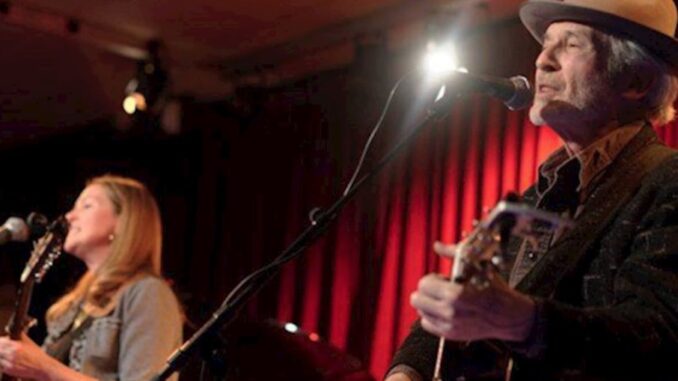 By DONNA BALANCIA
Perhaps it's true, after all, that guitar techs make the best musicians. Rocky Roberts, guitar tech to some of the most renowned rockers, has released an EP, Pieces of Time by Rocky Roberts & Friends, and it's dedicated to those he's worked with and adores.
There are many beloved musicians for whom Roberts has tuned a few strings, including Patti Smith, Neil Young and Wilco. And in the time he's worked for some of the best in the music biz, it's fair to say he's strummed a few hits himself.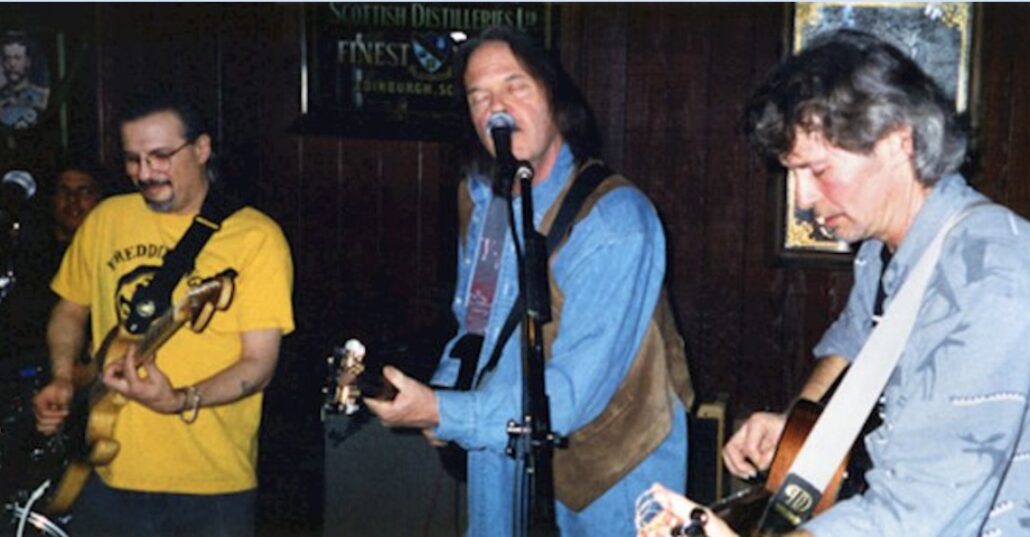 Pieces of Time by Rocky Roberts & Friends is a selection of engaging tracks which cover a lot of ground. Each of the songs on Pieces of Time have a distinct style and it's a pleasure to listen to the heartfelt blend of talents on this beautifully crafted recording. 

"Buck Moon," "Wild Riders," "Party Line" and "Tomales Bay" each have a unique direction. "Buck Moon," was originally a poem written for the memorial for Ben Keith, the pedal steel player for Neil Young. The song has been adapted to fit many sidemen and sidewomen with whom Roberts has worked. Norah Jones accompanies on vocals and it's a sweet duet, while Carl Broemel of My Morning Jacket joins in on guitar and pedal steel.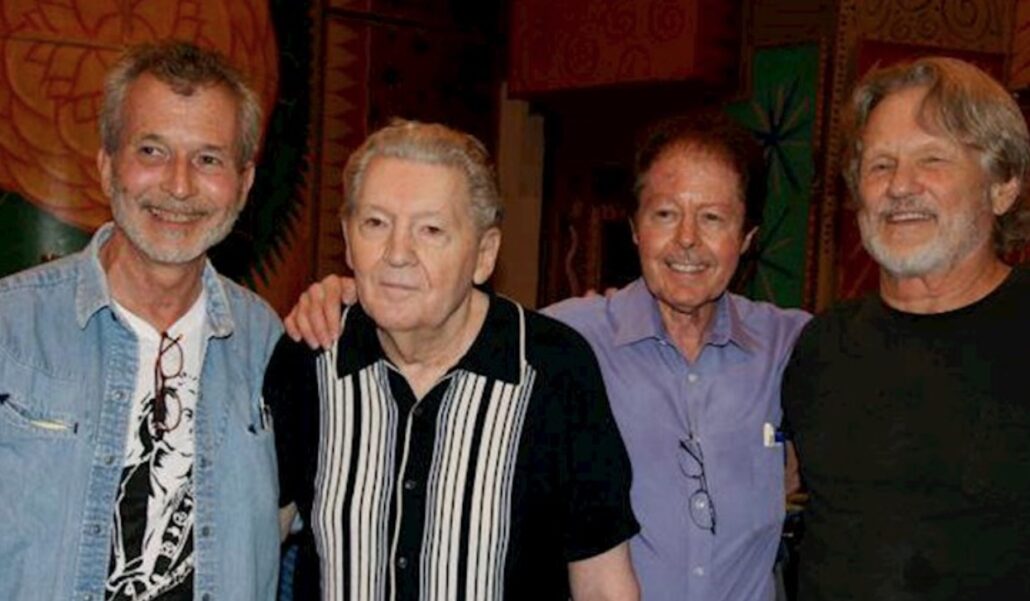 All the songs on Pieces of Time have nostalgia at their core, but few musicians can reflect back without coming off as corny or old-fashioned. In the case of the track "Tomales Bay," for instance, Roberts strikes the right balance between mellow memories and adventuresome wistfulness. Bill Kirchen adds a swoon-worthy Spanish-style lead acoustic guitar.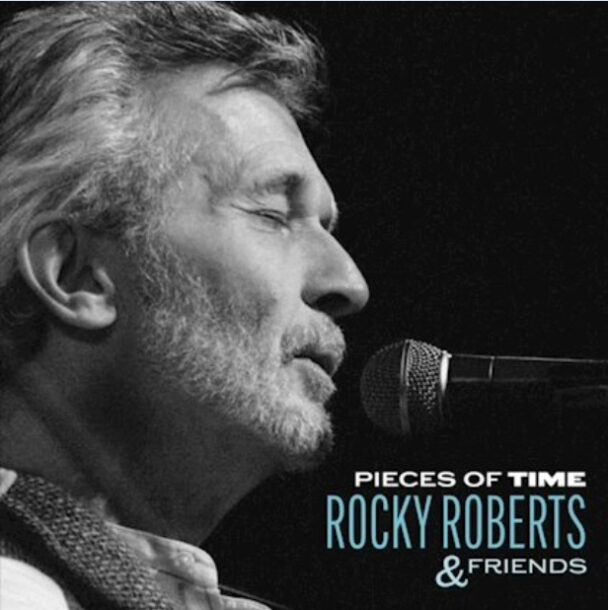 Tomales Bay in Northern California plays a significant role in Roberts' life. It was the place where he played in his first stage band, Aces & Eights, which opened for the hottest groups of the day. And it's appropriate that Kirchen accompanies as he and Roberts are pals from back in those good days.
Some journeys are solo, but fortunately for the listener, Pieces of Time brings all of us down a road to simpler times with friends we will always hold close, whether in present day or forever in our hearts.
Credits:
Pieces of Time was produced by Wolfe Island Records' Hugh Christopher Brown and Rocky Roberts.
The cover art for the EP was created by Linda Parker.
"BUCK MOON" 
Rocky Roberts – Vocal & Acoustic
Norah Jones – Vocal
Carl Broemel – Pedal Steel & Elec Guitar
H. Chris Brown – Grand Piano
Jason Mercer – Upright Bass
Pete Bowers – Drums
"WILD RIDERS
Rocky Roberts – Vocal & Acoustic
Suzanne Jarvie – Vocal
Tony Sherr – Acoustic Guitars
Benoit Lefebrve – Fiddle
H. Chris Brown – Wurlitzer Piano
Jason Mercer – Upright Bass
Pete Bowers – Drums
"PARTY LINE"
Rocky Roberts – Vocals & Acoustic
Joey Wright – Acoustic Guitar & Mandolin
Luke Mercier – Fiddle
Jason Mercer – Upright Bass
Teilhard Frost, – Harmony Vocal
Suzanne Jarvie – Harmony Vocal
Stephen Stanley – Harmony Vocal
"TOMALES BAY"
Rocky Roberts – Vocal & Acoustic
Bill Kirchen – Acoustic Guitar lead
H. Chis Brown – Squeeze Box
Jason Mercer – Upright Bass
Pete Bowers – Drums
Teilhard Frost – Percussion
Sarah McDermott –  Harmony Vocal
Suzanne Jarvie – Harmony Vocal
Stephen Stanley – Harmony Vocal
More Info:
All songs Copyright Craig C Roberts BMI
Loc –  Greenfield, Massachusetts
Title –  Pieces of Time
release – May 5, 2023
Label – Wolfe Island Records
Produced by H Chris Brown & Craig C Roberts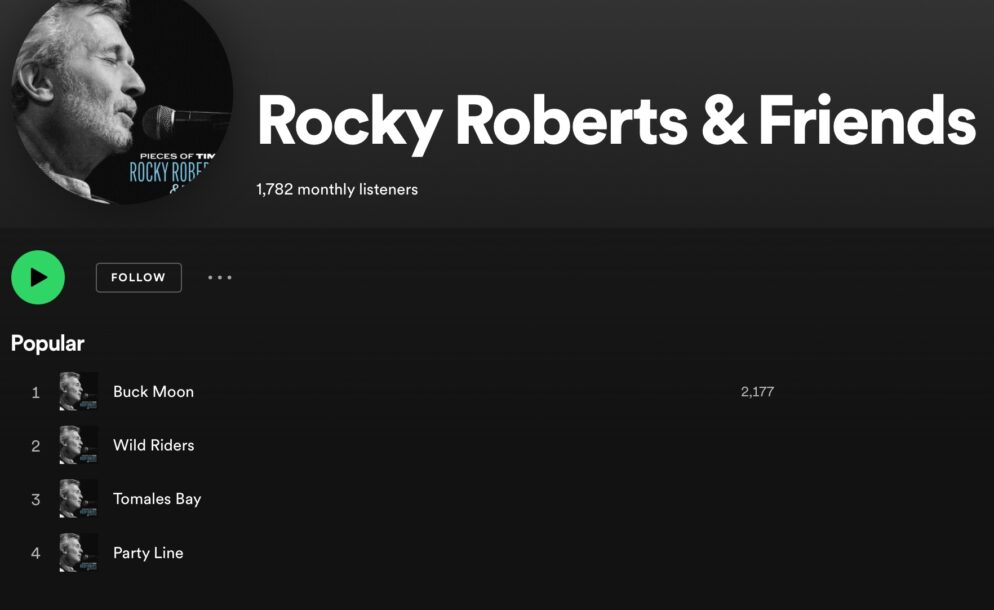 Websites:
Web – https://wolfeislandrecords.com/rockyroberts/