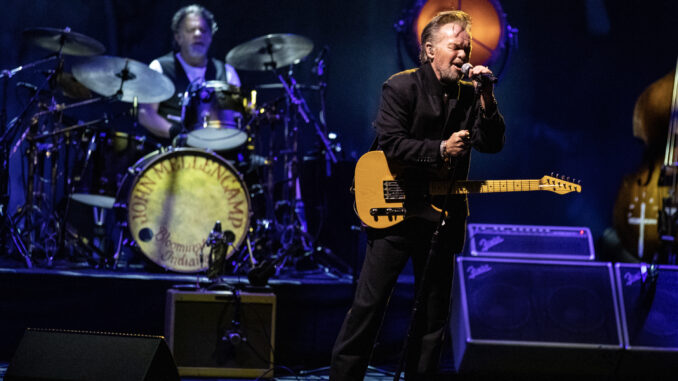 John Mellencamp
Live and In Person Tour
The Dolby Theatre, Hollywood, CA
Photos and Review by JULIE ANN SHAW
The night opened with a 30-minute "movie" that consisted of clips of the old movies Fugitive Kind, The Misfits, Giant,  Grapes of Wrath, Hud, and On The Waterfront. In between the clips, Mellencamp narrated short stories of how he admired James Dean and the way he carried himself, how music and movies inspire our lives. Mellencamp related to the characters in the movies as they were the characters that surrounded him in his childhood, and how Paper Moon taught him to smoke. When the final movie clip from A Streetcar Named Desire started playing, half the theater booed, while the other half cheered. I'm not sure what kind of rivalry I walked into there, but I am happy to stay out of it.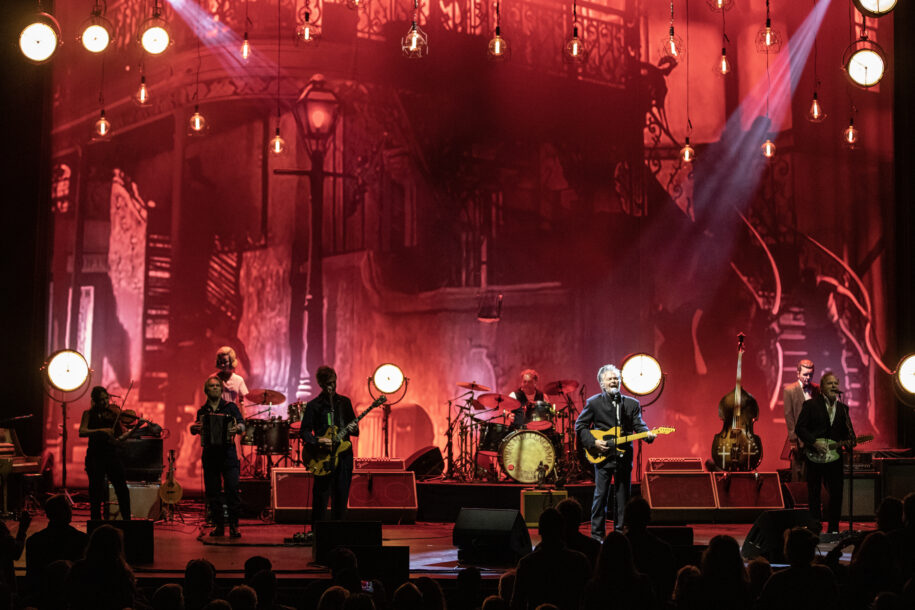 Once the film was finished, old fashioned sirens that were placed all around the theater, the type you would see on paddy wagons or ambulances in the very films we had just watched clips of, started going off leading us to the first song by John Mellencamp, "John Cockers." Mellencamp continued with one of my favorite songs, "Paper In Fire" from his 1987 album, The Lonesome Jubilee. He then went on with "Minutes To Memories," the quintessential American classic "Small Town" from Scarecrow, "Hey God," "Human Wheels," "Don't Need This Body," Big Daddy's "Jackie Brown," and "Check It Out."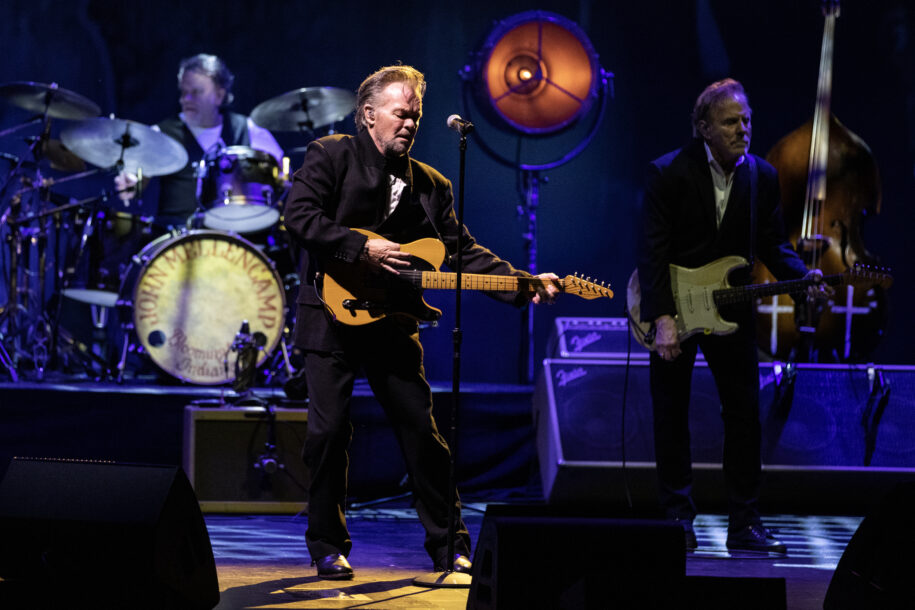 Accompanying Mellencamp was a group of the most talented musicians that could be assemble on one single stage, Mike Wanchic (guitar), Andy York (guitar), Troye Kinnet (keyboards, accordion), John Gunnell (bass), Dane Clark (drums) and the incomparable Lisa Germano (violin).
Despite having such remarkable musicians backing him up tonight, Mellencamp took some time to perform three songs with just his acoustic guitar. The first was a song that will be on his next album coming out this summer,"The Eyes Of Portland," which was written after he experienced an unexpected interaction with a homeless young woman in Portland, Oregon. The second acoustic song of the night was "Longest Days" from his 2008 album, Life, Death, Love and Freedom. The third song, the song that personally was dying to hear him perform live, was from his 1982 album, American Fool, "Jack & Diane." For this song, Mellencamp brought out some very special guests, his grandchildren. I have never seen anyone as happy to share an experience as John Mellencamp was this night to share the stage with these adorable children.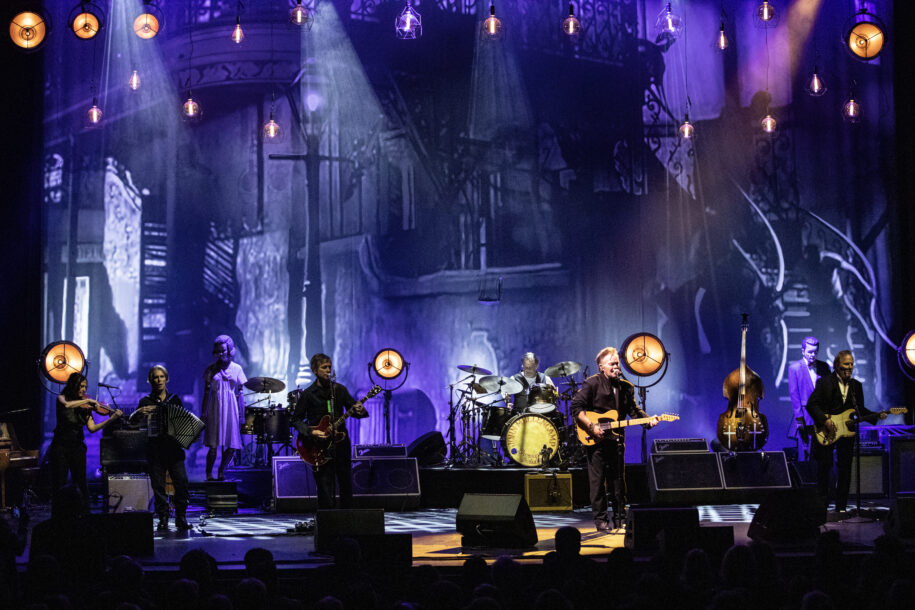 Once the children left the stage, Mellencamp lit a cigarette and while smoking it, proceeded to tell us why "I Always Lie To Strangers." Spoiler: it's because "we only get so many fucks in this life, and then they run out and then nobody cares about your fucks…" because his father and grandfather told him "you're here today, gone tomorrow, and forgotten in two weeks. So, what the fuck is so important? You're on a rock going around the sun! Who gives a shit?!"
Mellencamp's friend, Joanne Woodward, actress, and Paul Newman's widow, has not spoken a word in about 10 years. She did, however, at one point years ago, record herself reciting the lyrics to Mellencamp's "The Real Life" from The Lonesome Jubilee. We were fortunate to be able to listen to the audio recording while Lisa Germano accompanied on violin and Troye Kinnet on the accordion.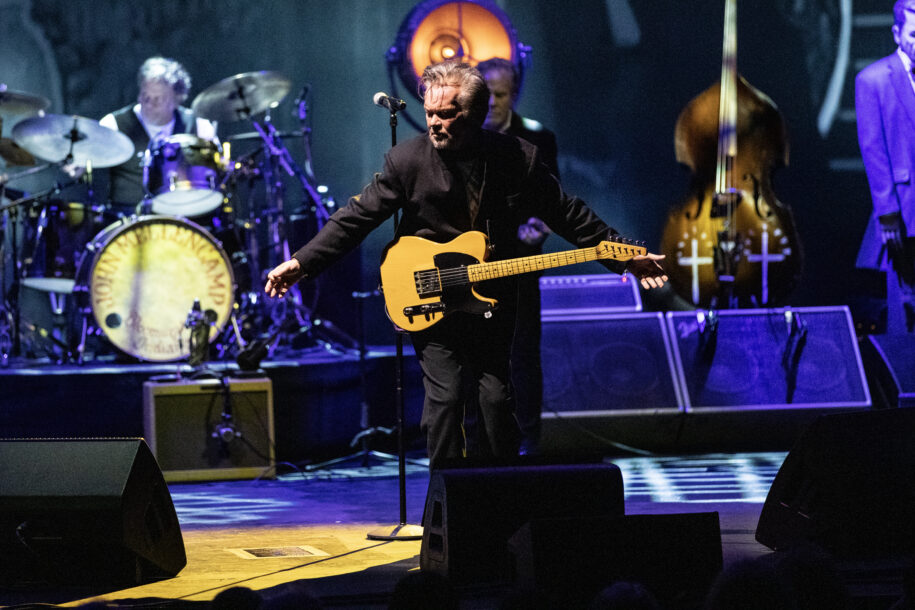 Once this beautiful experience had finished, Mellencamp ramped things back up with his 1985 Scarecrow hits "Rain On The Scarecrow," and "Lonely Ol Night." He then took us back even further to the album and the songs that made John Mellencap a household name, from his 1983 album, Uh-huh, "Crumblin Down/Gloria" and the greatest song ever written, "Pink Houses." Next, he played "Chasing Rainbows" from his 2022 album, Strictly One-Eyed Jack, followed by "Cherry Bomb." John Mellencamp's library is so vast that he could have been on that stage for a week and still not covered all the songs that everyone wanted to hear, but the night did have to come to an end at some point. He ultimately chose to end this amazing night with the classic from his 1982 album, American Fool, "Hurts So Good."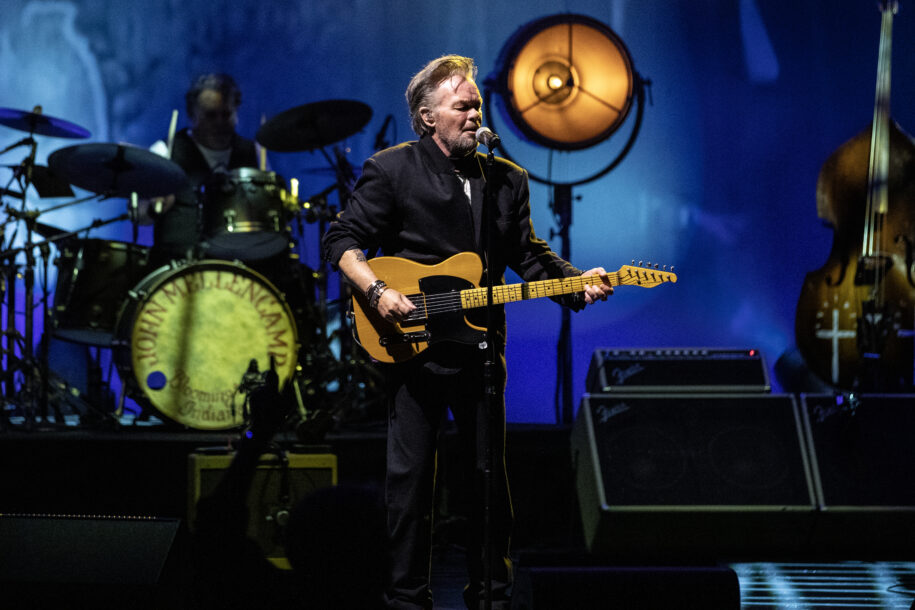 John Mellencamp Live and In Person Tour continues:
May 5—Old National Events Plaza—Evansville, Ind.
May 6—Old National Events Plaza—Evansville, Ind.
May 8—Ryman Auditorium—Nashville, Tenn.
May 9—Ryman Auditorium—Nashville, Tenn.
May 10—Ryman Auditorium—Nashville, Tenn.
May 12—Aronoff Center—Cincinnati, Ohio
May 13—Aronoff Center—Cincinnati, Ohio
May 15—Embassy Theatre—Ft. Wayne, Ind.
May 16—Embassy Theatre—Ft. Wayne, Ind.
May 17—Palace Theatre—Columbus, Ohio
May 19—Peace Center—Greenville, S.C.
May 20—DPAC —Durham, N.C.
May 22—Benedum Center—Pittsburgh
May 23—Benedum Center—Pittsburgh
May 25—Playhouse Square—Cleveland
May 26—Playhouse Square—Cleveland
June 2—The Lyric—Baltimore
June 3—Kimmel Cultural Campus—Philadelphia
June 5—Beacon Theatre—New York
June 6—Beacon Theatre—New York
June 7—Beacon Theatre—New York
June 10—Boch Center – Wang Theatre—Boston
June 11—Providence Performing Arts Center—Providence, R.I.
June 13—Palace Theatre—Albany, N.Y.
June 14—Landmark Theatre—Syracuse, N.Y.
June 16—Shea's Performing Arts Center—Buffalo, N.Y.
June 17—Masonic Temple Theatre—Detroit, Mich.
June 19—Massey Hall—Toronto
June 21—DeVos Performance Hall—Grand Rapids, Mich.
June 23—Morris Performing Arts Center—South Bend, Ind.
June 24—Morris Performing Arts Center—South Bend, Ind.