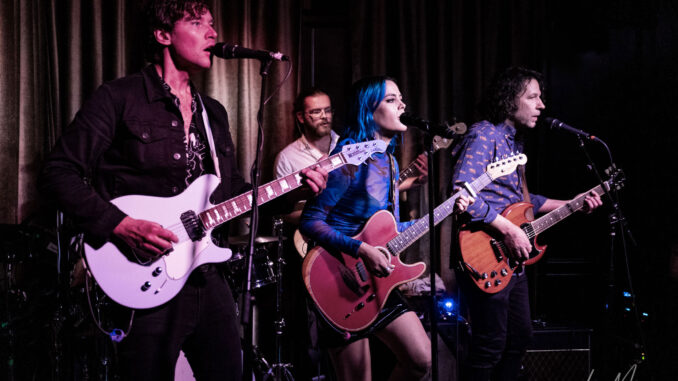 The Vindys
Hotel Café
Welcome to Hollywood
Photos and Review by LUIS MORENO
Youngstown to Hollywood… The Vindys have arrived at the Hotel Café. The Vindys are Jackie Popevec (vocals, guitar), John Anthony (guitar) and Rick Deak (guitar). Two albums and an EP is the current discography of The Vindys. But don't let that the young history keep you from attending a show or listening to them. They've actually been around since 2014 and are on tour promoting their latest release BUGS.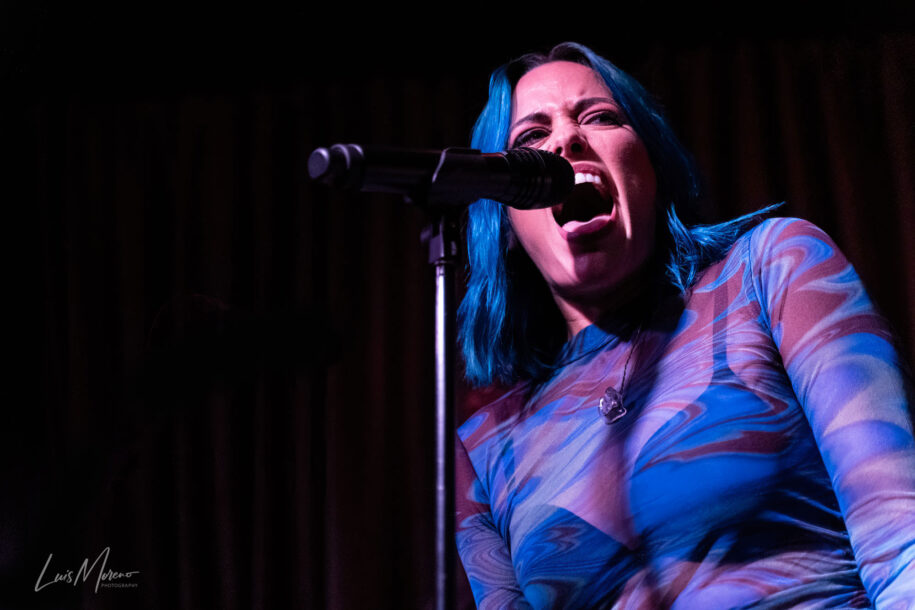 The Vindys though they're primarily three (Jackie, John, Rick) have arrived in full force with 6 other band members. The Vindys arsenal include 3 brass section musicians, drummer, keyboardist and bassist. There was definitely more than could fit on stage. What's intriguing is where would the other musicians stand.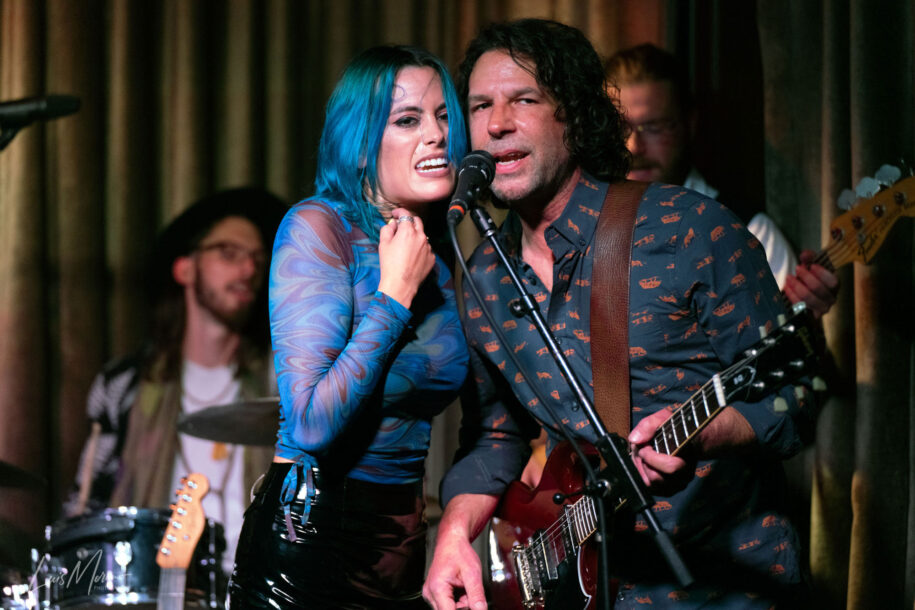 Well, it turned out to be an incredible situation which would enhance the aural experience. The 3 brass musicians stood against the dark wood wall in the shadows. The keyboardist was off to the right of the stage. The only ones not electronically plugged in were the brass players. Out of the shadows, in the peripheral line of sight this incredible fullness and layers of sound would catch me off guard. This dimension of an auditory gift would be presented in their opener song "Are You Ready".
Watching Jackie move with in a limited space made for a lesson in spatial awareness. As Jackie expressed herself, her body language was yearning for a little more space.But what came through loud and clear is how big her voice expanded through the venue. There was just no way to contain that voice.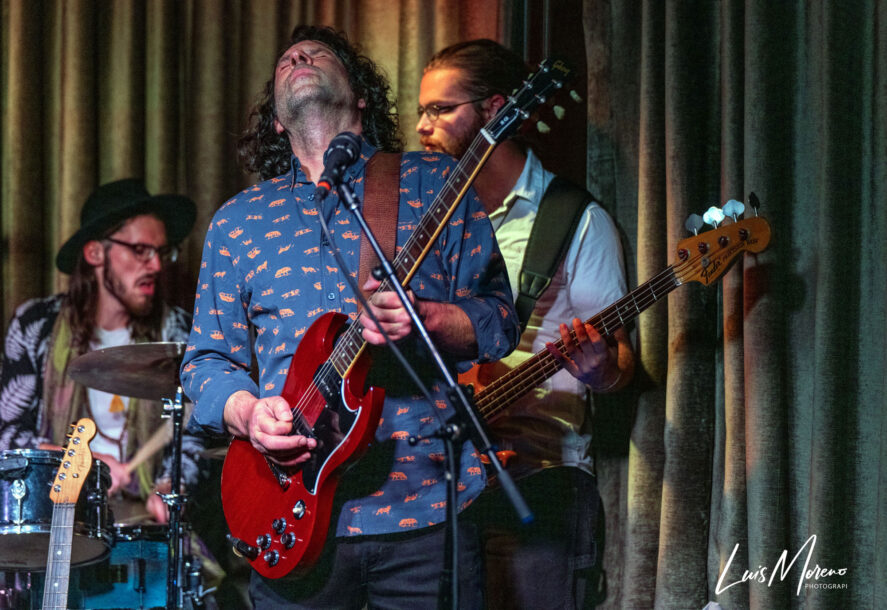 The Vindys band is comprised of music teachers and band directors, which is illustrated in the arrangements of their music. From "Red Wine", "Judas" and the more bluesy "Misery".
The Vindys set list would be a rollercoaster of emotions and tempo. The two ingredients for an interesting evening.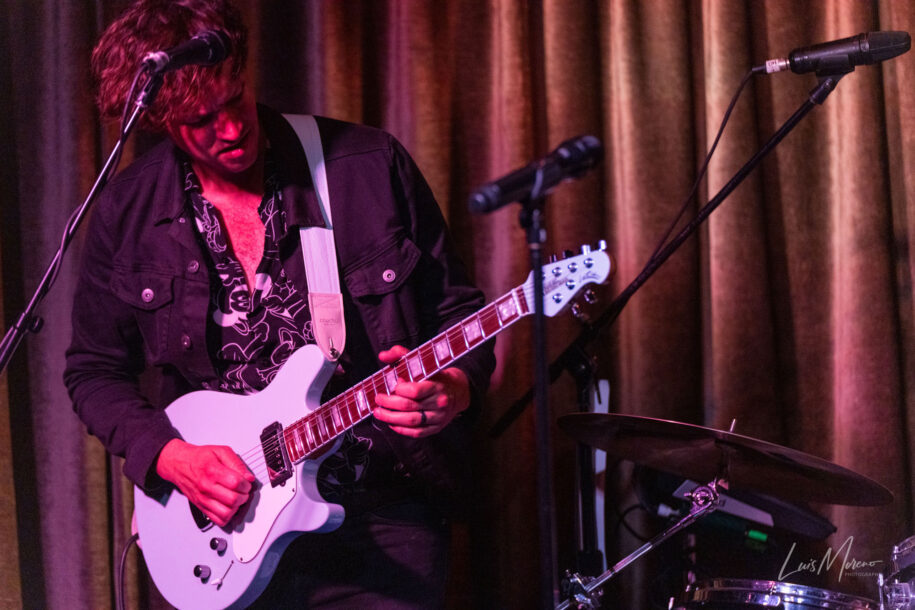 The Vindys would end the night with an incredible segue from "Chasin" in to honestly one of the best covers of "War Pigs" by Black Sabbath I've ever heard.  What sent me over the edge into the abyss of sound was the added layer of the brass section. The brass section consisting of Kyle O'Donnell (Trumpet), Brian Mayle (Trombone) and Tim Harker (Saxophone). The extra added dimension of a full sound of horns was the touch music teachers and band directors bring to the beauty of music.
The Vindys are more than an upcoming band. They have arrived in Hollywood and their sound effects will reverberate through the city. Check out The Vindys on Instagram, Facebook and at their website.<