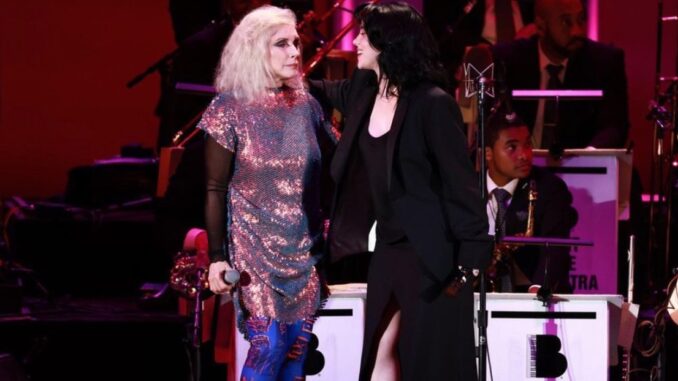 Tribute to Peggy Lee and Frank Sinatra
Hollywood Bowl
July 27, 2022
By DAN MACINTOSH
HOLLYWOOD, CA – It's true, pop superstar Billie Eilish's name on the bill for a Peggy Lee and Frank Sinatra tribute concert at the Hollywood Bowl created the biggest buzz surrounding this event.
These days, almost anything Eilish does is treated like a news story. Better still, though, is the fact that Eilish's presence was fully warranted. Like Lee, Eilish values timing and tone, as much as being in tune when it comes to singing. Lee was, and Eilish is, a song stylist with a unique voice. When you hear a Lee or an Eilish song come on the radio, without a doubt you know exactly who is singing. It was a treat to hear Eilish sing a few of her hero's songs, but this special show included plenty of additional highlights, whether from buzz-worthy performers or not.
The evening was divided between set one, which was a tribute to the music of Frank Sinatra, and the second part that was all about Lee. Eilish appeared last by performing "Fever," one of Lee's most famous songs. Eilish approached it a little like a duet with bassist/conductor/music director Christian McBride, who matched Eilish nearly note for note on his acoustic bass. Indeed, "Fever" was – like its namesake – hot! Next, Eilish was joined by Debbie Harry for "Is That All There Is." Both performed admirably and theatrically by acting out the verses, and then singing the choruses.
Other artists saluting Lee during this second half included Bettye Lavette, who simply killed it during "Man I Love." Lavette brought honest-to-goodness soul/blues power to her singing, and added a different, but fully appreciated, dimension to the lineup.
Dianne Reeves, who also appeared (along with Carmen Bradford) during the Sinatra portion, showed why she was the best jazz singer on the bill by exploring — with many vocal twists and turns — "Blue Prelude." Harry, while best known as a rock singer in the band Blondie, certainly didn't embarrass herself this night. She sang multiple songs, the best of which was "Let's Love," which none other than Paul McCartney intentionally wrote for Lee.
While the Sinatra opening set may not have featured as much star power as the concluding portion, it was nevertheless equally engaging. The Count Basie Orchestra, which acted as the night's house band all night, opened the evening with an instrumental version of "Jealous Lover," before bringing on Carmen Bradford, who is a longtime Basie Orchestra vocalist. She bragged about once eating chicken soup with Sinatra in is dressing room, which probably made everyone, on and off stage, jealous.
Reeves, of course was wonderful doing Sinatra-related songs, and Seth MacFarlane (Yes, that McFarlane) does a mean Frank Sinatra imitation. Gretchen Parlato was a true delight singing a couple songs from Sinatra's recorded collaboration with Brazilian Carlos Jobim. Brian Stokes Mitchell's energy and vocal skills brought a big dose of upbeat musical fun when he dug into "Luck Be a Lady" and "I've Got You Under My Skin." It was the perfect match of a swinging band, with a vocalist that knows how to swing.
McBride was a fine host, explaining the background of many songs and introducing the various singers. It was also a joy to watch him expertly play his bass with many of the performers. Granted, some patrons may have only attended for the chance to see Eilish live. However, Eilish was only one part of a consistently entertaining tribute to two vocal icons.