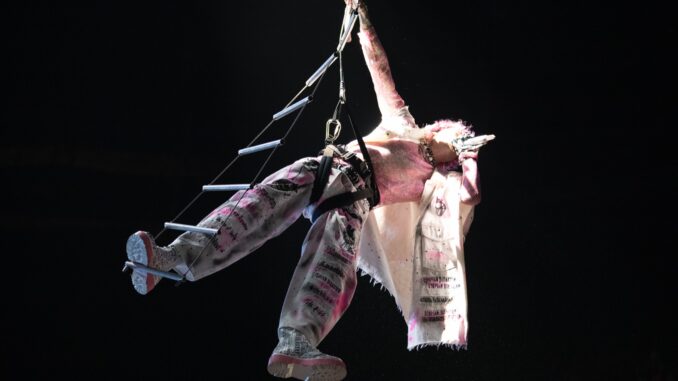 Machine Gun Kelly
Mainstream Sellout Tour
With Avril Lavigne and WILLOW
The Kia Forum, Inglewood, CA
July 13, 2022
Photos and Review by JULIE ANN SHAW
Regardless of how you feel about Machine Gun Kelly, there is no denying that the Mainstream Sellout Tour is one of the most entertaining and engaging tours on the road right now.
Opening the night was WILLOW, who, I believe, hasn't even begun to show us the amazing things she will do. WILLOW knows that with a voice like hers, she doesn't need to give us anything fancy, but I absolutely loved that she played her entire set in an adorable beanie with absolutely no fraks to give.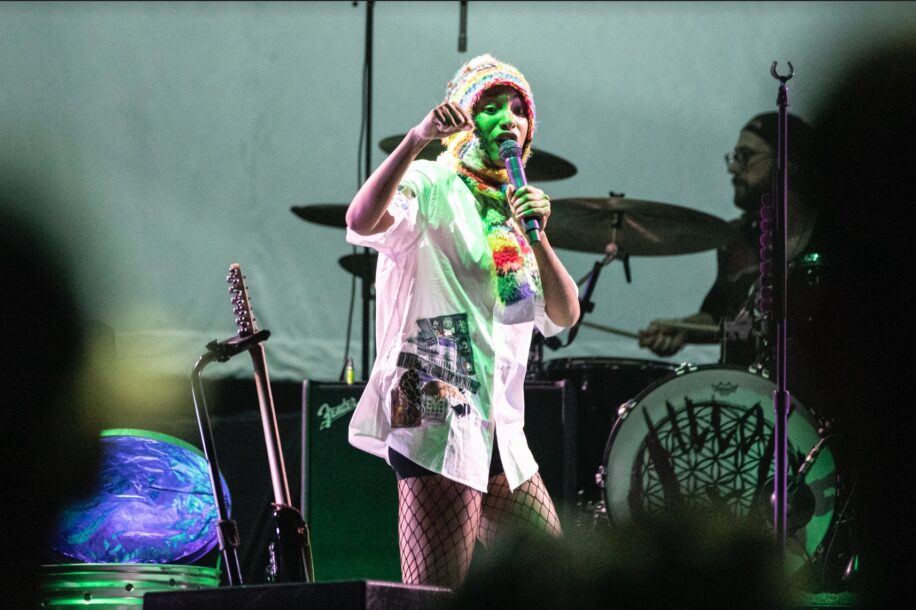 Her set consisted of the tracks: "transparentsoul," "Gaslight," "don't SAVE ME," "Lipstick," "Come Home," The Anxiety's amazing song, "Meet Me At Our Spot," "Wait A Minute!," and she closed with "<maybe> it's my fault."
Up next was the pop punk princess, the woman who changed the rules for young women who didn't fit into a box, Avril Lavinge. Her set was everything I could have hoped for, colorful, fun, punky and feminine, and an attitude that only Avril Lavinge can give us. After 20 years, she has evolved, but still unapologetically the Avril Lavinge that we fell in love with.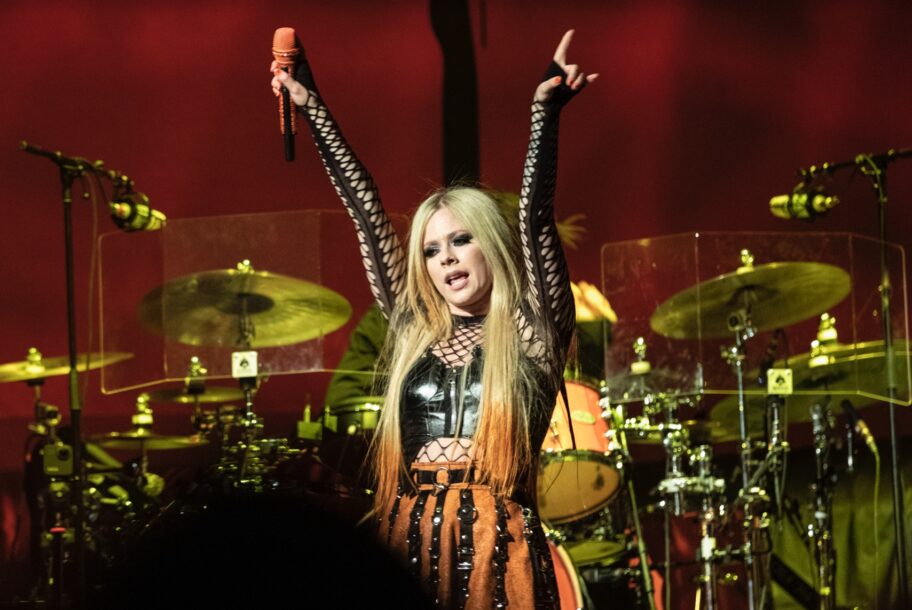 Throughout her set giant balloons fell from the ceiling and bounced around the stage and in the crowd. The only thing disappointing about her set was how short it was: "Girlfriend," "Bite Me," "What The Hell," "Complicated," "My Happy Ending," a duet with Blackbear, "Love It When You Hate Me," "Sk8er Boi," and "I'm With You." There wasn't a single person in the crowd who didn't sing along to every single one of these songs, myself included.
After a quick set change, the monitors came on and played a preview of Hulu's documentary about Machine Gun Kelly, Life In Pink to get the crowd ready. MGK opened his two hour set by performing his first song hanging on the rope ladder off of a helicopter. But first, MGK needed to be rescued, as the conversation between MGK and the pilot explained on the monitors, from a box that he was put in by the Internet. Once he was successfully rescued from the box, MGL hovered over the thousands of people who packed themselves into The Kia Forum while performing "Born With Horns." Once he was safely on the stage, MGK followed with "God Save Me," "Maybe," "Mainstream Sellout" and "Drunk Face."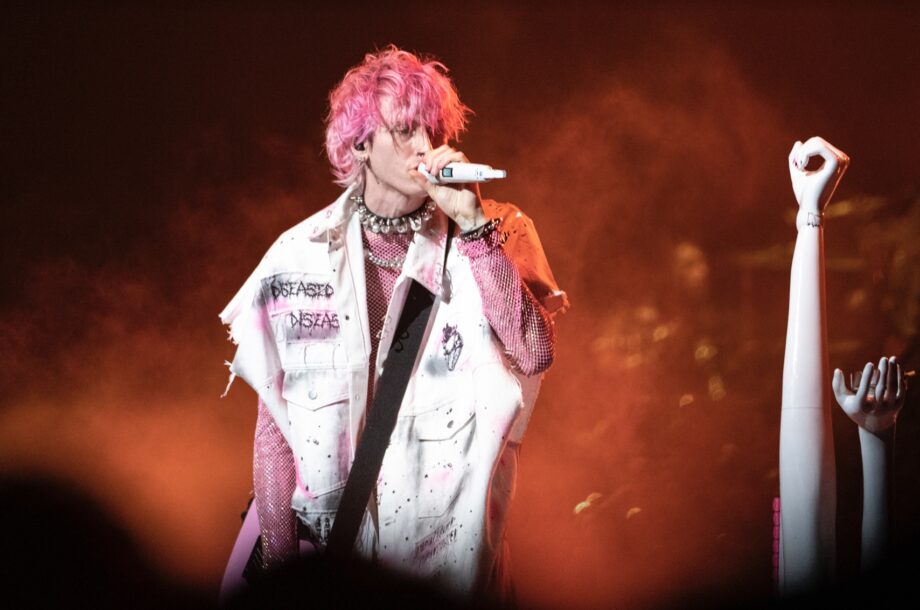 It wasn't just the elaborate set, the elevated and deeply angled stage where the band performed, or the insane and mesmerizing pyrotechnics that made this show engaging, it was the way MGK went out of his way to engage the audience and reassure the world that they are enough and worth more than just what the Internet says that they are. On this tour, the Internet is personified by a giant merianet with a computer monitor for head that performed behind him, that MGK would tell off between songs and eventually kill.
This is where the surprises begin. MGK's first special guest was Lil Wayne, who performed "Drug Dealer" and "Ay!" with him. Lil Wayne bowed out and MGK went on with Fake Love Don't Last. He was quickly joined by another amazing talent, Avril Lavigne, to perform their song "Bois Lie." MGK went back on to perform "More Than Life," "Die In California," "Floor 13," and "Papercuts" before he called on his next friend to join him. It is only a surprise that Travis Barker would join MGK for a song or two because of his recent health issues, but Barker would not be kept from that stage. They performed "Title Track," and then MGK asked Barker to accompany him on one more song, the song that could not be played without Barker, "Bloody Valentine."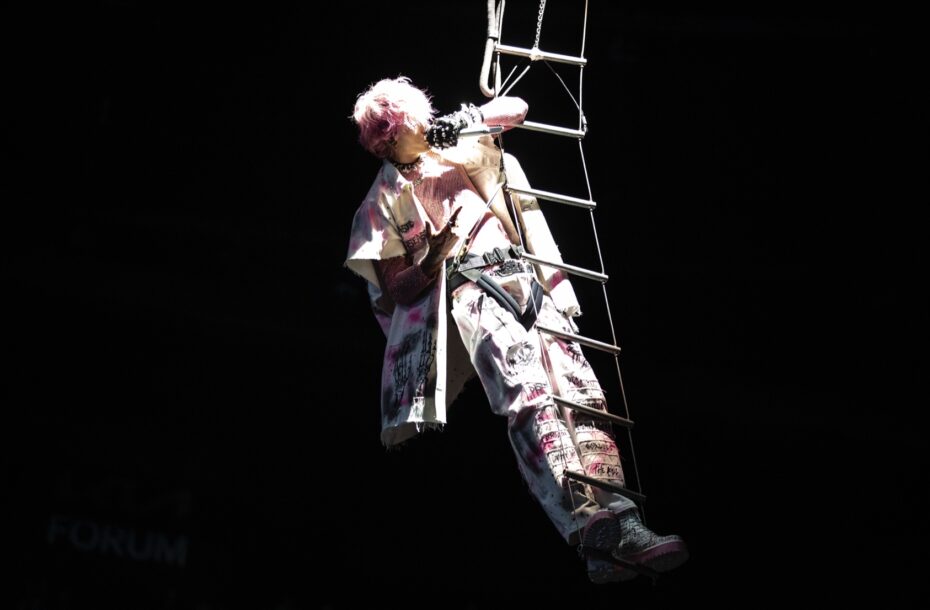 It would not be unreasonable to assume that the show would end here, but MGK was clearly determined to give his fans the biggest and best experience he possibly could, and was only half way through the set and the surprises.
MGK transitioned from having a guest to going solo again by performing part of Roll The Windows Up, and then continued with El Diablo, WWIII, and WW4. The next surprise was easy to guess if you have been following MGK. He called up WILLOW so they could perform their song "Emo Girl" together. Next came "Lonely," "I Think I'm Okay," and parts of "Why Are You Here" and "Jawbreaker." For "Forget Me Too," MGK was joined by the one and only Halsey, who just wrapped up her own North American tour. The next two songs, "Make Up Sex" and "My Ex's Best Friend," were accompanied by Blackbear himself. The final two songs were performed solo, "Twin Flame" and "9 Lives."