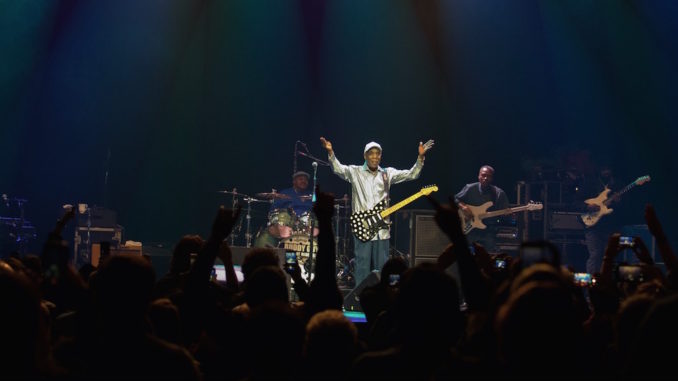 By DAN MACINTOSH
Nobody questions Buddy Guy's guitar skills. Just ask other guitar masters, like Eric Clapton, Jeff Beck and Jimmy Page. They'll all sing his praises. Therefore, expectations were high for Guy's appearance at The Novo. And for a man in his 80s, Guy still has a spring in his step and fire in his fingers. He played wonderfully, whenever he played. However, this concert – if it is representative of typical Guy performances – featured more showbiz than actual show.
Significant Contributions to Rock and Roll
Buddy Guy may not be as famous as his proteges, but he is one of the last remaining links the Chicago blues era. Chicago blues is significant to the development of rock and roll, in that it is distinguished by high-powered electric guitar instrumentation. Unlike country blues, which many times features more acoustic elements, Chicago blues is a more urban, amplified style of music. It's safe to say rock and roll, as we know it, would not exist without Chicago blues. In addition to playing with Muddy Waters, arguably the greatest Chicago bluesman, Guy forged a partnership with harmonica great Junior Wells early on while recording for the iconic Chess Records. He's the real deal, if ever there was one.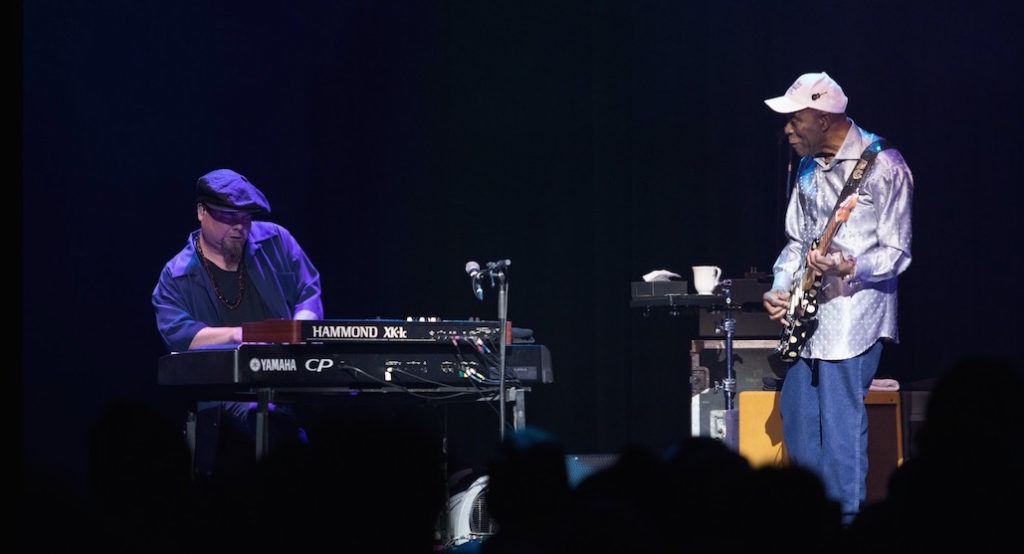 Buddy Guy and Flashes of Greatness
Although this concert fell well short of a transcendent blues music experience, there were nevertheless flashes of musical greatness. For example, when Guy played and sang "Skin Deep" — a song inspired by his mother's remark about how beauty is only skin deep — found the blues icon sincerely pouring out his heart. Both his singing and his playing beautifully conveyed the song's relevant message about equality. He also sang of infidelity – a standard blues theme – with the rolling blues of "Someone Else Steppin' In." Unfortunately, these memorable moments were exceptions, rather than the rule this night. Much of Guy's stage time was, instead, squandered on activities that didn't challenge the performer to reach down so deeply into his soul.
For instance, Guy interspersed his setlist with snippets of famous guitarist imitations. He played a string of quiet notes to impersonate Eric Clapton's slowhand moves and shot out some stinging B.B. King lead lines to demonstrate what King used to bring out of his guitar Lucille. I suppose some in the audience were impressed by Guy's impressions of Eric Clapton and B.B. King. However, none of us came to see either of these players. We came to see Guy!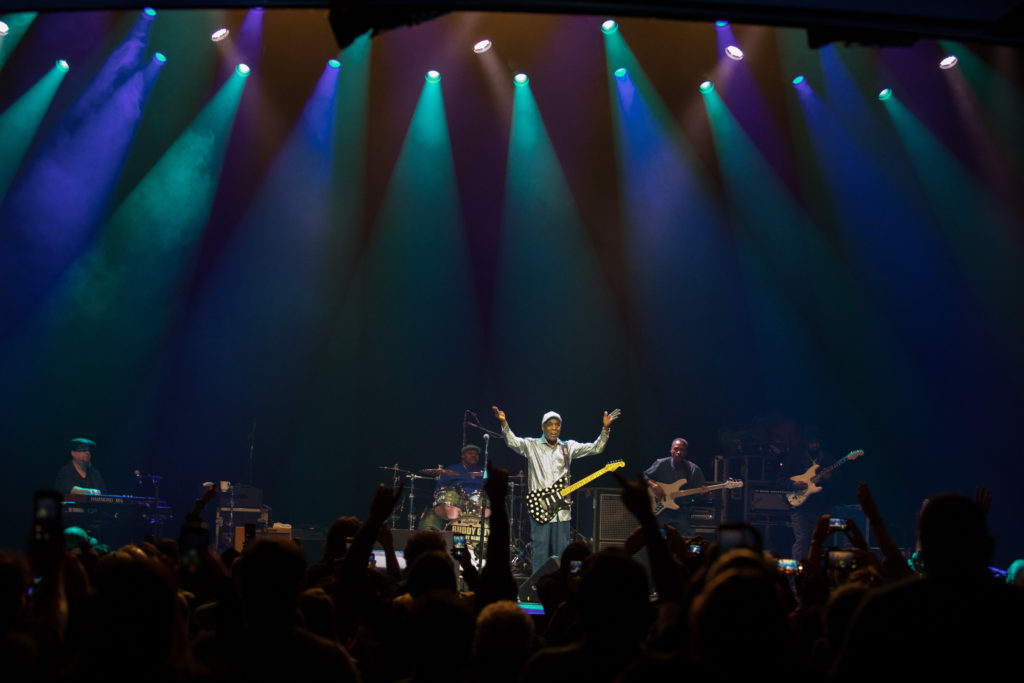 Reminders of Chicago Blues Legacy
Granted, Guy did present a few aural reminders of his Chicago blues legacy. He played a little of John Lee Hooker's "Boom Boom," as well as a few bars from Willie Dixon's "I'm Your Hoochie Coochie Man." Even then, though, he didn't play full songs – just enough to prove he knows how to do 'em. Less variety, and more complete performances would have been far preferable. When Guy played "Someone Else Steppin' In" in its entirety, he was able to build momentum with the song. That's one of the powerful factors in the blues; performances grow in emotional strength as the artist is singing a song. But to only do part of a song, kinda stunts its growth.
Buddy Guy: More Show Than Business
Too often, Guy turned to the kinds of antics that once famously made promotor Bill Graham livid at Jimi Hendrix. Guy played behind his back and struck guitar chords with his towel, for example. At one point, he stepped off the stage and walked all around the club's floor, while audience members patted him on the back and took selfies. He later invited up a pre-teen boy who had brought his electric guitar to the show. The boy somewhat successfully traded guitar licks with Guy. And while that was obviously a thrill for the young man, it wasn't quite so thrilling for the audience.
Guy came on dressed in a casual, untucked shirt and baseball cap. He also played his signature polka dot electric guitar. He was just as casual during his between-song patter with the crowd. But overall, he was just a little too casual. We could have done with a little less talk, and a little more action tonight.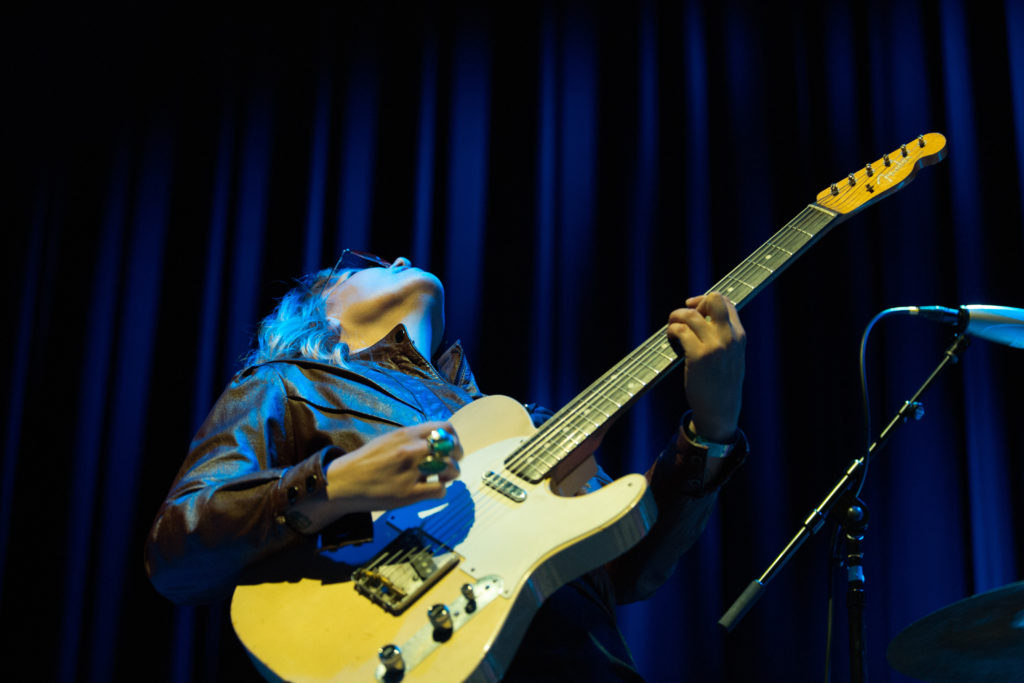 Brandy Zdan: A New Era in Blues
In contrast, opener Brandy Zdan wasted no time in getting straight to her songs, and made the best of her set, which was just shy of a half-hour. Although most of her songs were of the pop-rock variety, she did include a blistering take on the blues standard, "Nobody's Fault but Mine." Zdan played electric guitar and sang, while accompanied only by a drummer. And while she was playing the blues, it brought back fond memories of another famous guitar-drum duo, The White Stripes.
Dan MacIntosh is a reviewer for CaliforniaRocker.com. Check out his work here.