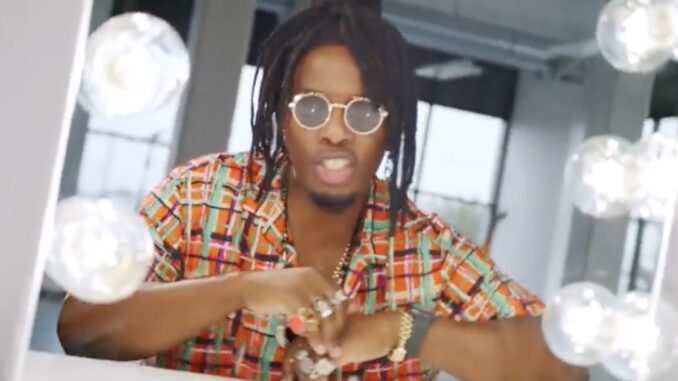 By JOHN DALY
GNL Zamba blends a compelling Afrocentric-Reggae sound and rap, producing his very own unique style with "Energy," the latest upbeat and appealing single from the respected Ugandan musician.
It is a passionate video accompanying the single off the new album The Spear.
GNL Zamba, also known as Ernest Tulye Nsimbi Lupiazitta Zamba, is a Ugandan rap musician, who's been around for 10 years and he has made a deep impression during that time. It is inspiring to hear this talent.
"Energy" brings about a new kind of love song, a tribute to the "energy" shared by the participants. This refreshing song will bring a ray of sunshine to all people during our challenging times of today.
It was 10 years ago when GNL Zamba came out with his landmark debut album, 2009's Riddles of Life KOYIKOYI which turned out to be one of African music's biggest and best-loved indigenous language Hip-Hop albums. 
"I want the whole world to sonically and spiritually travel back to their shared African origin," GNL Zamba said of the album. "Here is where all the answers lie. Most new Africans have never been to this Africa. It is hidden in a dimension only open to those with the gift to look far back enough that they can see the future."
While masterfully produced, the essence of a unique African sound is retained and comes through in as true a manner as can only be imagined. It is an understated yet sensational style which captures a new feeling. Is it rap? Is it world music? It is up to the listener to decide.
Listen to The Spear on Spotify:

GNL Zamba has embarked on his exciting new chapter in his career with his latest projects The Spear, NSIMBI 2 and Infinity.
GNL's eclectic style was Influenced by Afrocentric Icons like Eddy Grant and Fela Kuti as well as International rap stars Nas, Jay Z, Ice Cube and world renowned poets like Gil Scot Heron and Mbuli on radio in Kawempe, Uganda.
GNL Zamba has received more than 50 awards in his native Uganda. He tackles a variety of important subjects, but with "Energy" it's clear there is a lot of fun happening. With millions of album sales, regional tours, and concerts, GNL Zamba's sound is a catchy blend of Lugaflow, Hip-Hop, and Afrobeats. The music is sure to make the good times happen. 
GNL has held sold-out stadium shows in Africa, the SXSW Festival, as well as intimate venues like The Smithsonian museum of African Art in Washington DC and the Fowler.
Also a Bill Withers sample on 'Things Fall Apart,' that hits the heavens:
'The Spear' Tracklist:
Africa
Black Ceasar ft Black Shakespeare
Black Red Yellow Blue
No Borders
Energy (NRG)
Sweet Uganda (Star Taffa)
The Spear
Wake The Fuck Up
Who Got The Power
Zamba The Great
Zim Zim Bombo
Official Website: https://gnlzamba.com/
Facebook: https://www.facebook.com/gnlzamba/
Twitter: https://twitter.com/therealGnlzamba
Instagram: https://www.instagram.com/Gnlzambagram/
Spotify: https://open.spotify.com/artist/0tEJn5RI5zOHwSlbDkBiDP
Soundcloud: https://soundcloud.com/gnlzambamusic
Youtube Channel: https://www.youtube.com/gnlzamba